TikTok Is Divided Over This Cheesy Hot Cross Buns Hack From The UK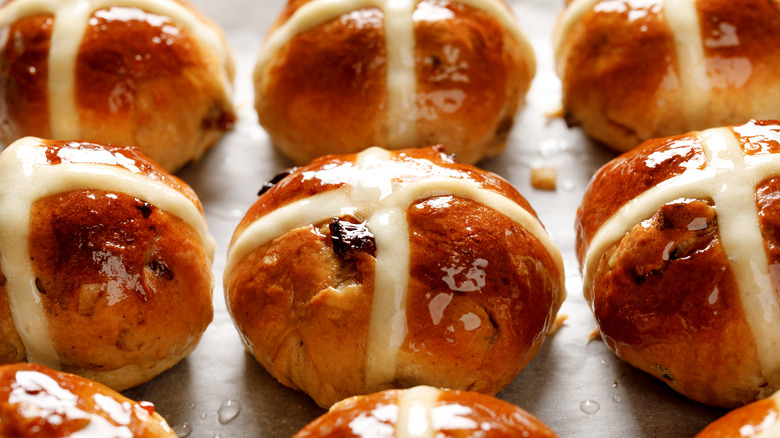 zi3000/Shutterstock
Most people associate hot cross buns with Easter since they were traditionally enjoyed during Lent and leading up to Easter Sunday. The original version seems to date back to a 12th-century monk who baked buns on a Good Friday with a cross-shaped score on top (via Irish Central).
Hot cross buns are usually slightly sweet with a hint of spice and a sprinkling of dried fruit like raisins. The cross can be formed out of dough, but many add a touch of sweetness by using icing to form the cross. They are not just a seasonal treat — hot cross buns are legendary. Some believed these buns protect you from kitchen fires, repulse evil spirits, and strengthen friendships, according to Smithsonian Magazine.
A homemade hot cross buns recipe is a delight, but you can also purchase the treat at bakeries and grocery stores. If you prefer your baked goods with a twist, TikTok has you covered. However, reactions are divided: Some can't wait to try this update on a classic while others are not so sure.
Hot cross buns like you've never had them before
For Easter 2021, M&S launched 4 Cheese Marmite Hot Cross Buns containing mature cheddar, Red Leicester, and Marmite. According to Good Housekeeping the brands have also collaborated on Marmite-flavored products like cream cheese and butter. The TikTok foodies @thisisplanetfood took the cheesiness up a notch by adding butter and even more cheese before drizzling it with the spread.
One TikTok user said, "U love it or hate it." Another commented, "No." A Marmite fan commented, "Looks dope," while another said it "needs a bit more marmite but it looks so good." Another TikTok user suggested an alternative, "I would make this with normal croissants."
In case you are unfamiliar with Marmite, it is a spread made from concentrated yeast extract that has a strong bitter umami flavor, but not many associate this flavor with old-school sweet, fruity hot cross buns. It is byproduct of beer brewing discovered in the 19th century by scientist Justus Freiherr Von Liebig who noted it was "completely vegetarian" with a "meaty flavor," according to the Marmite Museum.
While TikTok was divided over these hot cross buns, Marmite has always been a subject of controversy. In 1996, the Marmite manufacturers embraced its divisiveness by using the slogan "love it or hate it" in advertising campaigns (per Marmite Museum).