This Is What Sunny Anderson Says You Should Do With Stale Donuts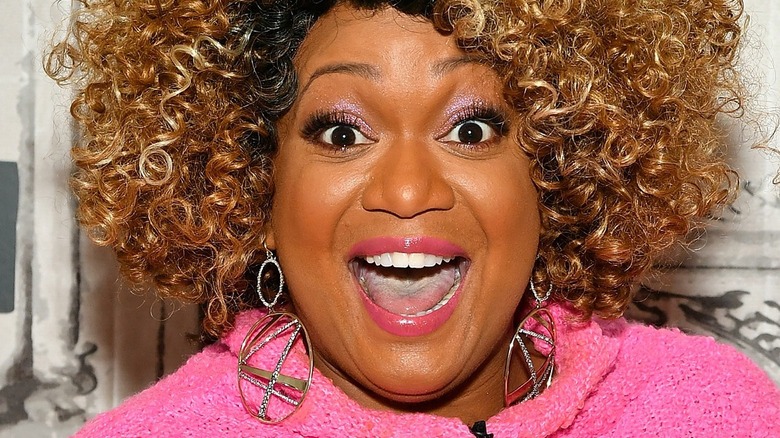 Slaven Vlasic/Getty
It's no secret that Americans love donuts. Whether they're plain glazed, coated in icing and sprinkles, or filled with Boston creme, the doughy desserts are a favorite treat in the United States. According to a Statista report, some 201.02 million Americans ate donuts in 2020. And a June 2021 Ipsos survey found that some of the most popular donut flavors include cream-filled, glazed, and chocolate glazed. 
Even celebrity chef Sunny Anderson is a big fan of the fluffy spheres. While pretty much everyone knows that donuts are best enjoyed hot and fresh, the food personality made waves on Twitter when she shared her go-to hack for enjoying stale donuts. All you need? A waffle maker, a donut or two, and a few minutes of your time. People are freaking out about the genius idea — here's what to know, along with the secret to whipping up homemade donut waffles for yourself.
Don't forget to add a scoop of ice cream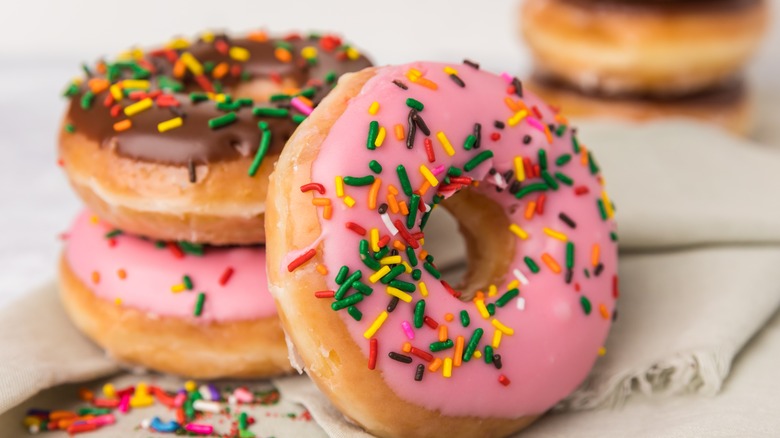 Kristina Mary Bills/Shutterstock
"Buy day-old donuts and put em in a waffle iron," Sunny Anderson tweeted on October 11. "Thank my cheap tail later."
If the idea of donut waffles sounds delicious, Anderson also takes it to the next level by adding a scoop of ice cream, per her tweet. However, in the responses, she notes that a frozen topping isn't necessary to round off the dish — it's decadent all on its own. "So crispy and cushy at the same time," she describes, joking, "I've done it so many times and have the size 16 jeans to prove it." As for the type of donuts to use? Anderson explains that any kind will work, but you'll want to put nonstick spray or butter on the waffle iron first if you're using a cake donut.
Anderson isn't the only person to make waffles out of stale donuts, either. The blogger at Cooking with Janica says it's something she did as a child when her dad brought home day-old Krispy Kreme donuts. Her toppings of choice include sprinkles, whipped cream, caramel sauce, maple syrup, and, yep, ice cream. She recommends cooking the donuts in the waffle maker for two minutes for the best results.