These Atlanta Braves' Unique Postseason Snacks Are Turning Heads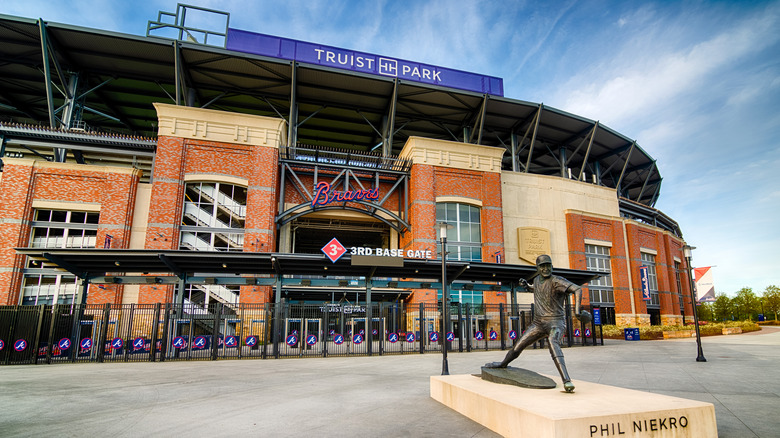 Rob Hainer/Shutterstock
Major League Baseball's postseason is in full swing, with eight teams now battling out in the Division Series round best-of-five matchups. The defending World Series champion Atlanta Braves are one of those eight playoff teams still alive, currently duking it out in a hotly contested series with fellow NL East divisional rival the Philadelphia Phillies (per Sports Illustrated).
Action on the field has been tense and exciting, but the overall ballpark experience just isn't complete without great food and beverages to accompany the thrilling play. And ballparks such as Atlanta's Truist Park offer a wide range of gastronomic delights, some more decadent and indulgent than others.
Earlier this season, the ballpark introduced a half-pound wagyu beef burger topped with cheese, gold leaf-wrapped foie gras, and grilled lobster tail for $151 (per Eater Atlanta). But at playoff time, you have to keep the innovation going and add more specialty items to your concessions (via Forbes). Always pushing the limits of culinary creativity, the Braves have unveiled some unique postseason snacks that are turning heads.
Amping their postseason menus up to 11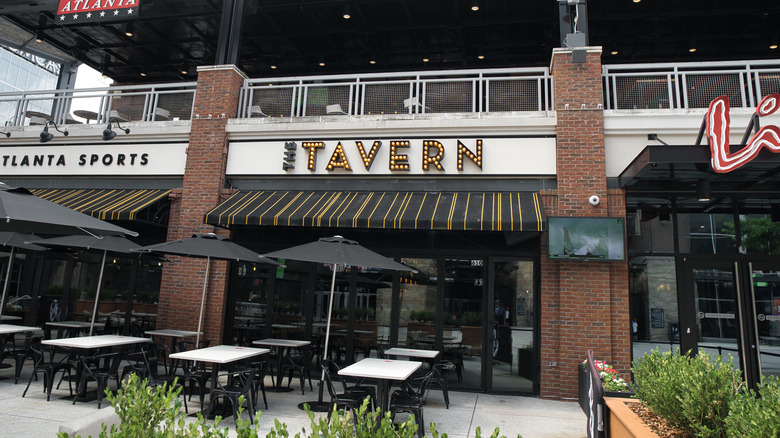 WorldTraveler_1/Shutterstock
Every sports fan hopes their team brings its 'A' game during the postseason, and the Atlanta Braves' stadium concessions have taken that to heart by ramping up its menu items for the stretch run as well. One of its novel creations is the OPPO taco, so named for the baseball argot of an opposite-field home run. It's chicken shawarma rolled in naan bread layered with pickles, tomatoes, red onion, French fries, lettuce, and tzatziki that blends a little bit of Middle Eastern, Mediterranean, and American cuisine. The portable fusion meal can be found in section 113 at the 1871 Grille (per People).
Another savory selection takes the classic stadium pretzel and amps it up to 11. The High Cheese Crab Pretzel puts a seafood twist on the original, infusing it with Old Bay blue crab claw dip and drizzling it in caramelized Monterey jack cheese. It's available at Slice in sections 150 and 313 (via Gwinnett Daily Post).
For those seeking something sweet, there is This Banana Rakes Sundae, a "banana tossed in cinnamon sugar, wrapped in egg roll sheet, deep fried, and topped with caramel and chocolate sauce over vanilla ice cream" (per Forbes). Don't fret, this sugary beast does contain fruit under there somewhere. Countless other new menu items are available for those who want to explore the full litany of options. These days at the ballpark it seems, you can be both a fan and a foodie.