Alton Brown Just Launched His First Food Product, And It's Not What You'd Expect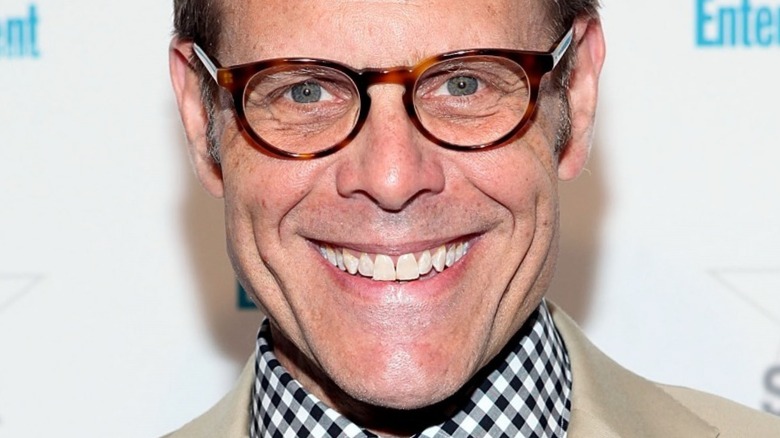 Robin Marchant/Getty
Because chefs have more or less dedicated their entire lives to cooking, people are likely to trust them when they recommend products. This trust has the ability to grow even stronger when chefs actually put their name on a product, whether that be a food item, a cookware line, or a cookbook. "It is clear that celebrity chefs have had an impact both on the visibility and the style on a wide variety of products," International Home & Housewares Show member Perry Reynolds said, per ABC News. "[That] includes cutlery, tabletop products, kitchen tools, bakeware — virtually any kind of food preparation product for the home."
Chef and "Mayor of Flavortown" Guy Fieri is one of these chefs, having released his own product line of Knuckle Sandwich Knives (via Ergo Chef). The knives feature a Pakka Wood handle and an 8-inch high-carbon steel blade. "No matter what or where you're cookin', these knives deliver strength, precision, and control, so all your food preparation is a breeze," Fieri said to AOL. "I love them because the performance, design, and feel of the knives are all on point. They're the ultimate chef's knives that you don't need to be a chef to use."
Today, "Good Eats" host Alton Brown announced a new product on Twitter that he plans to release very soon.
A spicy and saucy holiday twist
On October 13, Chef and TV personality Alton Brown posted a photo on Twitter of him holding a bottle of sauce with his picture at the top. The caption read, "My first ever food product is a sauce to knock your holiday stockings off. Available very, very soon online and at my live shows," with the hashtag #HolidayFromHeck, which according to the bottle, is the name of the sauce. In the comments section, Brown revealed that the sauce is "spicy and hot," and that he likes to use it on turkey, mashed potatoes, and fruitcake.
Though Brown doesn't have a product line of his own, there are many kitchen gadgets he recommends. One item he swears by is the Zyliss pizza wheel, according to Fast Company. "This [wheel is] unique because the handle doesn't stick out from the side. When you press down, your hand is right over the blade, for better control," he said. He's also a fan of the ThermoPop. "I'm a stickler on temp control," he explained. If you're interested in other Alton Brown-proclaimed must-haves, you can check out his book "Alton Brown's Gear For Your Kitchen."