The Unexpected Ingredient Justin Chapple Uses In Radish Tartines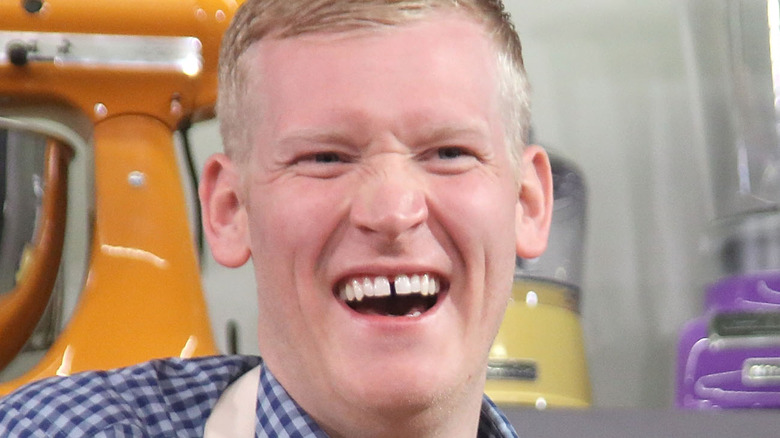 Sonia Moskowitz/Getty Images
There's a reason home cooks who love a good shortcut find their way to Justin Chapple's "Mad Genius Tips" series. According to Naturally Danny Seo, the Food & Wine Culinary Director-at-Large has a knack for turning complicated recipes into simpler versions that we mere mortals may be able to follow. Clearly, the series is doing something right. "Mad Genius Tips" has been nominated for two James Beard Awards, and has helped land Chapple additional on-air roles including guest appearances on Food Network shows.
In one of his "Mad Genius Tips" videos, Chapple prepares a radish tartine. According to The New York Times, a tartine can be as simple as a piece of buttered bread or as elaborate as toast with intricate toppings like smoked fish, truffles, or caviar. If the description of a tartine sounds familiar, it may be because you enjoy something similar on occasion but call it by a different name. As Classic Chicago Magazine points out, "The French call them tartines, the Americans Toasts, and the Italians Bruschetta."
In Chapple's version of a radish tartine, not only is the butter an unusual color, but the way it gets that color is also unexpected.
Green butter, you say?
It's not lost on Justin Chapple that his radish tartines look a lot like avocado toast. Chapple begins his "Mad Genius Tips" video for making radish tartines by alluding to the breakfast food that may have reached an obsession level for some, and announcing "I've got another toast for you to fall in love with." For this toast, the grassy-colored spread isn't avocado but green butter.
The picturesque – or, as Chapple comically describes them, "radishing" – tartines are made using radishes and Japanese turnips in two different ways. According to Food & Wine, in addition to being sliced thinly and used to create a striking topping in Chapple's recipe, the greens of the veggies aren't simply tossed in the garbage. Instead, they are saved and "whipped into green butter."
Food & Wine describes the resulting whipped butter as "flavorful," and the greens that are used could be at the root of the taste upgrade. According to The Sophisticated Caveman, radish greens have a "subtle peppery flavor" while turnip greens are "equally as tasty." With that in mind, we can't help but imagine what this colorful spread could do for a butter board! (It would make it that much butter, obvs.)