What Happened To Chi'Lantro After Shark Tank?
Budding entrepreneurs would love the chance to pitch their brilliant idea to a team of investors. And when "Shark Tank" turned that concept into a TV show, it was an instant hit. Now, 13 years after its premiere, the show is still up and running — and plenty of businesses have struck great deals with investors.
Jae Kim stepped into the tank to pitch his idea: Korean barbecue. Kim's restaurant business, Chi'Lantro, was already well established; he'd done nearly $5 million in sales the prior year. However, he was looking to scale up, and he wanted help from a shark. While the investors agreed that his food was delicious, many were apprehensive — or just simply uninterested — in investing in the restaurant industry.
However, Barbara Corcoran wanted to take the risk, since she'd had success with other restaurant and food truck ventures, such as Cousins Maine lobster. She offered Kim $600,000 for a 30% stake, and they settled on a 20% stake (per Shark Tank Tales). So, where is Chi'Lantro today?
Chi'Lantro appears to have a large Texas presence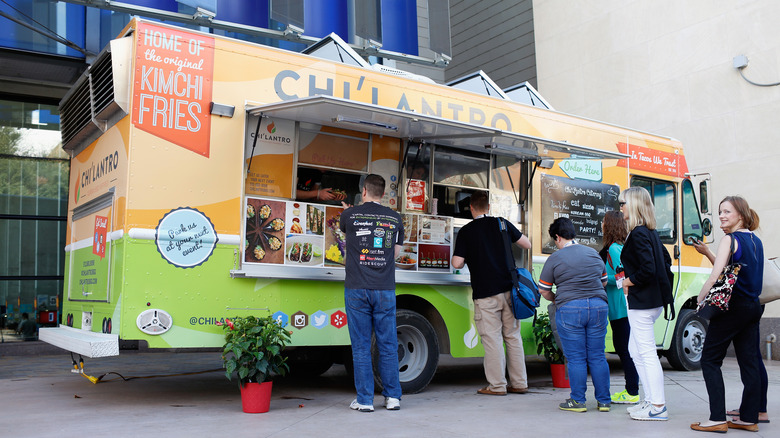 Gerry Hanan/Getty Images
Founded in Austin, Texas, Chi'Lantro has been serving Texans for more than a decade. Kim had wanted to scale up his business and open more restaurants, and based on Chi'Lantro's website, he's been able to open more brick-and-mortar stores. At the time of his "Shark Tank" appearance, Kim had two storefronts. According to the company's website, there are now eight storefronts throughout the Austin and Houston areas. Kim's ultimate goal had been 15, but it's possible (though unclear) that the pandemic may have temporarily impacted the chain's growth.
People seem to like the Korean barbecue Kim is serving; the majority of the restaurants have 4.0 stars on Yelp, although there are a couple with 3.5 stars. The critiques are a bit scattered, though a few of them were from returning customers who mentioned that the food wasn't always consistent; some visits provided better meals than others.
Chi'Lantro was named best Korean cuisine in 2022
Despite some customers' reviews about hit or missed food, The Austin Chronicle, a newspaper local to the Austin area, named Chi'Lantro in its "Best of 2022" awards for the best Korean cuisine, which certainly helped give the chain some positive publicity. The company also has a decent-sized social media following with about 23,000 Instagram followers and 21,000 Facebook likes.
Today, Chi'Lantro does catering as well. The menu options start around $11 per person, but some items do require a minimum number of people to order. Breakfast is available to be catered as well.
From the looks of it, Chi'Lantro has upped its revenue since the "Shark Tank" appearance. According to Shark Tank Blog, Chi'Lantro's sales are now as high as $15 million per year, though Mashed could not independently verify the chain's sales. However, there's no denying that Kim has been able to quadruple his storefront locations since appearing on the show.