What Happened To Cousins Maine Lobster After Shark Tank?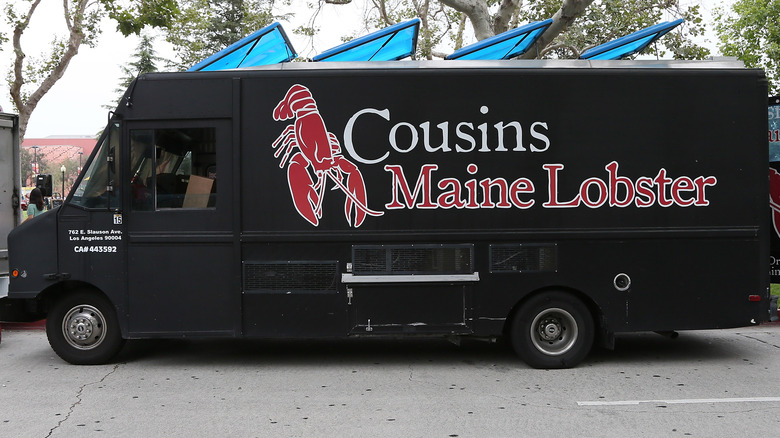 David Livingston/Getty Images
Any entrepreneur who enters the Shark Tank has one thing in mind; to secure a fair deal with one of the sharks. 56% of hopeful entrepreneurs come away with a deal, with 20% of those deals occurring in the food and beverage space. In 2016, Sabin Lomac and Jim Tselikis entered the tank with their new food venture, Cousins Maine Lobster.
Lomac and Tselikis are real cousins who founded Cousins Maine Lobster in 2012 with a sole food truck. Lomac and Tselikis relocated to Los Angeles from Maine and missed the comforts of home. The one food they missed most was fresh Maine lobster. The two felt frustrated that they couldn't find the lobster roll of their childhood, so they decided to recreate it and sell it to other Angelenos. Their debut truck served fresh Maine lobster piled high in a split top bun, with melted butter drizzled over top.
It all started with a truck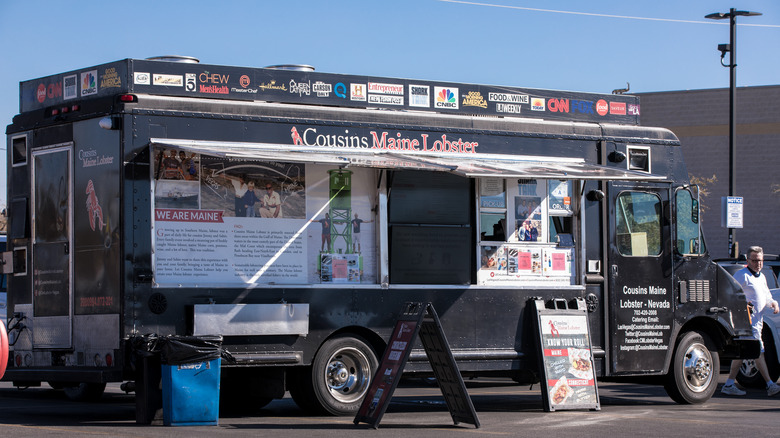 RYO Alexandre/Shutterstock
The first Cousins Maine Lobster truck opened in Los Angeles in 2012. The cousins saw the Los Angeles food truck scene was booming and decided to try their luck with a food truck. Sabin Lomac and Jim Tselikis couldn't have predicted what would await them on their opening night. A line of 60 people wrapped around the block, eager to try authentic Maine lobster rolls (per CNBC). The rolls were so popular, that the truck even caught the attention of Shark Tank producers. Producers approached the cousins, wanting them to pitch to the Sharks. Loma and Tselikis turned the producer down twice, before agreeing to appear.
The truck had only been operating for a few months and accrued $150k in sales when the cousins appeared on the show. The cousins asked for $55,000 for a 5% stake. Ultimately, Barbara Corcoran took the bait and offered $55K for 15% equity. After Corcoran's involvement, Cousins Maine Lobster won Best LA food truck in 2012 (per Shark Tank Blog). Between 2017 and 2018, the cousins had expanded to three more trucks roaming around Los Angeles.
The Cousins Maine Lobster empire continues to grow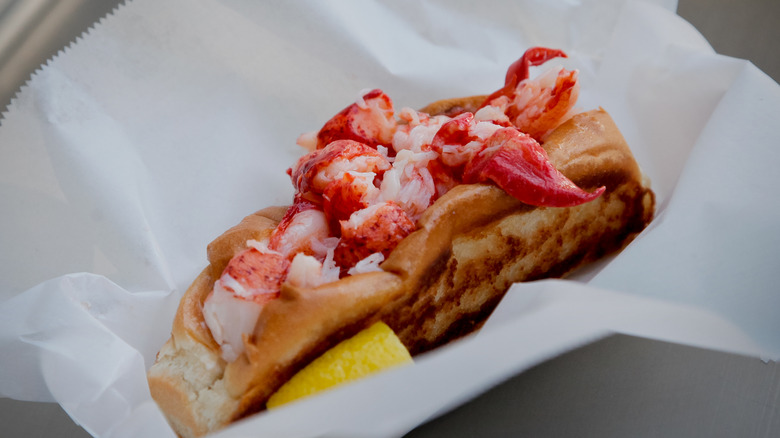 Tibrina Hobson/Getty Images
As of March 2022, Cousins Maine Lobster has 42 trucks and 7 brick-and-mortar restaurants. As of May 2022, Cousins had an annual revenue of $29 million. 
Cousins Maine Lobster also has a booming franchise empire. According to Shark Tank Blog, a potential franchise pays between $250k-$350k to own and run a truck. In addition, the Cousins receive a royalty fee of 8% of the revenue. Franchises are well trained, even joining the lobstermen on the boats to practice. Aside from franchising, Cousins Maine Lobster will ship lobsters and meal packages directly to your home. On the Cousins Maine Lobster website, customers can purchase whole lobsters, crabs, lobster mac and cheese, clam chowder, lobster ravioli, and lobster pot pie. 
In 2021, the founders, Sabin Lomac and Jim Tselikis waded into new territory. The cousins co-hosted a new Food Network show called "Food Truck Rehab." The cousins rescue struggling food truck owners and help them revamp the menus, trucks, and social media. It appears as if there are no bounds to Cousins Maine Lobster continued success.