Why Redditors Are Impressed With A Taco Bell Customer's Reward Points
Taco Bell is all about Live Mas — live more — which, to some, translates to "eat more". Whether it's morning, noon, or night, there's something to satisfy your Tex-Mex cravings on the go, from sausage, bacon, or steak breakfast quesadillas to $5 Bell breakfast boxes to classic Crunchy Tacos to Beefy Five-Layer Burritos to their version of Mexican pizza, to Chalupa Supreme with all the trimmings, to bowls and nacho plates. The menu is a smorgasbord, for sure, and the fast-food restaurant is also considered a "haven for vegetarians and vegans," with a growing number of meatless options to choose from (per Fast Company).
Some folks weren't having it when Taco Bell was voted America's favorite Mexican restaurant a few years back (per Us Weekly), but there's no denying the popularity of the California-based chain. It's the fourth-largest fast-food chain in the country as of 2018 (per QSR Magazine) and it also has what is considered to be a super generous rewards program for both casual and more dedicated Taco Bell lovers (per Eat Drink Deals).
Eating Mas: Redditor racks up nearly 60,000 Taco Bell points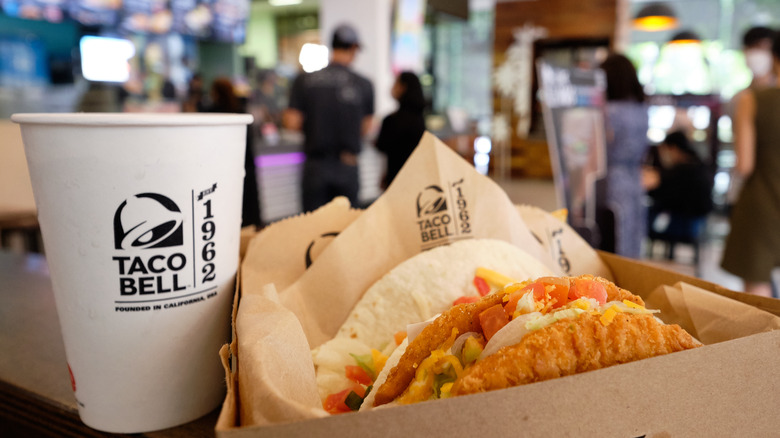 KULLAPONG PARCHERAT/Shutterstock
Like many customer loyalty programs, rewards at Taco Bell are available through the chain's app (per Brand Eating). One Redditor in the Taco Bell community is pretty certain he's the top T-bell rewards points holder, with a whopping 58,749 points. Responded another Redditor (who appears to be a T-Bell employee): "Almost 60k points? Living Más." Added another: "16 rewards eh? So do you go daily or buy large orders for work or what?"
Yes, living mas also translates to receiving mas — in terms of points: The Taco Bell system has two levels, Hot and Fire. At Hot, customers earn 10 points for every dollar spent. Once you hit 250, the points can be put towards food, including a bean burrito, chips and nacho cheese sauce, cinnamon twists, and other menu items.
Accumulate 2,000 points during a single calendar year and you automatically move to the Fire level, where you rack up 11 points for every dollar spent and can cash in on even more rewards, like Chalupa Supreme and Doritos Locos Tacos.
The Redditor with nearly 60,000 points noted that he earned his impressive collection by eating at Taco Bell often with his family. Sooner or later he will need to redeem them or lose them. Points are only good for about six months (per Taco Bell).