Here's What Happened To Bee Free Honee After Shark Tank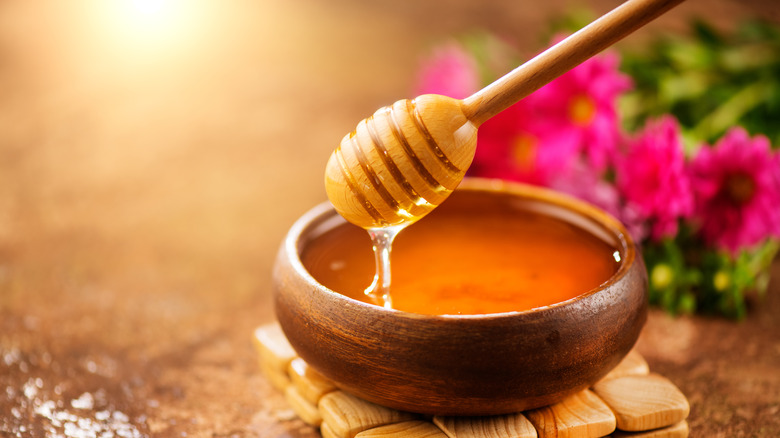 Subbotina Anna/Shutterstock
A stroll through a grocery store today will reveal plant-based alternatives for pretty much every food and drink item. You'll find alternatives for milk, meat, eggs, and nearly anything else you can imagine. According to data gathered by SPINS, the market for plant-based alternatives was valued at $6.9 billion in 2020 and has grown to a whopping $7.4 billion in 2022. Sales of plant-based foods are growing faster than any other category and there has never been a better time to be a vegan or a vegetarian.
In a world where soy-based meat and nut milk are in abundance, however, honey is often forgotten. According to the Canadian Honey Council, it takes 556 honeybees to produce a pound of honey and one bee will only make 0.8g of honey in its lifetime — that's about one-tenth of a teaspoon! Besides the enormous amount of bees that are needed to make a shockingly low amount of honey, there are also concerns that honey-making bees risk wiping off all other species of bees from existence (via Bon Appétit).
This means that there's increasing awareness of the need to switch to plant-based alternatives for honey as well. But that wasn't always the case. When entrepreneurial duo Melissa Elms and Katie Sanchez came to the sharks on season seven of "Shark Tank" in 2016, the sharks were pretty much blown away by their vegan honey business (via Shark Tank Blog). But the entrepreneurs soon found out that the world was not ready for vegan honey just yet.
Bee Free Honee had the sharks fighting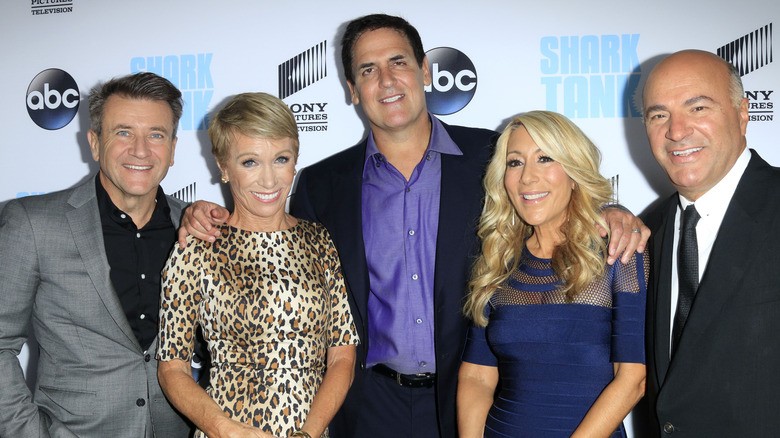 Kathy Hutchins/Shutterstock
Necessity may be the mother of invention but certain creations are entirely accidental. Pastry chef Katie Sanchez was working on making apple jelly in 1999 (via Shark Tank Blog) and while the apple jelly turned out to be a disaster, what she ended up with was a liquid that resembled honey. This is how Bee Free Honee's vegan honey was born.
Made from lemon, cane sugar, and apples grown in the U.S., Bee Free's honey was offered in five different flavors including mint and chocolate. Not only were the sharks thrilled about the idea and the vegan honey's flavor, but the business had promising numbers to back it up. At the time of its appearance, Bee Free Honee was in Whole Foods stores across nine regions and had made a total of $104,000 in sales.
All-in-all Mark Cuban thought that if the entrepreneurs focused on saving bees as their marketing message, they had a 100 million dollar business in their hands. And what shark wouldn't want a piece of that? After Chris Sacca and Daymond John entered into a ferocious bidding war, the entrepreneurs struck a three-way deal with Cuban, Sacca, and Barbara Corcoran for a $210,000 investment in return for a 30% stake in Bee Free Honee.
The world wasn't ready for Bee Free Honee
Bee Free Honee had several things going for it including an industry that was valued in the billions and three willing sharks to back it up. For some time, it seemed the company was on its way to becoming the next big plant-based item.
According to Shark Tank Blog, Bee Free Honee quickly hired more staff and grew their manufacturing process. Supermarket giants like Wegmans and Natural Grocers were stocking the vegan honey and Sacca added the honey to the menus of his vegan restaurant chain, Veggie Grill. But there was one major obstacle that Bee Free Honee faced, a lack of awareness. As a result, Bee Free Honee went out of business in 2019.
In an interview with Compassionate Action For Animals, Sanchez admitted that she was not ready for the "level of disruption that was ready to ensue upon me," and implied that maybe, the world wasn't ready for vegan honey at the time. When Bee Free Honee was in business, Sanchez claims that were also the only ones of their kind in the market to list all the nutrients inside each tablespoon of their honey. While the lack of eager vegan honey consumers presented a problem for Bee Free Honee, Sanchez is hopeful that "[today] people are a little more ready to hear the message. I'm hoping that we were at least able to break through and pave the way for the next person."