McCormick Seasonings Has Its Eye On Gen Z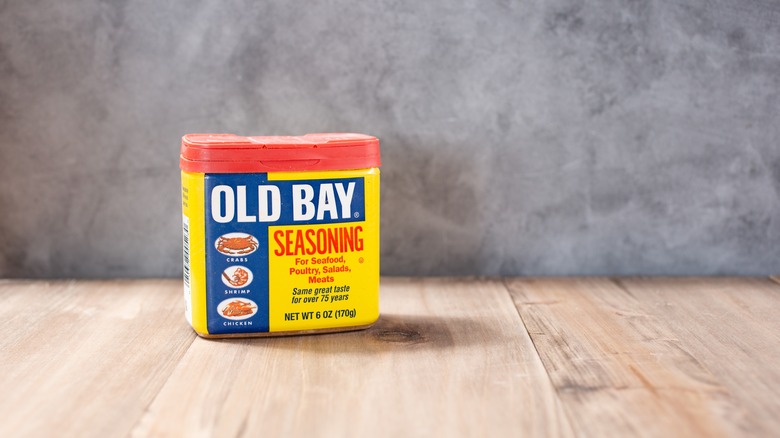 The Image Party/Shutterstock
Legacy brands like McCormick seasonings thirst for relevance as flavor preferences change over time. McCormick is hoping their recent glow-up will spice up your life. Their biggest challenge is appealing to younger Millennial and Gen Z cooks.
With recent seasoning and condiment trends toward single-origin spices and small-batch craft products, and Trader Joe's updates on classics it may not always be obvious how long-standing brands like McCormicks fit in. While McCormick's classic Old Bay Seasoning is still a classic with steamed crab, some of their other seasonings may seem a little old-fashioned.
Not only that, but food preferences change. That legacy red spice bottle from mom's kitchen just may not fit the vibe. Segmenta asked Gen Z participants about flavor preferences. At the time of writing, the top choices were salty and spicy. About 27% preferred salty tastes while around 20% craved spice. Slightly over 19% had a sweet tooth while around 14% wanted umami. Of course, some love all flavors equally, around 13% said they didn't have a single preference. 
McCormick launched a Flavor Inspirations line with more artisan aesthetic packaging. These seasonings combine on-trend combinations like Miso Caramel, Umami Ramen, or Firecracker Seasoning. Will the new seasoning give McCormick a space in Gen Z kitchens? McCormick Seasonings is also embracing new media in hopes of reaching younger foodies.
McCormick wants to be a foodie influencer
McCormick Seasoning came a long way since its 1889 beginnings in the basement of a Baltimore home (via Maryland Marketing Partnership). The brand entered the digital age with extensive social media reach.
The team at McCormick Seasonings creates exclusive content on TikTok, Twitter, YouTube, and even Spotify. The brand's TikTok channel features food hacks and recipes for on-trend food and cocktails. For example, McCormick shared a video for corn ribs cooked in an air fryer, complete with spicy coconut yogurt sauce topped with miso butter and crispy pepitas. Will McCormick's reach the Gen Z audience one cooking hack at a time? One TikToker said, "I'd try that," in response to the air fryer corn ribs.
McCormick also brings new meaning to the phrase comfort food with an ASMR series on YouTube featuring the sounds of making mac and cheese, pickles, and baked taco chicken fingers. They even shared public playlists on Spotify for those who want something to listen to while cooking, baking, or crunching. The ASMR pickle-making video inspired comments from YouTubers like, "This was such a great ad. It was relaxing and informational. Now I want to make some pickles!" Another commented, "I can't fall asleep if I'm craving pickles!!!"