The Meat Lover's Chick-Fil-A Breakfast That's Giving Reddit Mixed Emotions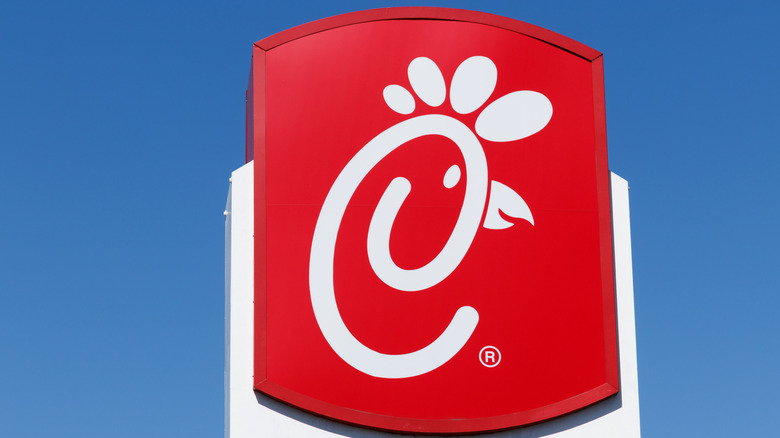 Jonathan Weiss/Shutterstock
When it comes to customer satisfaction, few fast-food restaurants can rival the love that Americans have for Chick-fil-A. According to the American Customer Satisfaction Index, Chick-fil-A has been the top-rated restaurant for the past eight years. And that's not just fast food restaurants. It is amongst all restaurants. With their emphasis on exceptional customer service and fantastic food, it's not hard to see how they commanded the top spot.
Founded by S. Truett Cathy in 1967, the first Chick-fil-A was in Atlanta, Georgia (via Entrepreneur). Credited with bringing the chicken sandwich into the mainstream, it has since expanded from Georgia to every state in the United States except Alaska, Hawaii, and Vermont. From their original chicken sandwich to their waffle fries, people rave about the taste and quality of their food. So, it should be no surprise that a Reddit thread with mixed reviews about a menu item garnered some serious traction.
The breakfast of champions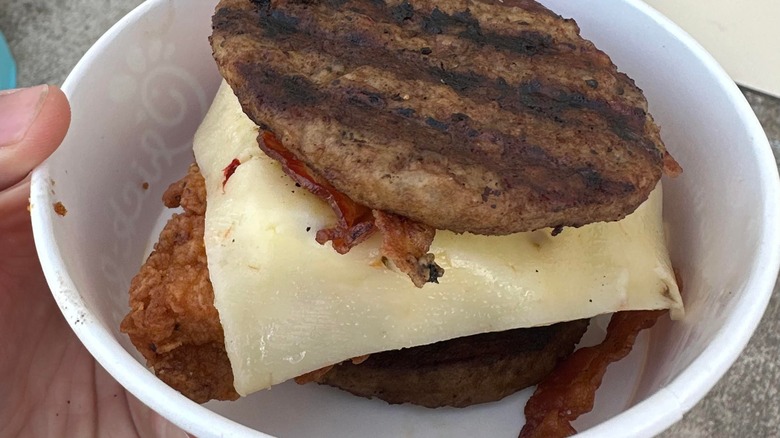 Reddit
According to Parade, Chick-fil-A entered the fast food breakfast game when they began offering a chicken biscuit. Since then, their menu has grown, and more patrons show up in the morning to get their hands on one of the breakfast staples. However, in a recent Reddit thread, one breakfast item had a mixed reception.
Labeled as the "meat lover's breakfast," the hearty sandwich features a spicy chicken breast, bacon, pepper jack cheese, and an egg. To house such a delicious grouping, instead of a traditional biscuit, they use sausage patties. This fact appears to be what split the Reddit users.
Those in favor posted comments like, "This does look yummy!" and "I hate how much I want to try this." Some even mentioned how it looked like it would be a college favorite, with one stating, "I would have loved this in college. Hope you enjoyed it !"
Those not in favor did not mince words. One user bluntly stated, "That's f***ing disgusting." Another one was a bit milder when expressing their displeasure saying, "I'd probably only get through one bite of this, but to each his own, I suppose!"
If a sausage sandwich isn't your thing, don't worry; Chick-fil-A still has many breakfast options sure to jumpstart your morning.