Why Cracker Barrel Doesn't Franchise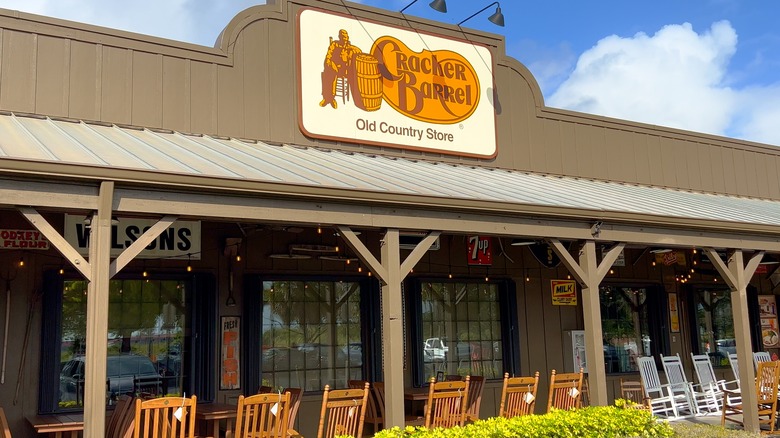 4kclips/Shutterstock
Things you probably know about Cracker Barrel: The beloved homestyle restaurant is known for comfort food like chicken and dumplings, meatloaf, macaroni and cheese, and greens braised with ham. The restaurant chain made headlines (and incensed meat eaters) earlier this year when it was announced that plant-based sausage was being added to the breakfast menu (per USA Today). Each store sits on several acres of land and is designed to resemble an old-time country store, including a front porch decked out with ladder-back rocking chairs (which are for sale) and a retail section offering everything from jams and jellies to greeting cards to candy to tchotchkes (per Country Living).
More fun facts: Each Cracker Barrel location has more than 800 pieces of vintage and antique decor on its walls — and they're all the real McCoy, not replicas (per the establishment's official website). The restaurant welcomes roughly 230 million guests each year, and travelers account for 40% of the chain's business.
There are 668 Cracker Barrel restaurants in 45 states, and all of them are company owned (per ScrapeHero). If you've ventured off the highway for some Cracker Barrel-style road food and home cooking and think it would be sweet to have one in your town, you'll have to lobby the chain's top brass. This is one restaurant that doesn't franchise. Here's why.
All Cracker Barrel restaurants operate under corporate direction
There's a reason there are so many McDonald's around, and it's related to the same reason it's so cheap to open a Chick-fil-A location. Many fast-food and fast-casual restaurants are franchised, including some of the biggest and best-known eateries around. However, Cracker Barrel is one notable restaurant that doesn't franchise. In fact, it says so plain as day on the company website: "All of our stores are company owned and operated."
Rather than franchise its operations after its 1969 founding by Dan W. Evins in Lebanon, Tennessee, the company turned to private investors in its early days to finance expansion and went public in 1981 (Nasdaq: CBRL). As a result, the company was able to grow widely beyond its base in the southeast, while maintaining control of the overall operation. In so doing, it became a "stock market darling" (per The New York Times).
Central ownership seems to work well for Cracker Barrel, but some investment experts have openly suggested some specific reasons why the company doesn't franchise. For example, The Dividend Pig suggested that the nostalgic restaurant-retail concept Cracker Barrel is known for could be a money-making challenge for franchisees and that corporate oversight allows the company more control of its earnings and cash flow.