What A Typical Breakfast Looks Like In Romania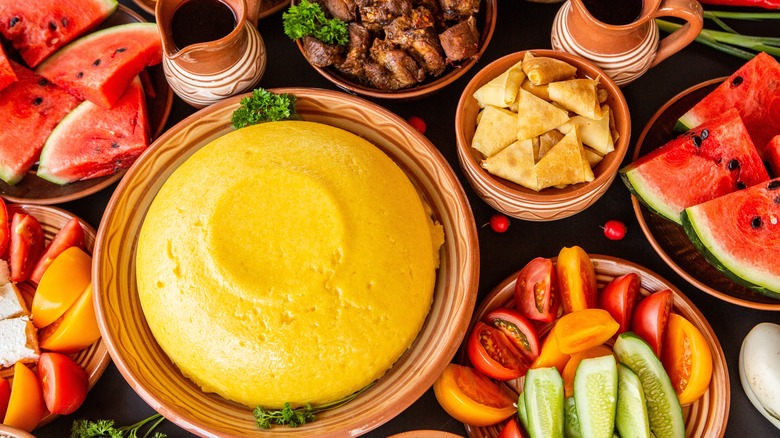 romeovip_md/Shutterstock
Fall is the ideal time to eat comfort food dishes, snuggle up and await Halloween, or get cozy with a spooky book, such as Bram Stoker's "Dracula." And Dracula fans have every reason to get excited. We're taking them on a short trip to Romania (although the trip is in digital form only), so maybe you should dig into some Dracula-inspired Count Chocula cereals to get in the mood while discovering Romanian cuisine. 
Still, it should be known that Romania offers much more than just Dracula and impressive Transylvanian castles. For example, Mihai Eminescu's 1845 "Evening Star" is recognized as the world's longest love poem, while a Romanian newspaper from the 18th century called "Auroch and the Eagle" is the world's most expensive newspaper (per Hey Explorer). Those are some interesting world records, Romania. 
And if you find yourself roaming the rugged Carpathian mountains or swimming in the Black Sea, you might want to eat something nourishing on the way. Luckily, Romania has a rich cuisine, and everyone can find a suitable bite when needed. From delicious cabbage rolls filled with ground meat and rice (sarmale), over grilled ground meat sausages (mici), to drob de miel, a meatloaf with boiled eggs, there's something for everyone (per Chef's Pencil). But before enjoying these hearty main dishes, the Romanians like to indulge in their typical breakfast foods.
A typical Romanian breakfast includes eggs, zacusca spread, franzela bread, polenta, and cheese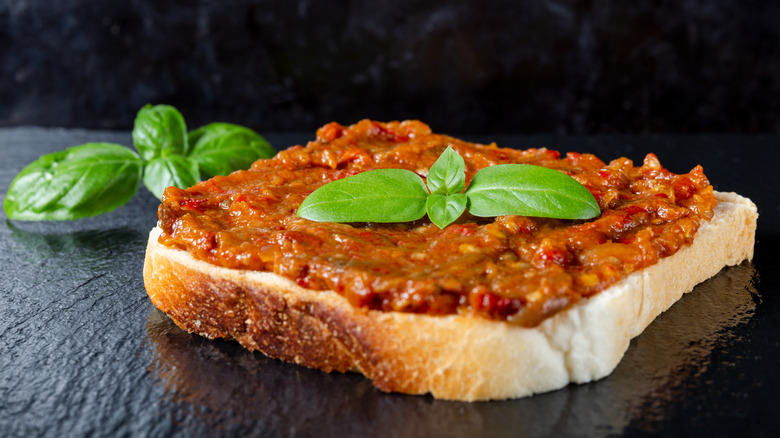 Jitaru Mihai Gabriel/Shutterstock
Eggs are some of the most common breakfast foods you can find wherever you go. And Romanians undeniably like to eat eggs for breakfast, whether fried, boiled, or served as an omelet, often enriched with onions or bacon. In the fall, a spread called zacusca is a staple in most home kitchens in Romania. It's a creamy and slightly spicy concoction based on grilled bell peppers and eggplants that's spread over a slice of bread such as franzela. Franzela is a traditional Romanian bread that's oval-shaped, with a crusty exterior and fluffy interior (per The World In My Pocket). 
Bread is also often paired with fruit jams, butter, Sibiu pork salami, cucumbers, tomatoes, and cheese. Telemea cheese is a Romanian staple, made from cow or sheep milk and similar to the Greek feta, with extra pungency. And who could forget one of the best Romanian specialties that's usually served in the morning? Mamaliga, also known as polenta, is especially popular in the countryside, according to Roads and Kingdoms. 
Pies and pastries, such as plăcintă aromână, also make a regular appearance on breakfast tables. And no breakfast in Romania is complete without a cup of Turkish coffee, which will kick-start your day in a delicious fashion (per The Travel). Bon appetit — or poftă bună, as they say in Romania.