Taco Bell Just Tested A New Grilled Cheese Inspired By TikTok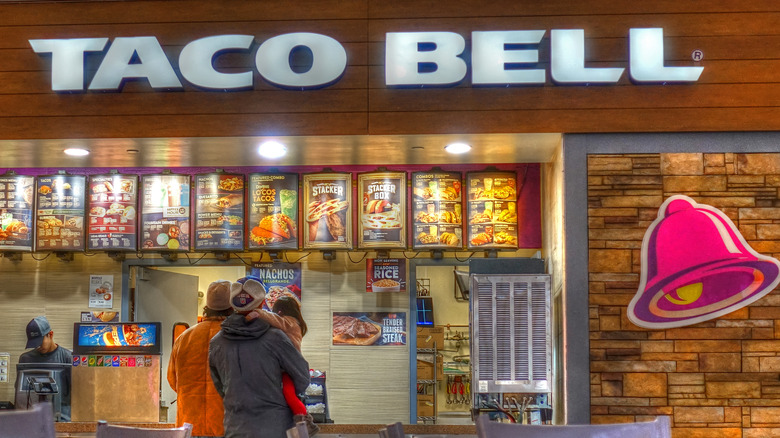 QualityHD/Shutterstock
When it comes to Taco Bell, grilled cheese probably doesn't spring to mind. However, the fast food joint isn't afraid of a little experimentation and doesn't mind straying from traditional Tex-Mex fare. The Doritos Taco and Mexican Pizza are perfect examples of this. So who would have guessed that the public was craving a taco deep-fried with melted cheddar, mozzarella, and pepper jack? Apparently, Taco Bell. However, that's not all it is. What you get with it seems to have been inspired by a TikTok trend that went viral during the pandemic. 
Many food-related experiments and recipes were inspired by TikTok over the past few years, especially things that people could try in the comfort of their own homes. The best part about the successful recipes is that some of our favorite restaurants wanted in on the trend as well. This particular trend — which received over 900 million views on the platform — seemed to be enough for the Tex-Mex chain to test out if it could be a viable part of its menu. 
The Grilled Cheese Dipping Taco is only available in select locations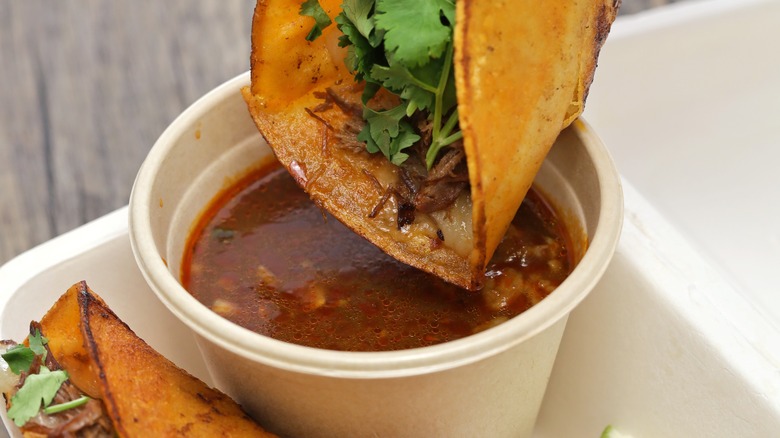 bonchan/Shutterstock
According to FoodBeast, while these Taco Bell grilled cheese tacos are not actually labeled as a birria, they definitely seem related to the Mexican dish. You can choose from two fillings — seasoned beef or shredded beef — and you can pick from two types of dipping sauce, either savory red or nacho cheese. 
For those not familiar, the Food Network describes birria as a "Mexican dish that originated in the state of Jalisco. It is a flavorful stew served with its braising liquid." The TikTok trend took the concept of the dish and applied it to tacos putting the meat inside and using the liquid as a dip. Many also fried the tortilla with cheese. In Australia, restaurants picked up on the idea and it proved a huge success especially when businesses were having a hard time recovering from the pandemic. Now, Taco Bell has decided it's time to try out the popular dish as well. 
If you're thinking this sounds like something you really need to try, unfortunately, only Taco Bell fans in Minneapolis and St. Paul, Minnesota can try the Grilled Cheese Dipping Taco with Seasoned Beef for $2.99. Or, if you happen to be in Nashville, Tennessee you can try out the Shredded Beef version for $3.49, per FoodBeast.