Costco's Gingerbread Cookie Kits Are Back For The Holidays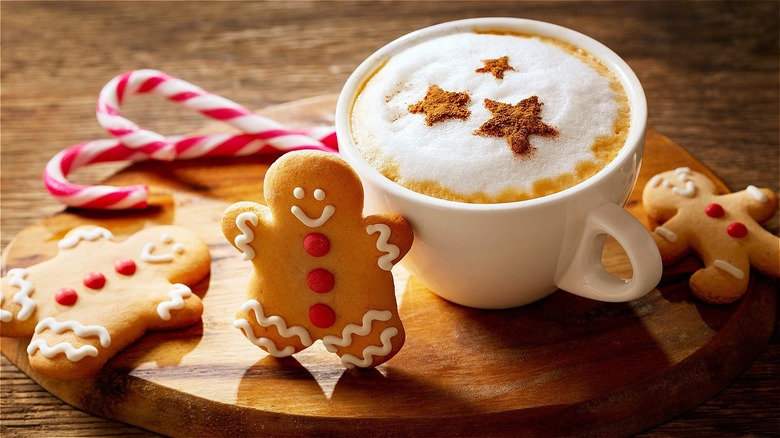 Nitr/Shutterstock
Each holiday season, families get together to hang up stockings, put up the Christmas tree, string lights, and decorate gingerbread cookies. It's a tradition so common that it even has its own holiday: Gingerbread Decorating Day on December 12 (per National Today). 
According to The Spruce Eats, the gingerbread house rose to popularity in Germany after the release of "Hansel and Gretel." The gingerbread man, meanwhile, is attributed to Queen Elizabeth I in the 16th century. Today, gingerbread is made of ginger, cloves, nutmeg, cardamom, anise, and sometimes cinnamon. It's sweetened with brown sugar, honey, or molasses.
According to Gingerbread Traditions, gingerbread cookies came in numerous fun shapes and were sold at European festivals and fairs. Because the shapes would be difficult to cut by hand, many bakers use cookie cutters to create their desired image. Of course, perfecting a gingerbread cookie recipe isn't everyone's strong suit. If this applies to you, you're in luck, as Costco has released kits that make the process easy (per Instagram). 
The gingerbread kits have received mixed reviews
Costco has re-released a holiday favorite. According to @costcobuys on Instagram, gingerbread decorating kits are once again hitting the shelves. "Gingerbread Decorating Kits from Costco are SO fun! Each box has three kits which include pre-baked gingerbread cookies, icing, and assorted candies! $11.99," the post reads. 
Many Instagram users were eager to get their hands on a kit. Commenters wrote, "Omg getting this!!" and "This would be fun!" Some people are tagging their friends to weigh in on the product. "Should we do these this year???" one comment asked.
According to Costco's website, the gingerbread cookies included in the kits are "baked using the traditional German recipe." However, customers who reviewed the product had mixed thoughts. "The ginger bread dolls are huge," one comment began. "Unfortunately, the bread itself does not taste as good so the one tasted was wasted." Another commented echoed that sentiment: "[Our grandchildren] had a wonderful time decorating them and they looked so cute. They couldn't eat them because they didn't taste good at all." Interestingly, one commenter disagreed, claiming the cookies are tasty. It seems as if the decision will be based on individual interpretation.