What A Typical Breakfast Looks Like In Taiwan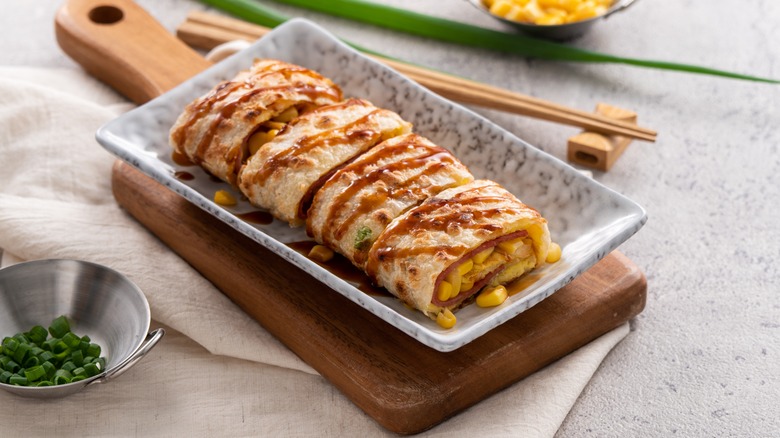 YamisHandmade/Shutterstock
For every foodie who plans to visit Asia, Taiwan may be one of the most wished-for destinations. And apart from exciting and delicious eating opportunities, Taiwan has much to offer. The country is famous for its night markets, which are bustling with energy and deliver anything from toys and games to clothes and a variety of street food dishes. And in Taiwan's nine national parks, you can revel in the beautiful sights of nature, such as caves, hiking trails, and shrines (per The Culture Trip). For those who want to see Taipei from a bird's-eye perspective and enjoy the view, there's the famous skyscraper, Taipei 101, and its observation deck on the top floor. 
But let's get back to Taiwanese food — there's so much tasty stuff that it would be a shame not to try most of the country's specialties. At night markets, you can enjoy Taiwanese grilled pork sausages or have a bite of XL fried chicken cutlets. As far as restaurants go, don't miss out on Taiwanese beef noodles, consisting of noodles, broth, beef slices, and scallions. Those who don't eat meat can give their taste buds something to think about by trying stinky tofu, which is made by frying fermented tofu in oil and serving it with different sauces (per Hey Explorer). 
And in the morning, you don't want to skip the glorious Taiwanese breakfast.
A typical Taiwanese breakfast includes crullers, baked wheat cakes, beef rolls, scallion pancakes, and steamed buns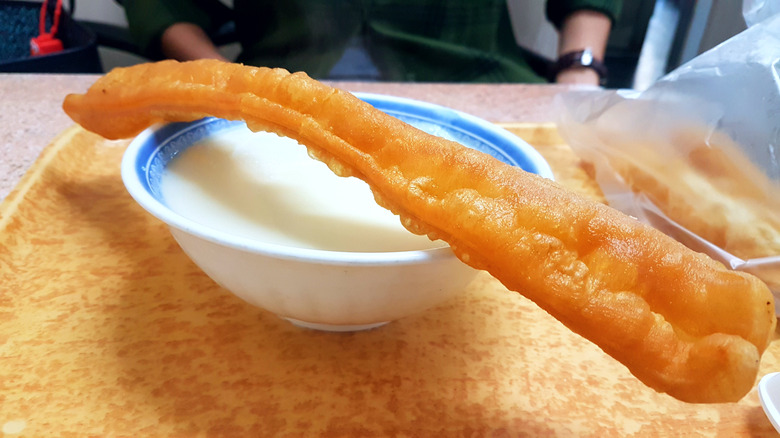 Eunice Yeung/Shutterstock
In Taiwan, there are many great breakfast options to choose from. Serious Eats made a list of selected breakfast specialties that anyone can indulge in while visiting the country. Just be cautious of the fact that Taiwanese breakfasts are often very heavy and contain lots of eggs and carbs. For instance, you tiao crullers are a typical breakfast staple, made with a mixture of flour and baking powder and then fried in oil before they're eaten plain or dipped in soy milk. 
On the other hand, shao bing, or wheat cake, is made with flour, yeast, and sesame seeds. The wheat cake is baked, which makes it flaky, and it can be plain or filled with beef or eggs. And those who want something more substantial will be pleased with jiang rou da bing beef rolls, consisting of marinated beef, onions, scallions, and a sauce, all bundled into a pancake-like wrapper. 
Hive Life brought even more breakfast foods to the table, such as steamed buns (gua bao), which can be filled with countless ingredients and eaten on the go. And let's not forget about scallion pancakes and radish cakes drizzled with chili sauce; who could resist those fluffy treats in the early hours? Once you're satiated, grab a beloved Taiwanese classic called bubble tea or boba tea, which dates back to the 1940s, and wash it all down (per CNN).