Here's Exactly When You Should Baste Potatoes During Baking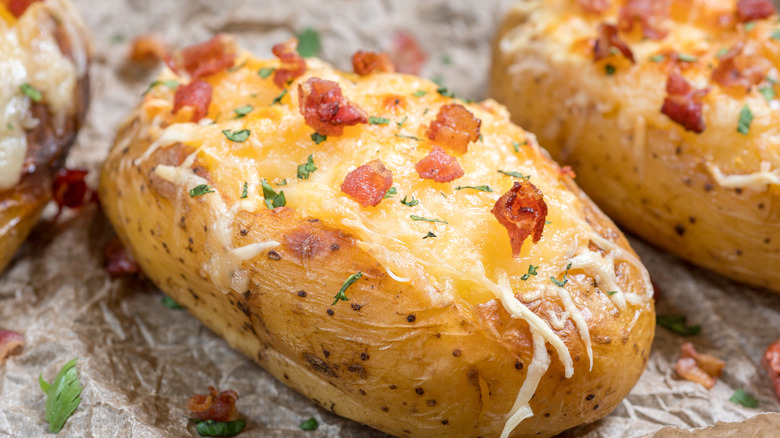 Elena Shashkina/Shutterstock
A baked potato recipe shouldn't be so hard. After all, it literally requires only one ingredient and one method of preparation. If you're feeling crazy, you can even bake them twice and load them up with cheese, bacon, and sour cream for a perfect side dish that's versatile in the way of toppings and add-ons. But as the old saying goes, looks can be deceiving and you may find yourself with a particularly bad potato should you fall into some of these easy mistakes everyone makes with baked potatoes.
Southern Living, for example, advises that you should take the time to poke holes in your potatoes with a fork before baking or else run the risk of steam building up in the potato as it cooks and causing it to burst. If you find your baked potato is still hard and somewhat raw in the middle, home cooks on Reddit suggest "pre-baking" your potatoes in the microwave first to help soften them up. While baked potatoes are an easy dish to make, it never hurts to keep your potato skills up to date.
But what if you wanted to baste your baked potatoes to add some garlic herb butter onto your spud, letting that savory spread soak in through the golden brown skin? When exactly would be the best time to do it?
Baste your potatoes last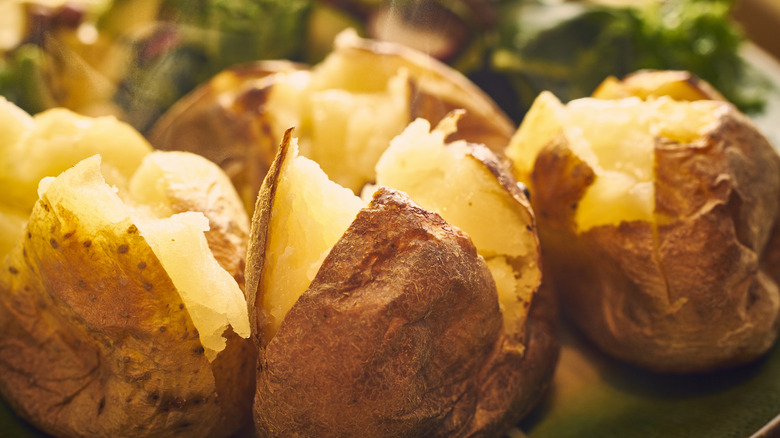 Matthew J Thomas/Shutterstock
While the idea of hot butter and oil covering a baked potato while it broils in the oven is a tempting thought, it's suggested that you actually baste your potato in your oil, butter, or whatever other mixture last instead of doing it immediately.
According to Allrecipes, when you apply your butter or oil first before you put it in the oven, what you're actually doing is preventing the skins from getting crispy thanks to all that oil. Any salt or seasonings you had would run off anyway, collecting in the bottom of the foil pouch. What Allrecipes suggests you do is wait until the potatoes have an internal temperature of 205 degrees Fahrenheit and then remove them from the oven to be basted in your choice of butter, oil, or seasonings before returning to the oven for 10 minutes. During these last few minutes, the dehydrated skins will turn crispy and the seasonings will remain on your spud.
But how do you add butter, sour cream, and other toppings to your basted baked potato? Dr. Potato (of Idaho Potato fame) recommends adding your butter first, then cheese, and then your sour cream and whatever other toppings you like, as the butter and cheese will be exposed to the heat of the potato instead of sitting on cold ingredients.
Whether it's once, twice, or even thrice-baked, a good baked potato loaded up with your favorite flavors is always a welcome addition to any dinner table.