Lemon-Garlic Air Fryer Bay Scallops Recipe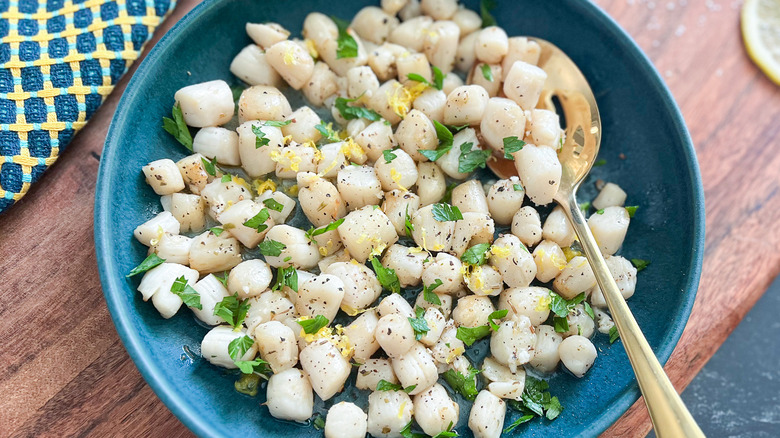 Erin Johnson/Mashed
Scallops are one of the most popular types of seafood out there, and for pretty good reason. They're tender and succulent, and they have a rich, buttery taste that also borders on sweetness. They also tend to taste less "fishy" than other types of seafood, making them not only popular, but also somewhat of a delicacy. Many people tend to shy away from cooking scallops at home, as it's easy to overdo them and create tough and chewy blobs.
While searing is one of the most popular ways to cook scallops, you can actually skip the stovetop altogether and follow this air fryer bay scallops recipe, courtesy of developer Erin Johnson. Not only will you cook these scallops to perfection in an air fryer, but you'll infuse them with lemony, buttery, and garlicky flavors — a profile that is near foolproof when it comes to seafood. "I love to cook this dish in the air fryer because it makes it so easy and fast," Johnson says. She uses bay scallops in this recipe, but notes that you aren't limited to just that variety: "This recipe also works with sea scallops or even peeled shrimp," she notes. 
Gather your lemon-garlic air fryer bay scallop ingredients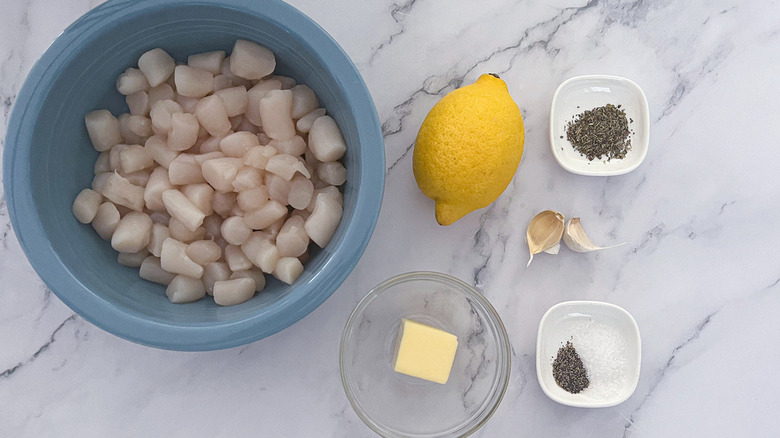 Erin Johnson/Mashed
To make this recipe, you'll need 1 pound of bay scallops, along with some butter, salt, pepper, lemon juice, minced garlic, and Italian seasoning. And, of course, you'll need an air fryer.
Season and begin cooking the scallops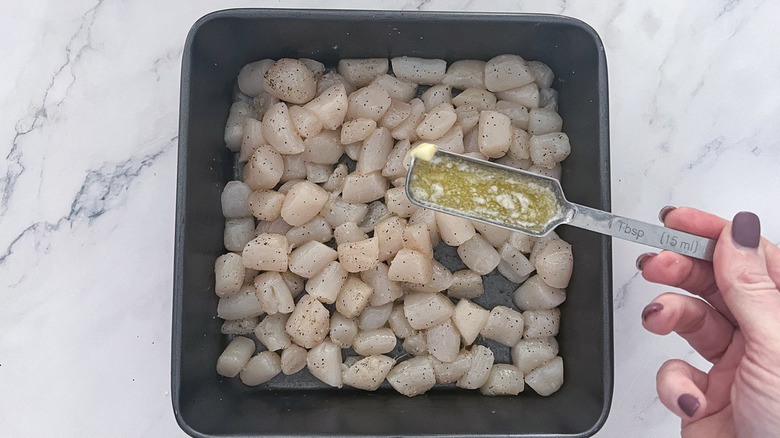 Erin Johnson/Mashed
First things first, preheat your air fryer to 400 F. Then, place the scallops into an oven-safe pan (one that will fit into your air fryer), and season them to taste with salt and pepper. Then, pour in 1 tablespoon of the melted butter, and mix it all up so that each scallop is evenly coated. Then, pop the pan into the air fryer, and allow the scallops to cook for an initial 5 minutes.
Mix up the garlicky, lemony, buttery sauce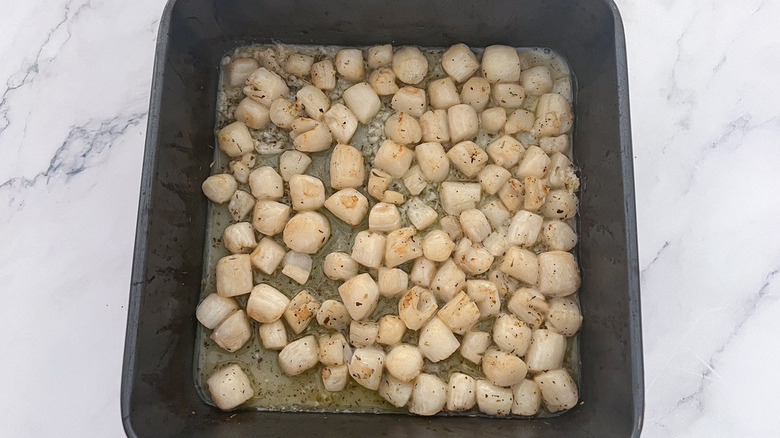 Erin Johnson/Mashed
As the scallops cook, grab a small bowl and mix the remaining melted tablespoon of butter, lemon juice, garlic, and Italian seasoning. Once the 5 minutes are up, drizzle the buttery sauce on top of the scallops, then return them to the air fryer to cook until they're opaque, which should take another 5 minutes or so. 
Garnish and serve the lemon-garlic scallops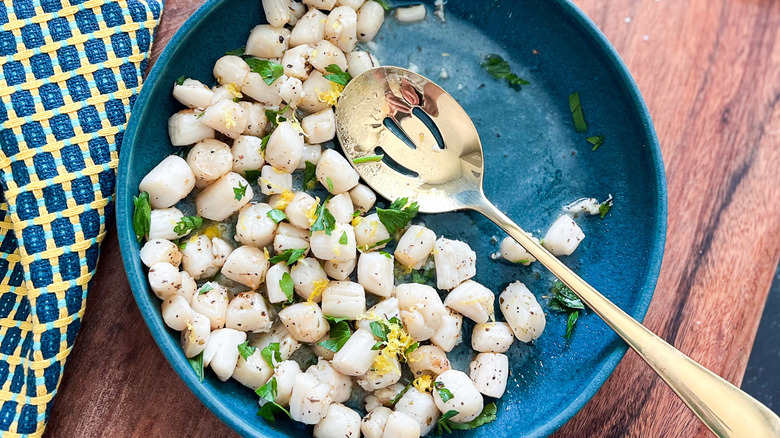 Erin Johnson/Mashed
Once the scallops are opaque, they're ready to go. Simply transfer them to a serving dish, and optionally garnish with fresh parsley and lemon zest. "Serve over mashed potatoes, buttered noodles, or rice," Johnson suggests.
While these bay scallops will be absolutely delicious when eaten immediately, unfortunately, leftovers won't keep well. "These are best eaten right away, as scallops tend to get rubbery when reheated," Johnson explains. With a recipe so easy to prepare, however, it will never be much of a hassle to whip up a fresh batch!
Lemon-Garlic Air Fryer Bay Scallops Recipe
This quick and easy, lemon-garlic bay scallops recipe is only made easier, thanks to the handy-dandy air fryer.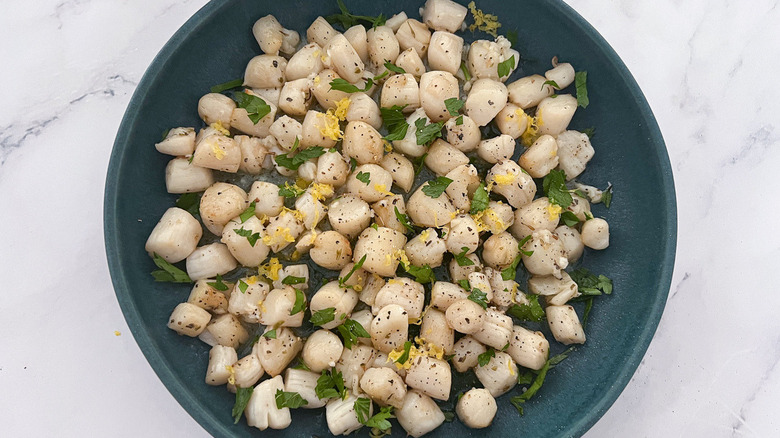 Ingredients
1 pound bay scallops
2 tablespoons butter, melted and divided
2 tablespoons lemon juice
2 cloves garlic, finely minced
1 teaspoon Italian seasoning
salt, to taste
pepper, to taste
Optional Ingredients
lemon zest, for garnish
fresh parsley, for garnish
Directions
Preheat the air fryer to 400 F.
In an air fryer-safe pan, season the scallops with salt and pepper, then add in 1 tablespoon of melted butter. Stir to coat.
Air fry the scallops for 5 minutes.
While cooking, combine the remaining 1 tablespoon of butter with lemon juice, garlic, and Italian seasoning.
Pour the butter mixture over the scallops and cook until they're opaque, about 5 minutes.
Garnish with lemon zest and fresh parsley, if desired.
Nutrition
| | |
| --- | --- |
| Calories per Serving | 269 |
| Total Fat | 12.7 g |
| Saturated Fat | 7.6 g |
| Trans Fat | 0.5 g |
| Cholesterol | 85.0 mg |
| | |
| --- | --- |
| Total Carbohydrates | 10.1 g |
| Dietary Fiber | 0.5 g |
| Total Sugars | 0.4 g |
| Sodium | 891.7 mg |
| Protein | 27.8 g |