Alex Guarnaschelli On 20 Years At Her Restaurant, Butter - Exclusive Interview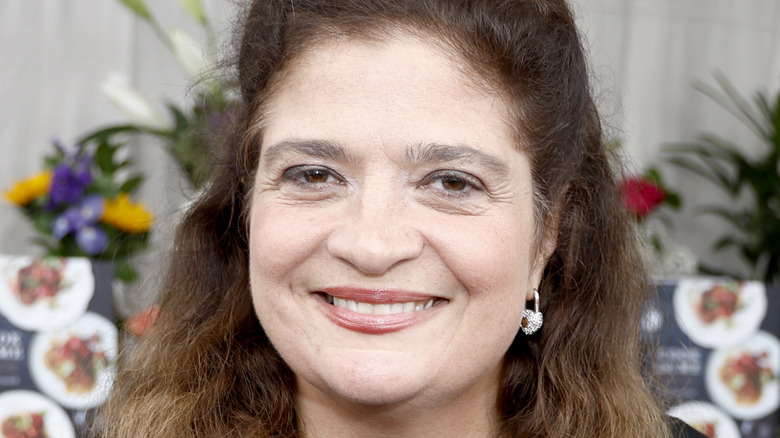 John Lamparski/Getty Images
Even if you're a casual Food Network watcher, you're probably familiar with Alex Guarnaschelli. The Iron Chef, TV personality, and restauranter does it all. She's a longtime "Chopped" judge, a co-host on "The Kitchen," the one-woman culinary wizard on her own show, "Alex vs. America," and so much more. And through it all, she's been behind the scenes at her New York City restaurant, Butter. The eatery has enjoyed two decades as a mainstay of the Manhattan elite, bringing VIPs from far and wide to see and eat some absolutely delicious greenmarket-driven cuisine.
Tasting Table got the chance to catch up with Guarnaschelli recently at the Food Network New York City Wine and Food Festival, presented by Capital One. The premier event brings together some of the biggest names in food TV and invites the public to come and celebrate good food and good drinks, all while supporting an amazing cause, God's Love We Deliver.
In an exclusive interview, Guarnaschelli opened up about her friendship with fellow Italian-American chef and "Chopped" judge Scott Conant, with whom she co-hosted the event's signature Taste of Italy night. She also looked back on 20 years at her restaurant, Butter, and some of the memorable moments she's enjoyed at the helm of the NYC nightlife institution.
Good friends and good times at the NYCWFF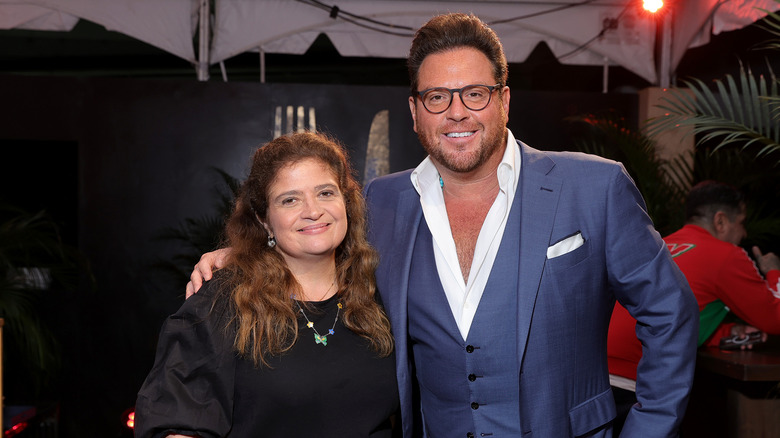 Michael Loccisano/Getty Images
What's it like to be out here hosting with your longtime friend Scott? You guys are a hoot.
Well, you've got the Hudson River. We've transported half of Rome to come here. We have a wonderful group of sponsors. This is a great cause. It's like a good lasagna — there's a good sauce, good pasta, a little pesto. Maybe like Carmela Soprano, a little layer of basil leaves in there. We've got philanthropy, we've got our platform at Food Network, great sponsors, and it's really fun. And people get wild.
You and Scott go way back. Do you have a favorite or a funniest memory with Scott?
We sat together on the first day of "Chopped," and one of the contestants stood in front of us, and he said, "You know what, guys? I'd chop me." There's something about a competitor expressing what we already felt. There was something that happened there that day for me and Scott. 
He's the only judge I knew before the show started; every other judge I met while shooting. So there was this holding each other's pinkies under the table, [thinking], "We're going to get a lot of hate mail, and this show is not going to work." I'm glad we were wrong on every account. Fourteen-and-a-half years later, here we are.
It's been about 10 years since you and Scott Conant competed against each other on "Chopped All-Stars." I know he famously hates competing, but do you think you could ever convince Scott to compete against you in a cooking competition again?
We've had a lot of therapy in 10 years; that's just not where we're at. That's not a measure of anything. That's one plate in a day, so no. But getting him to button his shirts higher and wear different necklaces, now that's something I'm going to work on.
Is this the first time that you're meeting Whoopi Goldberg tonight as well?
I met her on "The View," but I don't think I was quite exposed to her awesomeness [in] schooling everyone on mixing fun with what you're doing with a cause. That's a real hat trick that I admire, and that's what I witnessed today. Any moment where I get to eat too much, drink too much, and learn something from an icon, it's been a pretty good day. I'm going to check the box.
Were you surprised to learn about her love of Italian cuisine and her connection to that culture?
No. She's a smart woman. We know she's smart, so no. Let's face it — Italian food is irresistible. It's like the Daniel Day-Lewis of food. ... You go to the movie, you admire it, you go home.
Alex Guarnaschelli looks back on 20 years at Butter NYC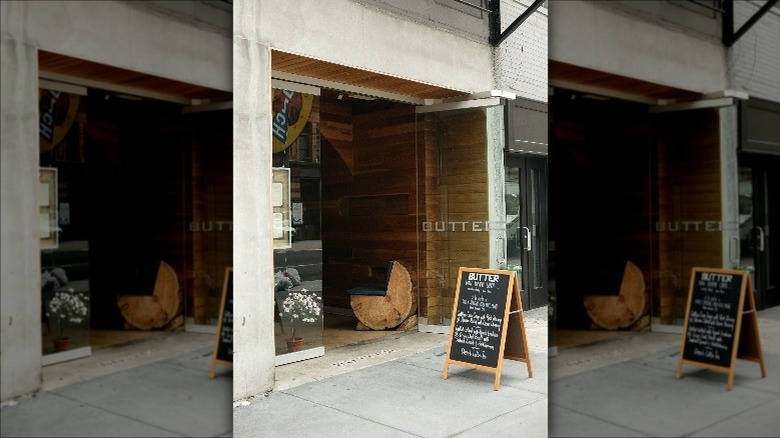 Scott Gries/Getty Images
Speaking of good food, Butter is celebrating 20 years this year. That's such a huge milestone.
We can't believe it's still open. That was our joke tagline in the kitchen — really just a bunch of pirates with a lot of good produce. And I turn around 20 years later, and it's the same group of people. People that say to me that food and culture and life and restaurants are not about the people that are inside them, they're wrong. You can get through anything when a group of people agree and commit.
That restaurant has had such a heyday, with so many people that have come through.
We have fed every celebrity on the planet. We really have. We've seen it all.
Who is the most exciting, or unexpected, guest that you got to serve at Butter?
I have to say that Denzel Washington was iconic.
Do you remember what he ordered?
No. I was too starstruck. I was like, "Just make everything in the whole neighborhood and bring it."
Who else? Gloria Steinem. [She] wrote me a note saying how good the food was. I got this little card while I was in the kitchen. "Here, some woman out there gave us this to [give to you]," and I'm looking at it like ... You know those moments. [It's] astounding what food does, because everybody has to eat. My dad was like, "Why are you choosing this job?" And I said, "Everybody has to eat."
The secret behind Butter's famous gnocchi mac and cheese
That gnocchi mac and cheese at Butter, it's legendary. What's the secret there? Why is that so good?
We don't put a lot of flour in the dish. A lot of mac and cheese dishes like that have a lot of flour, and they get gluey and heavy, and we don't make it like that. We make it with potatoes and cheese and cream. Simple. 
And we have one person who makes it every night. And you know what? What did I say to you? It's the people. You've got the same person, who, with the same amount of passion every night, makes it. He's like, "Wait a minute." I said, "Give it to me. I need it." He said, "It's not hot enough." He'll fight me if it's not right. It's a commitment. They make the commitment. You can't make people.
What was the inspiration behind that dish? How'd you come up with it?
I was lying in bed, like, "What would I like [to eat] every minute of my life? Let's put that on the menu."
Do you think making gnocchi at home is worth it? Should we try it?
That's a trick question for a chef because a chef will always say, endeavor to make it yourself. I would say, [for] mayonnaise and ketchup, buy it at the store. Anything else is fair game.
What is a top tip to keep in mind for making gnocchi at home?
Don't work it a lot and feel this need to overmix it. Potatoes get gluey, and vegetables get grouchy. If they're grouchy, they're not going to taste good. Mix it a little bit and relax. Be cool. The potato knows.
For the latest from Chef Alex Guarnaschelli, follow her on Instagram. Plus, learn more about the annual Food Network New York City Wine & Food Festival, presented by Capital One, and be sure to check out the highlights from this year's event.