Shake Shack's Taylor Swift Album Pairings Are 100% Definitive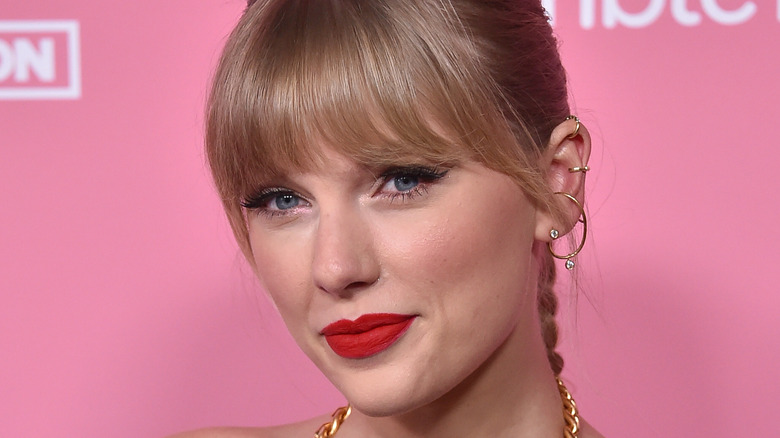 DFree/Shutterstock
After two months of anticipation, Taylor Swift's 10th full-length studio album "Midnights" has finally hit shelves and streaming services (via The New York Times). The 13-song album was followed up near immediately by "Midnights (3am Edition)" — an expansion to the album featuring seven additional tunes. Swift's biggest fans, lovingly dubbed "Swifties," were expectedly thrilled following the new release, and even food brands jumped on board to celebrate in unique ways.
New-York-based Shake Shack was one of those brands, though it admittedly drew inspiration from Dominos (per Twitter). Just two days ago, Dominos UK posted a thread revealing which of its menu items it believes correlates with some of Taylor Swift's albums. The pizzeria attributed its garlic pizza bread to "Fearless" due to its "iconic" nature, and cheese and tomato to "1989" because "it never goes out of style." Yesterday, with only hours remaining until the "Midnights" album drop, Shake Shack made a similar list with the hashtag #CountdownToMidnighTS.
Shake (Shack) it off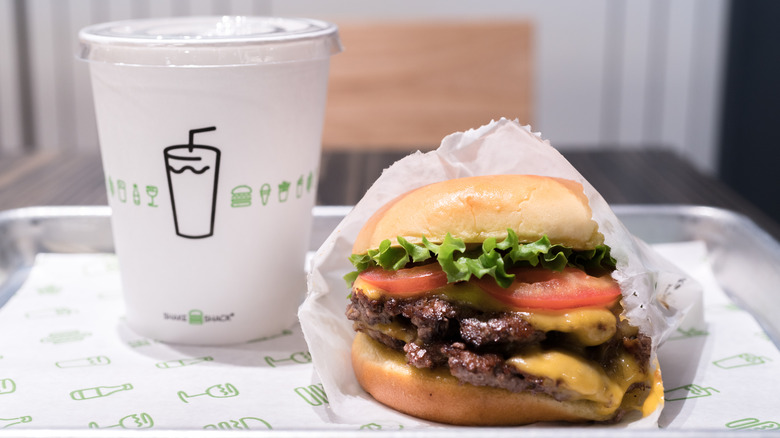 YAO23/Shutterstock
On October 20, Shake Shack complied its own list comparing Taylor Swift's previous albums with items on its menu (via Twitter). The burger joint started in order with her debut album "Taylor Swift," associating it with a flat-top hot dog because, like Swift, it's where the brand began. "Fearless" was next, which was likened to frozen custard. "Sure it's sweet but it's more than that, it's unique," Shake Shack explained. Described as a "genre defining moment," "Speak Now" was compared to crinkle-cut fries, and "Red" was paired to the SmokeShack due to its spiciness.
Due to its "crowd pleasing" abilities, "1989" was equated with the classic ShackBurger, and "Reputation" was likened to the brand's Shack Stack. "Not for everyone and definitely doing a lot, but the die-hards will fight for it," Shake Shack wrote. "Lover" was paired with a strawberry shake, because "[it's] not an everyday thing, but when it hits? It's perfect." With only two more albums remaining, "Folklore was compared to a Chicken Shack for its unexpectedness, and "Evermore" was in line with an Avocado Bacon Chicken. "Oh you thought it couldn't get better?" the brand asked.
With "Midnights" being such a new edition, Shake Shack didn't include it in its listing. Fans are likely curious to know what food item the new release would pair with, but for now, it remains up for interpretation (similar to the Easter Eggs spattered throughout Taylor Swift's career).