The Chilling Story Of Celebrity Chef Gary Rhodes' 2019 Death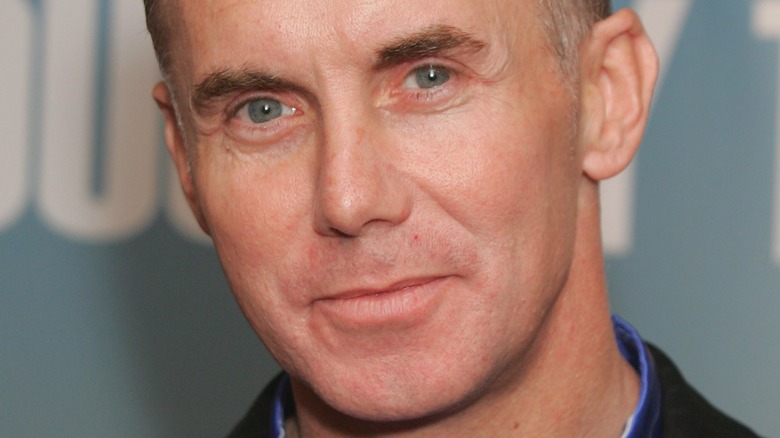 Jo Hale/Getty Images
Sometimes chefs can leave a lasting impression with more than what they bring to the table. Late celebrity chef Gary Rhodes was known for his profound love of British cuisine, his boyish charm, and an unmissable spiky hairdo that became a part of his appeal.
Labeled an "incredible ambassador for British cooking" by chef Jamie Oliver (via Instagram), Rhodes cooked his way into people's hearts in the '90s with the shows "Hot Chefs" and "Rhodes around Britain," according to The Guardian. Television helped catapult his career to new heights, but Rhodes was already a big deal in the culinary world before that — he was the head chef at The Castle Hotel in Somerset and as a 26-year-old helped the hotel keep its Michelin star (via Gary Rhodes' website).
Towards the late 1980s, Rhodes' success was growing along with his ideas for reimagining British food. He started experimenting with traditional British recipes, often giving them a modern twist. "I made French-style boudin sausages that taste like a steak and kidney pie. And it all started from there," he told Michelin Guide in 2019. At a time when the sale of beef on bone was banned in the U.K., declared braised oxtail to be one of his signature dishes.
Throughout his life, Rhodes opened 16 restaurants and was awarded six Michelin Stars. He moved to Dubai in 2011. After eight years of running his successful restaurants in the emirate, he suddenly died at the age of 59.
Gary Rhodes' death sent shock waves through the culinary world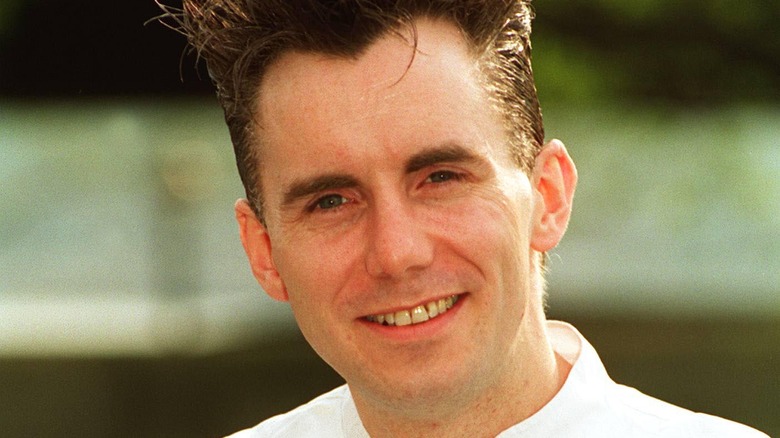 Avalon/Getty Images
Gary Rhodes' career was thriving in Dubai. His restaurant business was going great, and he was filming his upcoming TV show called "Delicious Dubai" with Rock Oyster Media, as reported by The Daily Mail. On November 26, 2019, he joined his wife, Jennie for dinner and had a ham sandwich. While preparing for bed, he fell.
As per The Guardian, the cause of death was "bleeding between the skull and the brain," which is associated with getting a head injury. According to his friend and fellow chef, Vineet Bhatia, Rhodes was in good shape the last time he saw him. "He was very happy and enjoying the successes of his business and looking forward to expanding. We have lost a great man, a great chef" (via The Daily Mail). It had been reported that Rhodes has slipped and hit his head while in the shower, but Bhatia told The Daily Mail that the collapse was due to natural causes.
Fellow chefs sent their heartfelt condolences and mourned Rhodes in the wake of his untimely demise. Chef Gordon Ramsay tweeted, "We lost a fantastic chef today in Gary Rhodes. He was a chef who put British Cuisine on the map." Taking to Instagram, celebrity chef Jamie Oliver called him an inspiration, adding, "He reimagined modern British cuisine with elegance and fun."
Rhodes' legacy continues through his family
Gary Rhodes is survived by his wife, Jennie, and his sons, Sam (shown above on the left) and George (right). In September 2022, Hotelier reported that the restaurant Rhodes W1 would be reopened that Sam over as the general manager. He spoke with The National about how he wanted to shake things up at the restaurant with an updated menu, saying, "Fine dining was the order of the day in Dubai even up to five years ago, but people's needs for dining out have changed post the pandemic."
As a part of his goal to transform the restaurant into a casual dining hub, Sam overhauled the menu for the most part to add items like the classic cheeseburger. However, he intended to keep his father's signature dishes on the menu, such as bread and butter pudding and smoked haddock with Welsh rarebit. Rhodes W1 Dubai got a mention in the Michelin Guide UAE in September 2022.