The Minneapolis Chef Revitalizing Native American Cuisine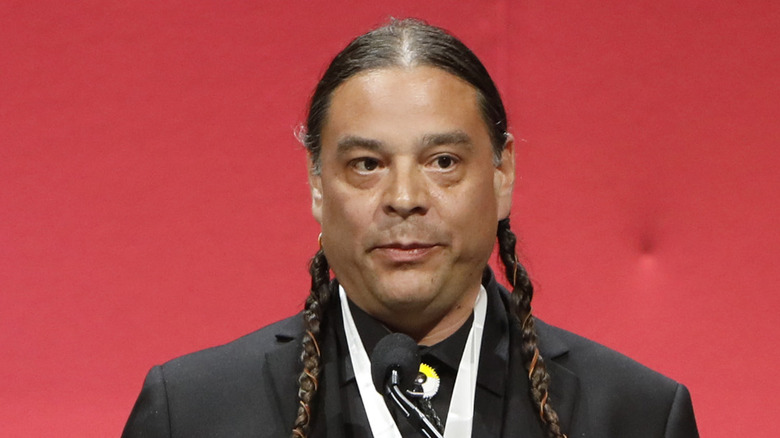 Jeff Schear/Getty Images
If you haven't heard the name Sean Sherman, now is the time you get to know him. The South Dakota-born, Minneapolis-based chef is a member of the Oglala Sioux Tribe who is making waves in American gastronomy, per Defining Cultures.
But Sherman has a lot more on his plate than cooking delicious meals for communities far and wide. He and his wife and business partner Dana Thompson spend a great deal of their time leading an organization committed to spreading the word about the ingredients and techniques many of our modern dishes were founded on.
The Sioux Chef is an Indigenous food education business comprised of a team of folks including chefs, caterers, farmers, event planners, artists, musicians, food lovers, and others with a mission that states, "We are committed to revitalizing Native American cuisine and in the process we are re-identifying North American cuisine and reclaiming an important culinary culture long buried and often inaccessible."
Thompson, a descendant of the Wahpeton-Sisseton and Mdewakanton Dakota tribes, serves as the co-owner and chief operating officer of The Sioux Chef as well as the founder and executive director of NĀTIFS (North American Traditional Indigenous Food Systems), a nonprofit devoted to the economic well-being and health of Indigenous communities.
What makes the pair's work so special? The answer lies in a passion for preserving the heritage of Indigenous peoples and keeping the spirit of his tribe alive through food, drink, music, and art.
Chef Sean Sherman is on a quest to rekindle Indigenous cuisine in the US
Chef Sean Sherman has had a zeal for Native cuisine since childhood, and today, he is exercising that innate passion and creativity full time. His restaurant, Owamni, opened its doors in 2014 and is located in Mill Ruins Park next to the Mississippi River. Owamni means "place of swirling waters" in the Dakota language, per PBS. The recipes combine simple flavors and textures, as they are made with "decolonized ingredients" — those used long before Europeans settled on the land. In other words, no dairy, wheat, cane sugar, beef, pork, or chicken is used in any meal, according to the restaurant's website. "These culturally relevant foods are healthy physically, emotionally, and spiritually for communities. And it's also way more sustainable for the Earth itself," Dana Thompson told Total Food Service.
Some of Owamni's featured menu items include hand-harvested wild rice, an elk sandwich with sweet potato and pepitas, grilled forest mushroom tacos, duck sausage, and a bison grain bowl. Owamni was dubbed the best new restaurant in the nation by the James Beard Foundation in September 2022, according to The New Yorker. Furthermore, "The Sioux Chef's Indigenous Kitchen" received the James Beard Award for Best American Cookbook in 2018.
"This Indigenous foundation that we're building is really just about trying to understand all Indigenous peoples, like a pan-Indigenous exploration, basically, because there's so many commonalities of Indigenous peoples all over the globe," Sherman told MinnPost.