Here's How You Can Watch GBBO Season 13 With Former Contestants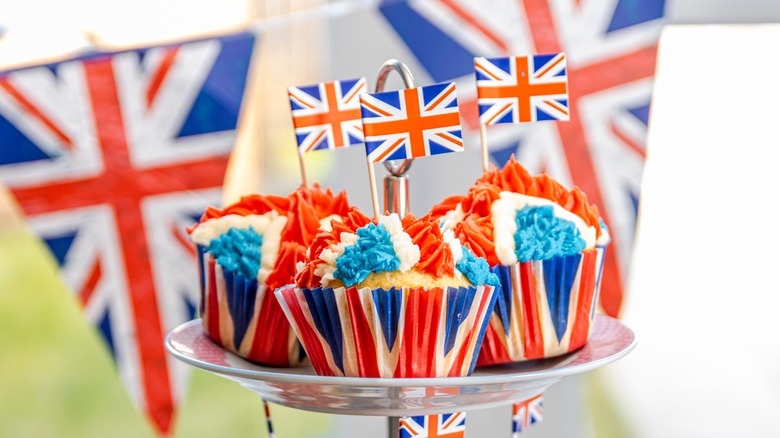 Traceyaphotos2/Shutterstock
Popular British culinary competition show "The Great British Bake Off" has earned countless fans over the years, with its popularity spreading beyond the UK as fans tune in from across the globe. If you're the kind of fan who simply can't get enough of Showstopper creations or Technical Challenge errors and excellence, if you can hardly wait to see what item Paul Hollywood bestows his legendary laudatory handshake on next, you just might want to check out a recently launched podcast.
Fans love hearing all kinds of behind-the-scenes details about what really goes on while bakers are whipping up their masterpieces in the tent, and the voices behind this podcast would know these details better than anyone because, well, they were once in that tent themselves.
As The Kitchn reports, former contestants David Atherton and Michael Chakraverty teamed up to create the podcast, which will offer a recap of that week's episode of "GBBO" every Friday. The two co-hosts were both on the tenth season of the show, with Chakraverty coming in sixth and Atherton taking home the coveted trophy that year, according to People.
The podcast is cheekily titled "Sticky Bun Boys," and the show's Instagram page already has over 7,000 followers, proving that many are interested in seeing what the two former contestants have to say.
What you can expect from Sticky Bun Boys
The core premise of the podcast, as per Pink News, centers around episode-by-episode recaps of the latest season of "Great British Bake Off," which hosts David Atherton and Michael Chakraverty have been doing for all of the latest season — however, that's not quite all. The baking duo also encourages listeners to write into the podcast, where they then put their minds together to offer advice on whatever their audience wants some guidance on, whether they need help mastering their ganache or their love life.
The show already has 127 ratings on Apple Podcasts and an impressive 4.9 star ranking. The written reviews are just as glowing — "you'll learn all about the secrets of production that you just can't know by watching the show," one reviewer wrote, while another confessed that they "look forward to this every week."
Several comments do reference an abundance of innuendo and somewhat risque humor, so it's safe to say that the duo's podcast may not be quite as wholesome as the show itself — however, for any fan who simply can't get enough "GBBO" content, it may be worth a listen.
The co-hosts haven't yet revealed whether they'll opt to run the podcast only for the latest season as a short experiment, or if they're planning to continue it for as long as the popular show is on the air, so fans will have to stay tuned for more details.