King Charles' Bizarre Plum Ritual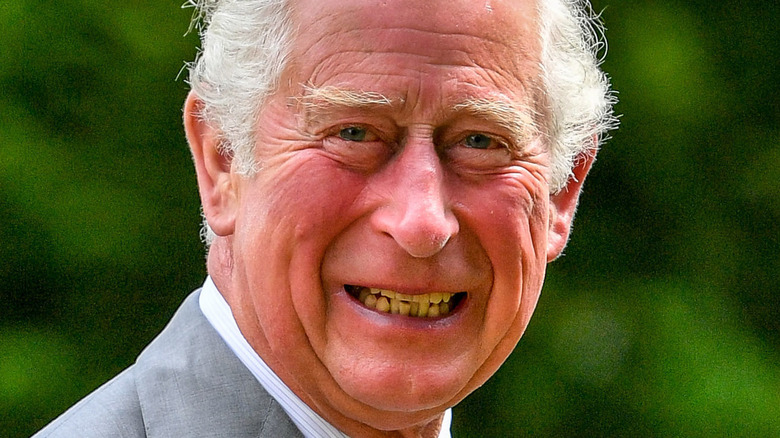 Wpa Pool/Getty Images
Pardon us for stating the obvious, but being a British royal family member comes with many perks, and unsurprisingly, they get the best of everything when it comes to food. Royal weddings have featured extravagant cakes that weighed hundreds of pounds. In "Secrets of the Queen's Kitchen," ex-royal chef Graham Newbould said sandwiches should be served with rounded corners lest the vicious squares suggest someone is "trying to overthrow the throne" (via YouTube). The royals also have some bizarre gastronomic habits.
Well, King Charles III certainly does, and no, we're not talking about the six types of honey that he carries around in his breakfast box when he travels. As per his former press secretary Julian Payne, he has a "strict breakfast routine" (via The Mirror). Plums are a part of the routine. According to former royal chef Darren McGrady, the sovereign is a fan of the juicy fruit and has a ritual dedicated to enjoying plums during breakfast.
2 plums are better than 1
In the documentary "Secrets of the Royal Kitchen," chef Darren McGrady said he served King Charles III (who at the time was still the prince of Wales) two poached plums with a dash of juice every morning (via YouTube). But peculiarly, one of the plums would always be sent back. McGrady would always save the remaining plum in a jar. One day, he thought it would be wiser to serve a single plum to King Charles instead of two because he would send one back anyway. He wasn't expecting what happened next. "The attending came through and said, 'Can His Royal Highness have two please?'" he recalled. McGrady started to serve two plums again.
King Charles is also specific about where his plums come from. They are plucked from his Highgrove garden because the monarch prefers organic produce. He might have muesli, a cup of tea with honey, or a seasonal fruit salad as part of his breakfast. Since he skips lunch, breakfast might indeed be the most important meal of the day for him. "So, an early lesson I learnt when out on the road with him was to have a big breakfast or bring a few snack bars with you to keep you going," his former secretary told The Mirror.