Arby's Smoked Bourbon Sold Out In 13 Minutes
Arby's has the meats ... and the bourbon. That's right: when the popular roast beef restaurant chain announced on Twitter that it would be launching a new limited-edition Arby's Smoked Bourbon, you can assume that people were stoked about it. The new bourbon would be smoked with the same wood used for its famed smoked meats — hickory, mesquite, and pecan — making it a perfect pairing for any of its menu options. But with only 900 of the 750-milliliter bottles produced, it was expected to go fast. After last year's successful launch of two fry-flavored vodkas (Crinkle Fry Vodka and Curly Fry Vodka) Arby's team set their sights on another perfect adult beverage pairing for this year.
"Arby's smoked meats are the cornerstone of our brand. So why not use our expertise to create a delicious smoked bourbon that complements the flavors and enhances the experience of enjoying our Smokehouse Sandwiches," Arby's president Jim Taylor said, according to Outsider.
With the Smoked Bourbon costing $60 and making it only available in California, Colorado, Florida, Kentucky, New Hampshire, New York, and Washington, D.C., it was thought the bottle would stay available for a little longer than it did. But boy, did it go faster than expected.
13 minutes of fame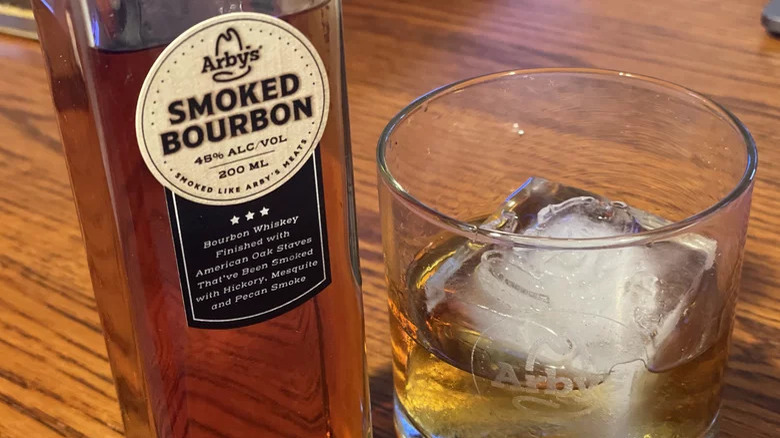 Steven John/Mashed
Listen, we knew people loved bourbon — but not this much. According to Twitter, Arby's limited supply of Smoked Bourbon "sold out" in just 13 minutes after it was initially launched at 12 p.m. ET on October 19th. Arby's Smoked Bourbon was expected to be popular and in high demand due to it being smoked with the same wood used for Arby's smoked meats. Little did the fast-food chain know that customers would go crazy over the new limited-edition bourbon and sell it out within a matter of minutes. 
This isn't a surprise though, considering the chain's launch of its fry-flavored vodkas sold out very quickly when they came to market in 2021 (via Outsider). Of course, though, the customers who were left without a bottle in hand were furious on Twitter. "What a bummer, I had it in my cart, shipping info filled, and sold out before I could enter shipping. This was exactly at 12:01. Damn bots," tweeted one Arby customer. "Tiny hat smoker and bourbon was sold out in less than a minute," said another prospective bourbon customer.
After seeing that the demand was still very high, Arby's actually launched a second drop of its Smoked Bourbon on October 21st — which, of course, also sold out very quickly. Sending our condolences to all of the Arby's fans out there who weren't able to snag a bottle.