Oven-Crisp Potato Wedges Recipe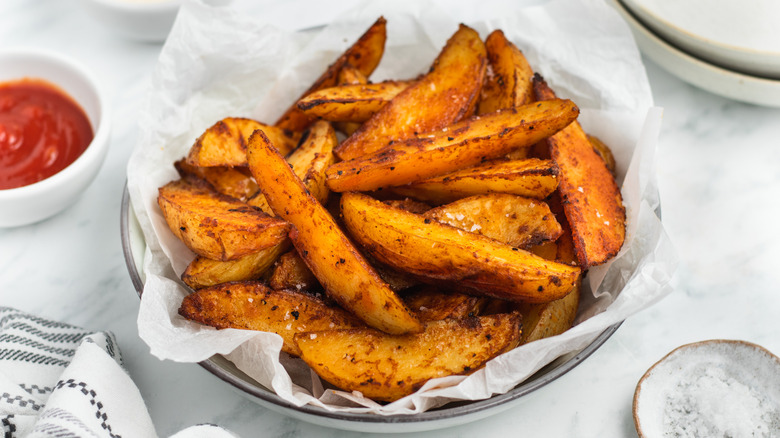 Catherine Brookes/Mashed
Wedges are an underrated form of potato side, often seen as a near non-contender in the ultimate french fry race. But potato wedges certainly have their place in this world and, more importantly, in our stomachs — especially when they're cooked to crispy perfection. With this oven-crisp potato wedges recipe, brought to us by developer Catherine Brookes of Blue Sky Eating, you can enjoy wedges that are tender on the inside and crispy on the outside. And you don't need to rely on a deep fryer to get them there; as the name suggests, your oven will do most of the work.
"I love the simplicity of this crowd-pleasing side dish," Brookes says of her recipe. "Wedges are super easy and budget-friendly to make." It's true: It really doesn't get much more budget-friendly than this — you'll need just a few potatoes, a bit of oil, and some spices, the latter of which you likely already have in your pantry. As for foods to enjoy alongside the wedges, you have quite a few options: "These are great served as a side along with a burger, steak or salad," Brookes suggests. That said, they also happen to stand well on their own, as a hearty, savory snack.
Gather the ingredients for oven-crisp potato wedges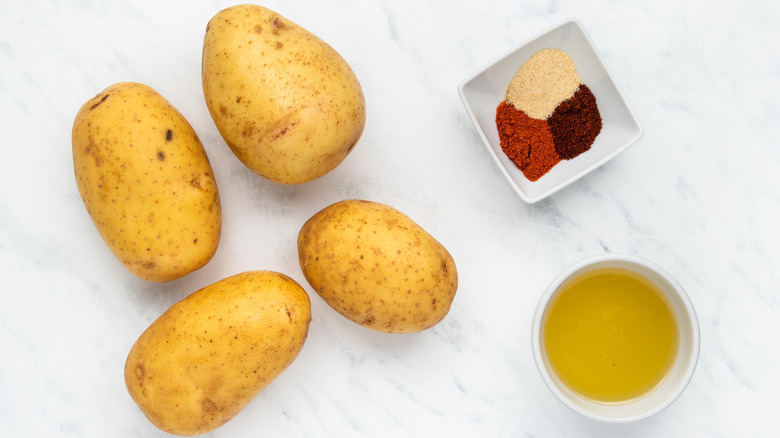 Catherine Brookes/Mashed
We've already covered the fact that it doesn't take much to make the wedges, but you'll need a few specifics before jumping into the recipe. To yield six servings worth of wedges, you'll need four baking potatoes (Yukon golds are a solid pick), some olive oil, paprika, chili powder, garlic powder, and some salt and pepper to taste. "The combination of spices used in this recipe adds a delicious savory, slightly spicy taste," Brookes says of the blend.
Slice the potatoes
Catherine Brookes/Mashed
Before you do anything else, go ahead and preheat your oven to 410 F. Then, turn your attention to the potatoes, which, by the way, you don't have to worry about peeling — but do be sure to clean them first. If you've never cut potatoes into wedges before, then you may have never considered that you simply need to keep halving pieces until you reach that perfect wedge shape. So, start with one potato and slice it in half, lengthwise, and place both half pieces on the cutting board, flat side down. Halve each piece, so that you're left with four quarters. Finally, cut each quarter piece in half one last time, so that you're left with eight even wedges. Repeat this wedging process with the remaining potatoes.
Season and bake the wedges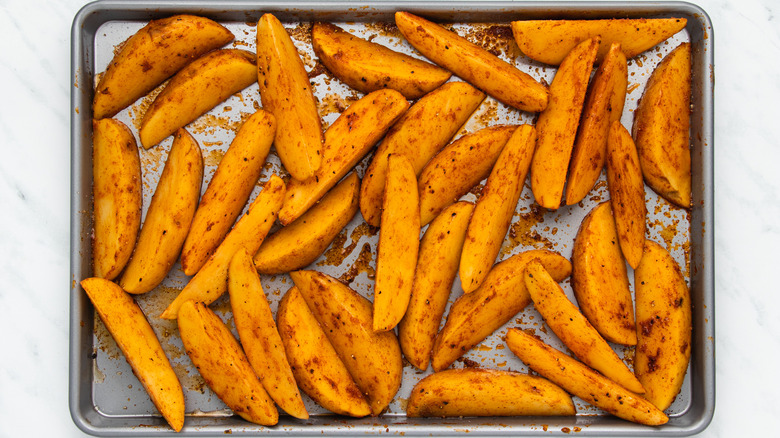 Catherine Brookes/Mashed
With all your wedges prepared, go ahead and spread them out evenly across a baking sheet. Drizzle on the olive oil, followed by the paprika, chili powder, and garlic powder. Also, go ahead and sprinkle on some salt and pepper as desired. Now, toss the wedges so that they're evenly covered in the oil and spices, and make sure that they end up in a single layer after tossing — this is key to crispy spuds (or any food, really).
Pop the baking sheet into the oven and allow the wedges to bake for 35-45 minutes, making sure to turn them halfway through. You'll know that they're ready to go when the potatoes are nice and tender with a perfectly golden brown, crisp exterior. 
Enjoy the potato wedges with your favorite dipping sauce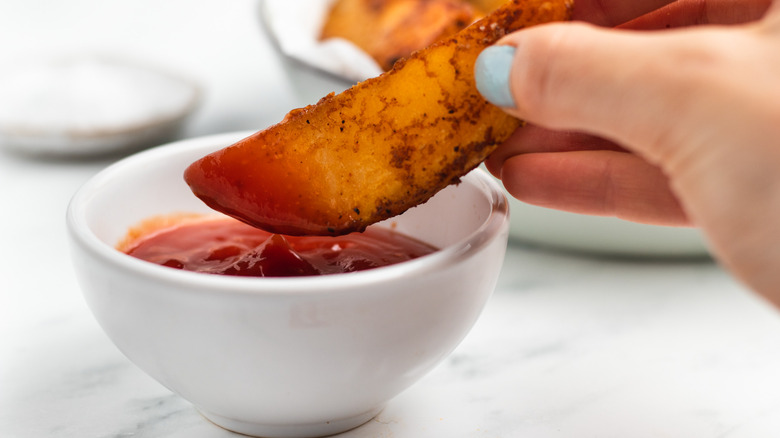 Catherine Brookes/Mashed
Once the potato wedges have gotten their oven-crisp treatment, you can enjoy them as desired. And, what potato wedge would be complete without a dipping sauce? "They're great for dipping in ketchup, mayo, sour cream or sweet chili sauce," Brookes suggests. 
While you can store and enjoy leftover potato wedges, it's important to note that they will most likely lose that crispy factor, but that's not to say they won't still taste good. "They are best served right away as can go a little soft when kept in the fridge," Brookes explains. "But if desired, you could reheat them in the oven the next day."
Oven-Crisp Potato Wedges Recipe
Wedges may be the black sheep of the potato-based side family, but this simple recipe puts them in spotlight. Be sure to serve with your favorite dipping sauce.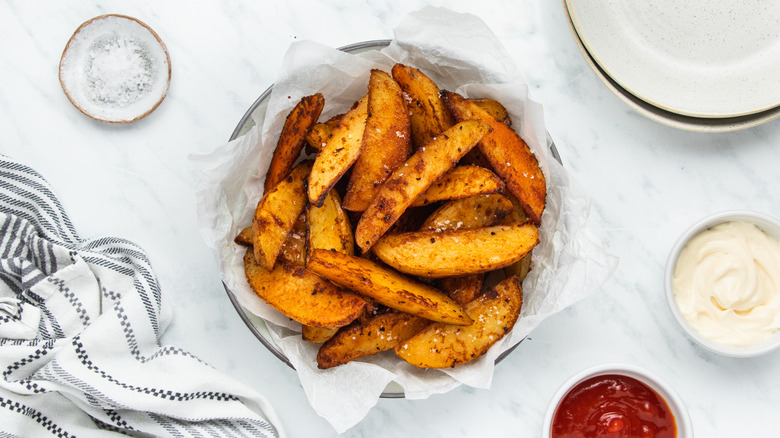 Ingredients
4 large baking potatoes
3 tablespoons olive oil
1 teaspoon paprika
1 teaspoon chili powder
1 teaspoon garlic powder
salt, to taste
pepper, to taste
Directions
Preheat the oven to 410 F.
Clean the potatoes and slice each in half lengthways. With the flat side down, slice the half pieces down the middle lengthways again. Finally, slice the quarters in half so you have 8 wedges per potato.
Spread the potato wedges out on a large baking sheet. Drizzle over the olive oil, spices, and some salt and pepper to taste. Toss well to coat. Make sure wedges are not touching; use two baking sheets if necessary.
Bake for 35-45 minutes, turning halfway, until golden brown.
Serve right away with your favorite dipping sauce.
Nutrition
| | |
| --- | --- |
| Calories per Serving | 260 |
| Total Fat | 7.1 g |
| Saturated Fat | 1.0 g |
| Trans Fat | 0.0 g |
| Cholesterol | 0.0 mg |
| | |
| --- | --- |
| Total Carbohydrates | 45.7 g |
| Dietary Fiber | 3.7 g |
| Total Sugars | 1.6 g |
| Sodium | 592.7 mg |
| Protein | 5.5 g |