Instagram Is Pumped At The Return Of Aldi's Pumpkin Spice Coconut Whipped Cream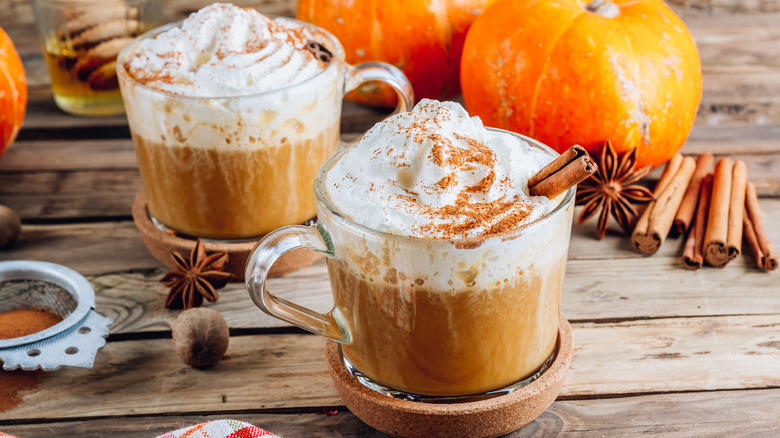 Julia Mikhaylova/Shutterstock
Whether you're an avid grocery shopper or consider it to be your least favorite chore, we can probably all agree that it can be exciting to browse the selection of seasonal goodies that rotate in and out of the shelves each year. However, for those that follow alternative dietary plans, such as vegan, plant-based, gluten- or dairy-free, checking out all the limited-edition products can end up being a bit more disappointing than it is fun. Sure, the selection of grocery items that are safe for those following these types of diets to buy has expanded immensely over the course of the last few years, but the selection hardly holds a candle to what's available to consumers without any dietary restrictions – especially when it comes to seasonal finds.
Still, not all hope is lost for alternative diet followers who are looking to spruce up their noshing with a bit of seasonal flair. Per Vegan Calm, Trader Joe's, Whole Foods, Costco and Aldi are a few "mainstream" grocery chains currently doing their vegan customers right, with the latter also earning recognition from PETA last month for "stocking shelves with plant-based foods galore." The popular, low-budget grocer offers a variety of protein, snack, and dessert options for those following alternative diet plans, and even has a few swaps for some of its beloved seasonal finds, like the dairy-free, autumnal dessert topping that many Instagrammers are pumped to see making a return this year.
Aldi's Pumpkin Spice Coconut Whipped Cream looks a little different this year
What do pumpkin spice lattes, hot chocolate, and fresh-baked pies all have in common? They're all made better with a dollop of whipped cream, and for our foodie friends who don't consume dairy, Aldi may have just the thing for you to get your fix. Spotted recently by Aldi-obsessed Instagrammer @aldifavoritefinds, the German grocer is once again selling Pumpkin Spice Coconut Whipped Cream as a vegan and dairy-free alternative to go atop your favorite treats this fall.
The product became a seasonal favorite for many Aldi shoppers, like the blogger Brave Little Vegan last year, when it was produced by the brand Gay Lea. This year, another familiar Aldi brand, Friendly Farms, is behind the bright orange cans. However, most Aldi fans are still just as excited to get their hands on a can. "Oh boy can't wait to try this," one person commented on @aldifavoritefinds' October 21 post. "It tastes more like egg nog and I love it," quipped another fan.
Another post about the dessert topper by Instagram user @vegnews also had patrons clamoring to get to their local Aldi – though some shoppers who have already sampled the treat were left unimpressed. "Flavor was okay but not the best," @aldifavoritefinds shared in a comment on their post, who also noted it wasn't worth its $2.99 price tag. For those worried about wasting money, Vibrantly G-Free's recipe could be a suitable alternative.