The Key To Perfecting Anne Burrell's Most Popular Recipe - Exclusive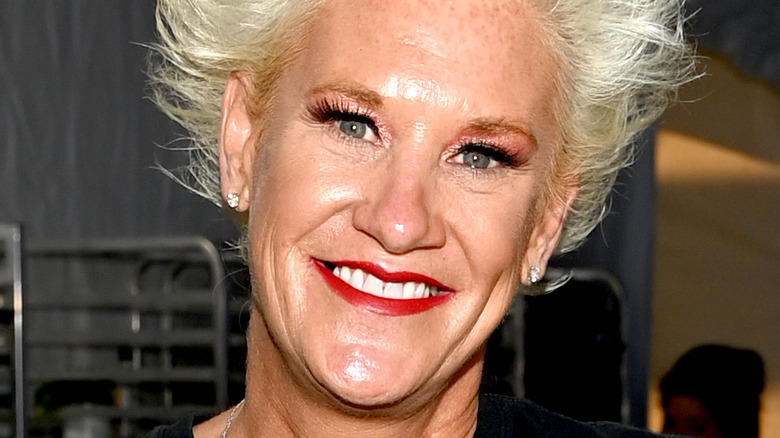 Dave Kotinsky/Getty Images
Pasta Bolognese is the epitome of Italian American comfort food. The rich, meat-based tomato sauce takes some time and effort to prepare, but when done right, it makes for a decadent, stick-to-your-belly meal that's perfect for getting you through the cold weather season. Add a glass of wine and a cozy blanket, and you'll be ready to hibernate. However, pasta Bolognese done wrong can leave you with either a watery sauce that won't coat your noodles or a thick, clumpy mess.
If there's anyone who knows the ins and outs of this dish, it's Chef Anne Burrell. The longtime co-host of "Worst Cooks in America" has made a name for herself teaching some of the most unteachable cooks out there. Before she joined the show, she was hosting "Secrets of a Restaurant Chef," showcasing how to make restaurant-quality meals at home. As it turns out, "the 'Secrets of a Restaurant Chef' Bolognese episode was the very first episode of that show I ever did," she told Mashed recently at the Food Network New York City Wine and Food Festival, adding, "It is still the number one dish that people come up and tell me they make all the time."
During our exclusive interview, Burrell broke down the key technique to mastering her signature recipe, so you can achieve the perfect pasta Bolognese every time.
There's no quick and easy way to prepare a satisfying Bolognese, says Burrell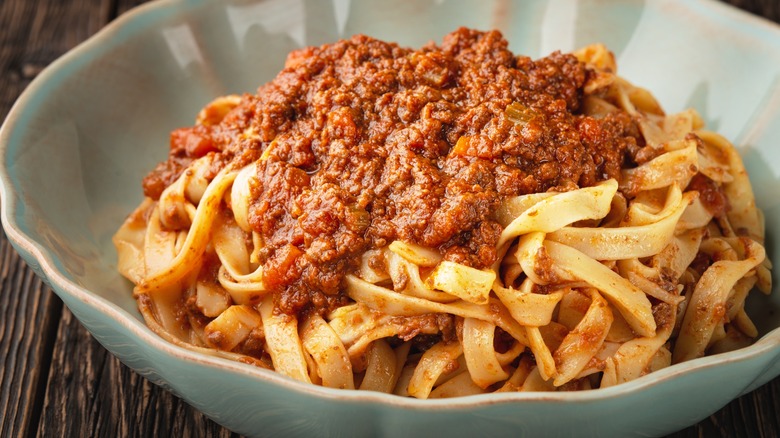 SerPhoto/Shutterstock
If you were hoping for a secret shortcut from Anne Burrell — one that would let you whip up an appetite-pleasing Bolognese sauce in no time at all — then you're in for a disappointment. Burrell essentially told Mashed that the most important ingredient you need for this recipe is patience. "The thing about a Bolognese is it takes a little bit of work to get started," she said. And in order to get it right, "You have to take your time to go through all the [steps]."
According to the recipe (via Food Network), the first order of business is to puree your vegetables (onions, carrots, celery, garlic) into a pasta that resembles sofrito. Then comes the labor of love, said Anne Burrell: "browning the sofrito, browning meat, browning the tomato paste." Next comes the red wine, of course, and once you've got all your elements toasted and sizzling away, it's time for the last, crucial part of the process.
"Then it's add water and reduce, add water and reduce," said Burrell. You have to do this until your sauce reaches the ultimate thick and silky consistency, and it can take some serious time and energy because you have to keep paying attention to and working with the sauce until you get it right. As Burrell put it, "It's a dance," but a fun one. "The life cycle of the Bolognese, to see where it starts and where it finishes, is so soulful," she added.
When you achieve that perfect pasta sauce at the end, it's all so worth it. With that said, be sure to follow Burrell's last bit of advice: "If you're going to make it, make a big pot so you can freeze it."
For the latest from Chef Anne Burrell, follow her on Instagram. Plus, click here to learn more about the annual Food Network New York City Wine & Food Festival Presented by Capital One, and be sure to check out the highlights from this year's event.