The Real Story Behind I Love Lucy's Iconic Chocolate Factory Episode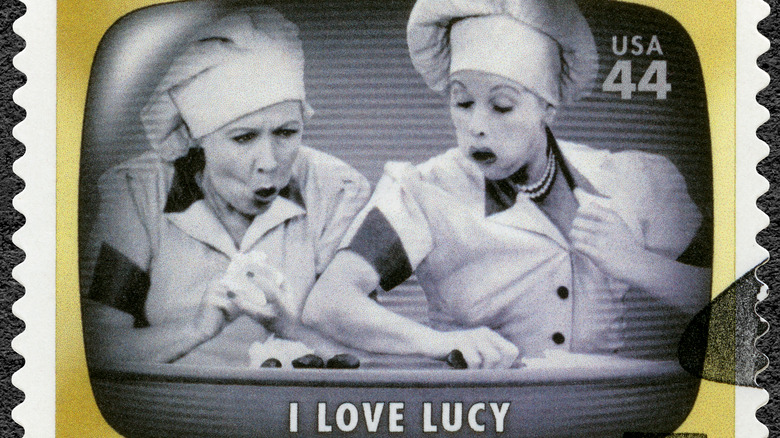 Olga Popova/Shutterstock
For the many fans of "I Love Lucy"  — the beloved 1950s sitcom starring Lucille Ball and Desi Arnaz– "The Chocolate Factory Episode" needs no introduction. The married couples are feuding. The wives think the husbands have it easier, while the husbands believe the opposite. So they resolve to exchange responsibilities. A clueless Fred and Ricky stay at home to do housework, and a hapless Lucy and Ethel start work at a chocolate factory, where their boss is one tough cookie. Neither of the women takes quickly to factory life, and their initial positions in the factory don't go well.  So the two are given one last chance to succeed or — as their forewoman warns them severely –  they're "fired!" (per YouTube).
With a bellowing "Let'r roll," the conveyor belts starts up. At first, Lucy and Ethel think they can handle it, dutifully wrapping the chocolates. But they quickly realize they've overestimated their own abilities. But their jobs are on the line — not to mention the bet with their spouses — so Lucy and Ethel go to battle with the chocolates the fastest way they know how: stuffing them in their mouths and into their clothes. Lucy turns to Ethel, whose mouth is so crammed with chocolates she cannot speak, and declares "I think we're fighting a losing game!"  As the chocolate rate gets faster and faster, it becomes manifestly clear that they cannot possibly keep up — but their workplace fiasco makes for truly memorable comedy.
Luclle Ball visited a real candy shop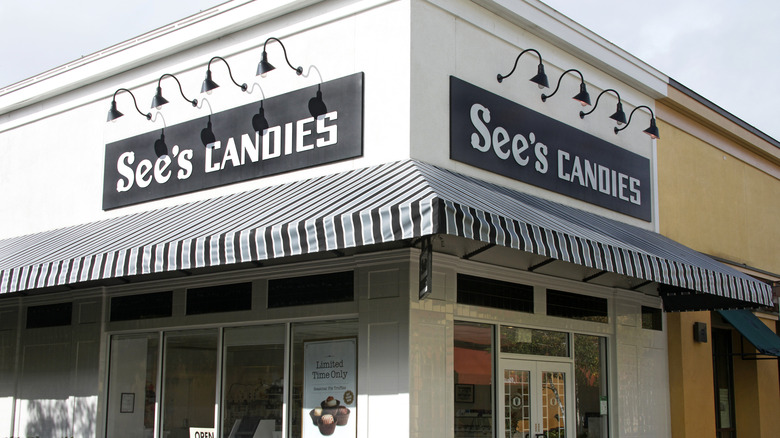 Sheila Fitzgerald/Shutterstock
The scene strikes a chord with anyone who's worked in a similar position. But few people know how accurate this scene really is. See's Candies has a historic presence on La Cienega Boulevard in Los Angeles, and they're a part of cherished "I Love Lucy" lore (via The Mercury News). While See's does not allow tours of the factory's inner workings these days, things were a bit different back in the day. Lucille Ball herself called up the owner before they shot the episode, and asked if she could come to visit (via LAist). Ball wanted to see behind the scenes so she could train properly. Lucy (Ball) and Ethel (Vivian Vance) spent a day getting the lay of See's Candies' land (via The Sun). 
Additionally, the chocolate factory featured in the episode was either the actual See's factory or was certainly modeled after it. (Accounts differ on this front, per The Sun and The Mercury News). Even the uniforms are the genuine article. They were borrowed from See's during the filming. Remember the candy maker Lucy tries to work with but ends up fighting with instead? She was the real deal — a See's employee named Amanda Milligan, who hit Ball so hard during their fight that Ball thought her nose was broken (via Outsider). 
But ultimately, Ball and Vance got the last laugh: an opportunity to stuff their faces full of See's chocolates. It was a sweet deal.