Refreshing Spicy Margarita Recipe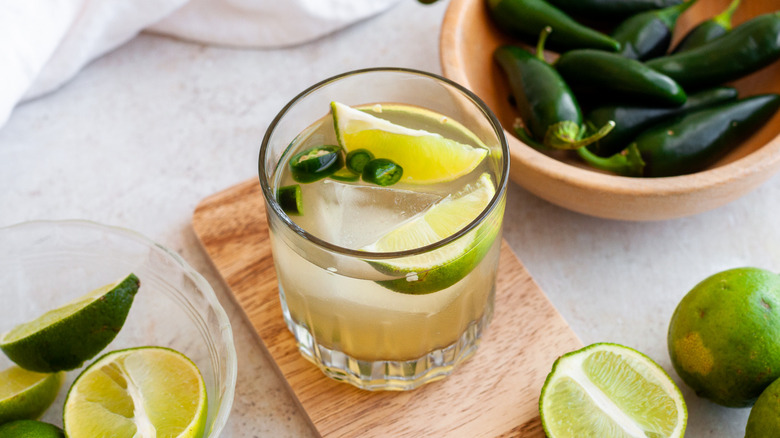 Christina Musgrave/Mashed
A margarita is excellent, but a spicy margarita is even better. When it comes to cocktails, a margarita is a commonly-ordered and very popular drink. Traditionally, margaritas have a sweet and sour taste that can be refreshing and satisfying, but also spicy and savory. This particular recipe includes jalapeño for an extra kick of flavor, and it's the perfect drink for the spice lover in all of us. 
Recipe developer Christina Musgrave came up with this wonderful beverage that would make a great addition to any taco night. "I love how simple, and refreshing this margarita is. It's a classic you'll want to make again and again," Musgrave raves. She also shares why she loves the addition of the jalapeño. "The spice balances out the sweetness of the agave, and acid of the lime juice."
Keep reading to find out how to make this spicy margarita cocktail. 
Gather the ingredients for this spicy margarita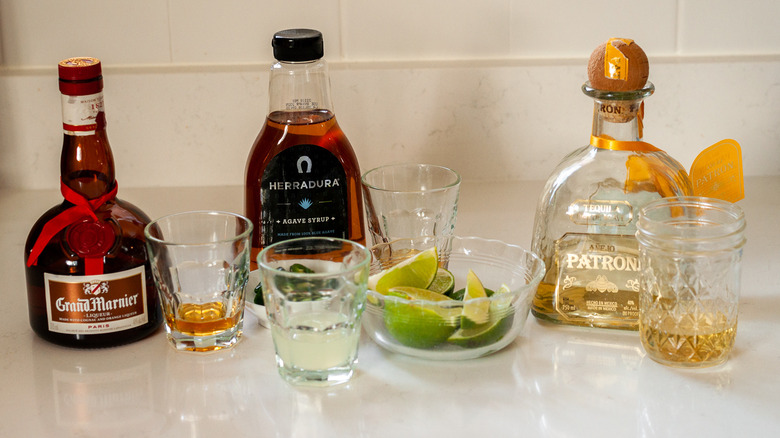 Christina Musgrave/Mashed
To make this cocktail, you will need just a handful of ingredients, such as jalapeño, tequila, lime juice, agave nectar, orange liqueur, and lime wedges.
Once you have those items, you can make this refreshing spicy margarita.
Combine the ingredients in a cocktail shaker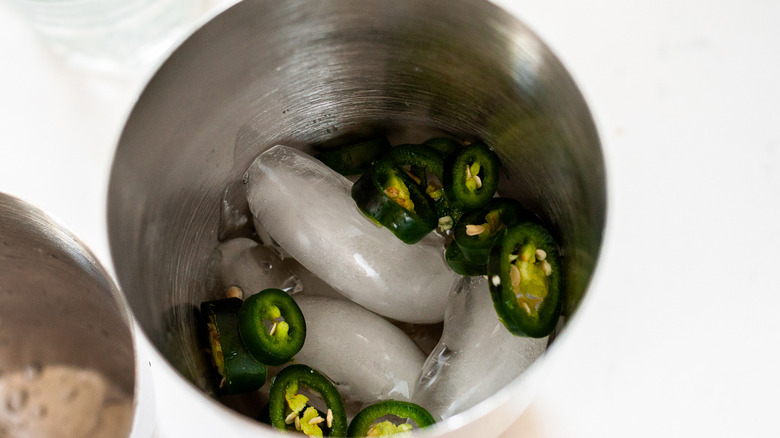 Christina Musgrave/Mashed
Add some ice into a cocktail shaker, then toss in the sliced jalapeño, tequila, orange liqueur, lime juice, and agave nectar. "If you don't like it super spicy, cut back on the amount of jalapeño, and only use a few slices," Musgrave notes. When asked about removing the seeds from the jalapeño, Musgrave says it's "a personal preference. You can keep them to shake and use a superfine strainer, if you don't want them in the drink." 
Shake for at least 30 seconds, or until the shaker is chilled, to combine the ingredients.
Strain, garnish, and serve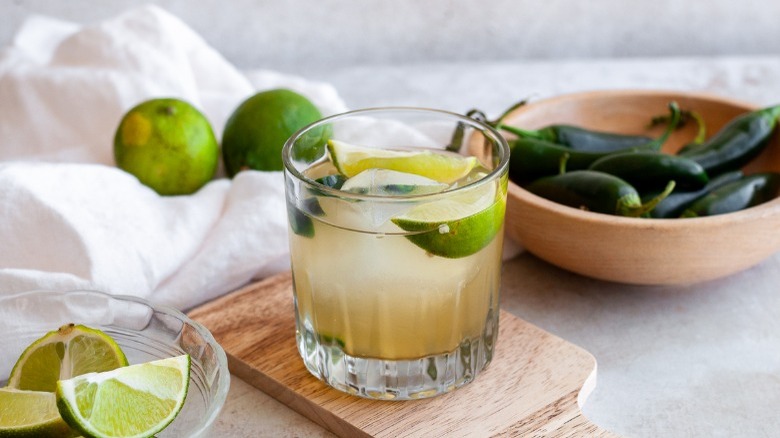 Christina Musgrave/Mashed
Strain the cocktail into a rocks glass filled with ice, and garnish with lime wedges and sliced jalapeños.
The only thing left for you to do is raise a glass, and take a sip of this refreshing spicy margarita. This is great on its own, but Musgrave also shares a few ideas if you'd like to pair it with food — "I love this drink with chips, salsa, and tacos." 
We hope this spicy margarita cocktail makes your Taco Tuesday awesome. 
Refreshing Spicy Margarita Recipe
Margaritas are always a solid cocktail choice when at a bar, but this spicy margarita recipe is easy enough to make at home.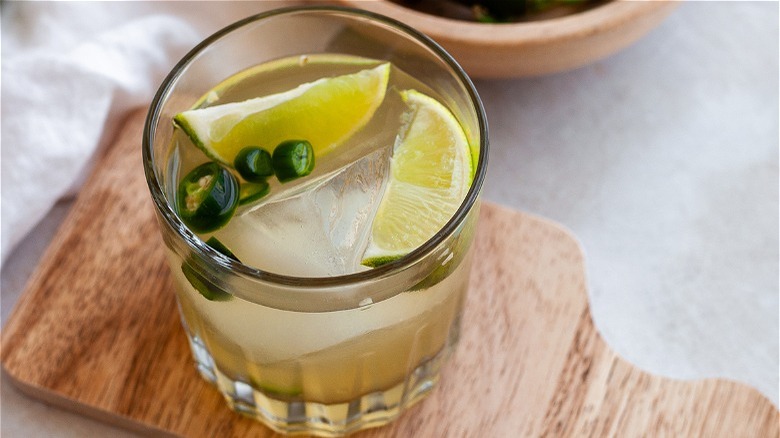 Ingredients
1 small jalapeño, sliced, plus more for serving
2 ounces tequila
½ ounce orange liqueur
1 ounce lime juice
½ ounce agave nectar
Lime wedges, for serving
Directions
Fill a cocktail shaker with ice, and then add the jalapeño, tequila, orange liqueur, lime juice, and agave nectar.
Shake for 30 seconds, and strain into a rocks glass filled with ice.
Garnish with lime wedges, and additional jalapeños.