The Cafe That Got Its Inspiration From Jerry Lee Lewis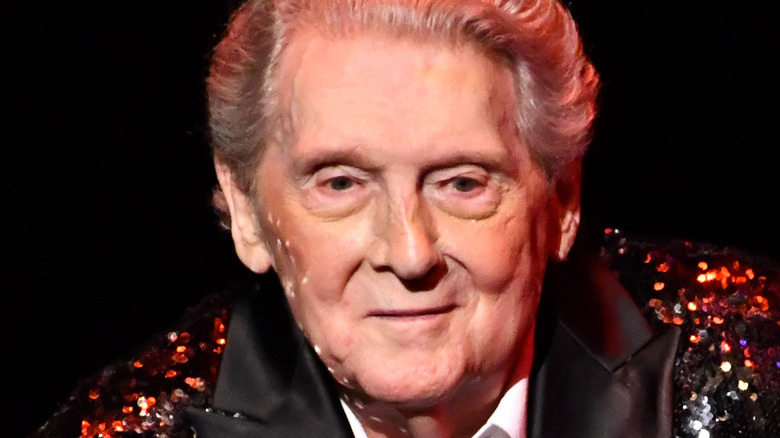 Scott Dudelson/Getty Images
Rock 'n roll legend Jerry Lee Lewis passed away from natural causes on October 28, according to CNN. He passed in his Mississippi home where his representative, Zach Farnum, revealed that he "[told his wife] in his final days, that he welcomed the hereafter, and that he was not afraid." The American singer was best known for hits like "Great Balls of Fire" and "Whole Lotta Shakin' Goin' On."
You might expect a cafe that's named in Lewis' honor to be located in Louisiana, where he was born. But that's not the place most associated with his name. It was Memphis where Lewis's career was birthed, namely by his work at Sun Studios. This is where he, Carl Perkins, Elvis Presley, and Johnny Cash held jam sessions; it's also where he recorded his most well-known songs to date. With Memphis essentially being his gateway to success, he was inducted into the Memphis Music Hall of Fame. Today, there's a Memphis restaurant inspired by him.
It's located on iconic Beale Street
Right on Memphis's famed Beale Street lies the Jerry Lee Lewis Café, a place that showcases up-and-coming musicians that are starting off the same way Lewis himself did. The food at the bar is what you'd expect from an eatery in Memphis, with boneless wings, Beale Street BBQ fries, Nashville hot chicken quesadillas, and "Great Balls of Fire" dip.
According to Commercial Appeal, the restaurant opened in May 2013, and it's decorated with various items tied to Lewis, such as his piano, performance attire, and even his motorcycle. Before its doors were opened, manager Bud Chittom explained, "It will not be a sock hop or a malt shop. It's a honky-tonk and cafe. Those haven't changed in 60 years." It cost around $150,000 to get everything in place for its opening.
Along with a restaurant, the venue includes a separate back bar, a Flaming Fountain Courtyard, balconies that overlook Beale Street, and a gift shop for fans of the restaurant and Jerry Lee Lewis alike.