Which Celebrity Chef Would Be A Dream Dinner Guest? - Mashed Exclusive Survey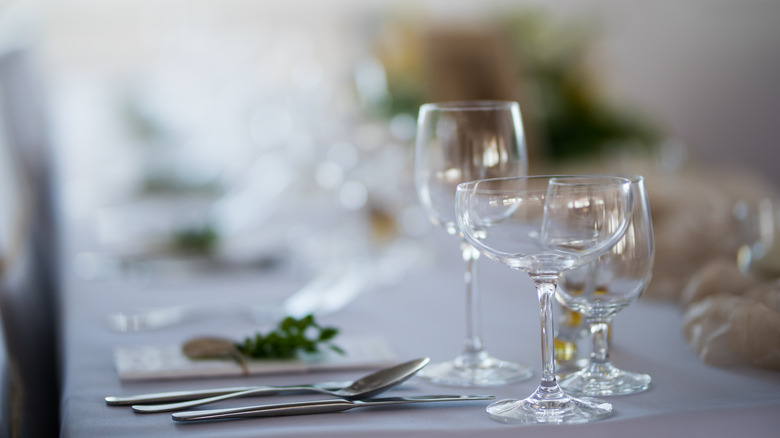 zedspider/Shutterstock
When it comes to ideal dinner guests, the first thing many people think of is people they admire, people who will most likely provide interesting conversation or make us laugh. When asked what dream dinner guests they'd like to invite, answers such as Robin Williams, Albert Einstein, Barack Obama, or Richard Branson don't really surprise anyone. However, what if you only had a choice of celebrity chefs? Who would you pick? Would you expect them to cook or would they be judging your dinner?
As one writer for the HuffPost put it, "There's a little game I play whenever the world seems hopelessly overrun by bullies and blockheads, incompetents and malcontents. I create an imaginary dinner party." Sometimes, it's just fun to imagine a group of people coming together over a good meal and enjoying themselves. 
Mashed asked 604 survey participants, "Which celebrity chef would you like to have as a dinner guest?" They were given six possible options. 
The bottom three choices but they could still be fun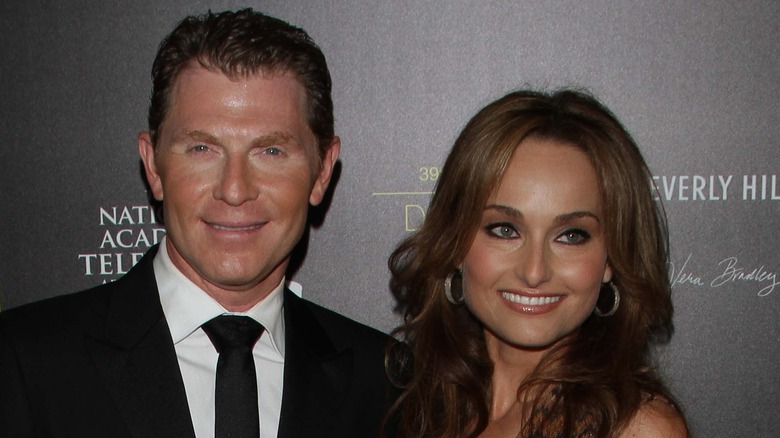 s_bukley/Shutterstock
While the survey didn't delve into why people thought their choices would make a great dinner guest, we can assume that it was because of their on-screen personas.
Chef Alton Brown, The Food Network host of "Good Eats" was a nominee for the James Beard Award Outstanding Personality 2020 and winner of TV Food Personality in 2011. His unique brand of bringing comedy and food together during his show "Alton Brown Live: Beyond The Eats" may make him seem like a great choice for dinner guest but only 10.26% of survey participants thought so.
Only slightly above Chef Brown with 10.60% of the vote is Giada De Laurentiis. The host of a variety of Food Network shows including "Giada in Italy", "Food Network Star", and "Giada at Home", this chef would surely be able to provide great cuisine advice and bring some interesting travel stories or tales of growing up in an Italian household for those that chose her. 
In fourth place, we have Bobby Flay with 11.42%. This chef has James Beard Awards and several Emmys for his cooking shows. He is famous for his books and TV shows including "Grill It with Bobby Flay," "Brunch @ Bobby's," and "Throwdown with Bobby Flay." He says, "Food is the center of my universe. As a chef, I wake up thinking about food."
The top three most popular choices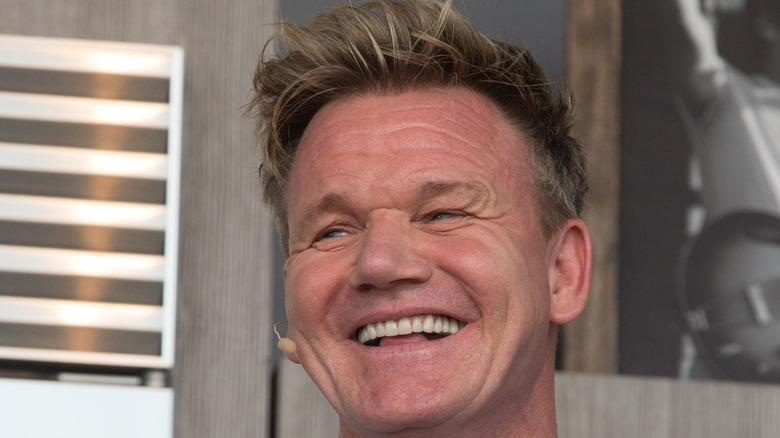 Sterling Munksgard/Shutterstock
Coming in at third place is Rachael Ray with 17.88% of votes. This home chef is popular for her shows "The Rachael Ray Show" and "30 Minute Meals" and has a large following on social media. She won a People's Choice Award for Favorite TV Chef and despite being dissed by some other celebrity chefs, has made it into the hearts of viewers for her down-to-earth style of cooking, which makes her place in the top three understandable. 
In second place is Guy Fieri at 18.05% of votes. With his flamboyant personality, he'd make a great dinner companion. In 2013, he received a Daytime Emmy. According to Insider, you'll have to remember not to serve him eggs. His dislike for the ingredient is so well-known that the chefs on his show will avoid making dishes with them. 
Stealing the show for the top spot is Gordon Ramsay with a stand-out 31.79% of votes. While you may be wondering why on earth anyone would want a celebrity chef known for his temper and foul mouth as a dinner guest, it's actually been reported that in person he's a really nice guy with a quirky sense of humor.
Chef Christina Wilson — Season 10 winner of Hell's Kitchen — told Mashed that the only time Ramsay really got angry was when he felt that his guests weren't getting the best food. Perhaps that's something to keep in mind when he comes to dinner.