Wizard-Approved Butterbeer Mocktail Recipe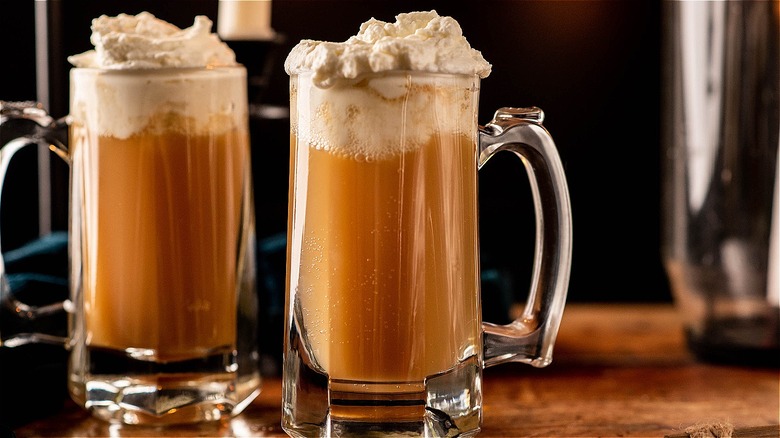 Michelle McGlinn/Mashed
Whether you grew up reading the books or watching the movies, there was one delicacy in the wizarding world of "Harry Potter" that made your mouth water — butterbeer. Often made at friendly Hogsmeade gatherings, there was something about creamy beer-like beverages that sounded more enchanting than any spell, and only made your longing for a letter from Hogwarts even stronger. 
This recipe developed by Michelle McGlinn transports you to the Three Broomsticks Inn where butterbeer is served in foaming mugs to tables of joyful wizards. True to the name, this recipe mixes butterscotch into cream soda for a sweet and bubbly base. According to Wizarding World Park, author of the "Harry Potter" series J.K. Rowling, clarified to Bon Appétit magazine that she imagined the drink would taste like "less-sickly butterscotch." To counter the sweetness of this butterscotch-based mocktail, rum extract is added for a sharp and balanced flavor. The butterbeer is then topped with a creamy whipped topping that melts in your mouth while you drink it. Though we're only muggles, we are pretty sure that's magic. 
Gather your ingredients for butterbeer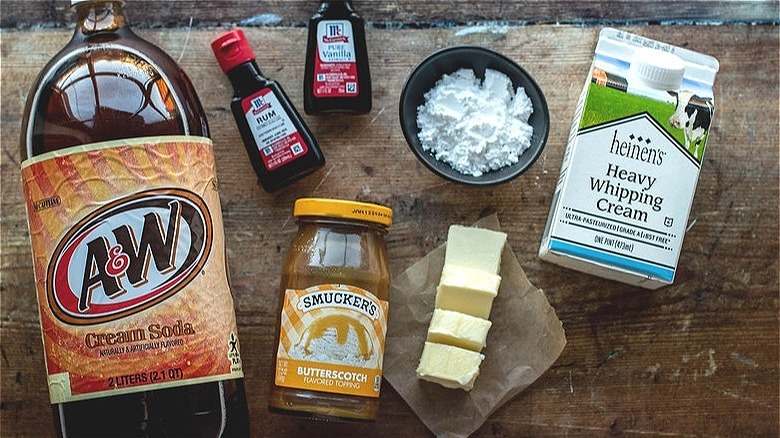 Michelle McGlinn/Mashed
For this recipe, cast your "Accio" spell to summon butterscotch syrup, cream soda, and a few drops of rum extract for the base of the drink. Butterscotch is different in terms of flavor compared to caramel, since it's made with brown sugar. If you swap it for caramel, you'll be missing that specific, buttery flavor.
The rum extract in this recipe is optional, and can be substituted for 1 ounce of spiced rum, or omitted entirely. Rum extract can be found in the baking section of your grocery store near to the vanilla extract, and is often used to add that sharp rum taste to otherwise non-alcoholic desserts.
To complete the butterbeer, we are topping the cream soda mixture with homemade whipped cream. For that, you'll need heavy whipping cream, butter, powdered sugar, and vanilla to add flavor to the cream.
Make the whipped cream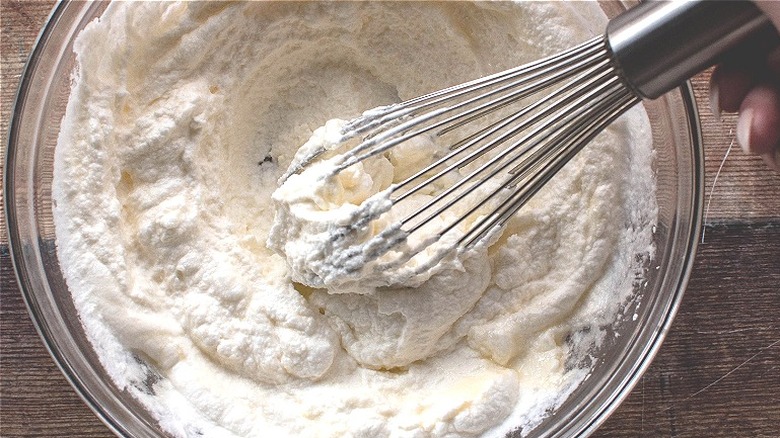 Michelle McGlinn/Mashed
Whether you are using a stand mixer, handheld electric whisk, or balloon whisk, whipping cream takes a little patience. With the electric options, whisk the cream for around 3 minutes to achieve soft peaks. If you're stuck with a manual whisk, it will take closer to 5 or 7 minutes.
Drizzle the melted butter into the cream only after it has solidified into soft peaks. Adding the butter will cause it to quickly harden into stiff peaks. If you notice the mixture breaking into clumps, stop adding butter, since too much butter will cause the cream to curdle. Gently whisk in the powdered sugar and vanilla, then set aside. The whipped cream will last 1 day in the refrigerator.
Assemble the magically sweet butterbeer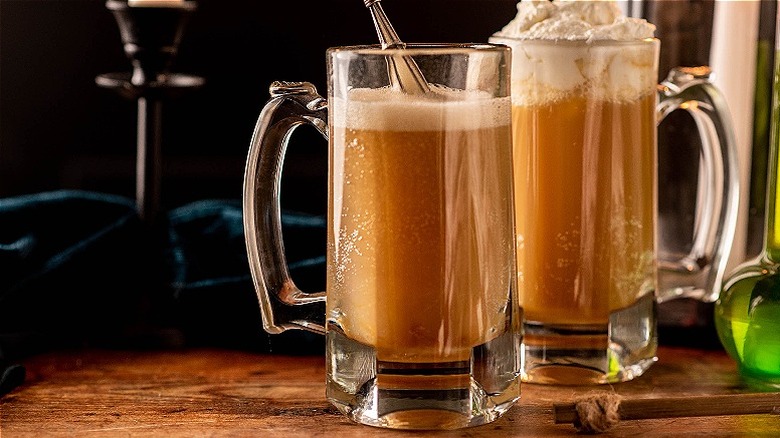 Michelle McGlinn/Mashed
In two large beer mugs or glasses, add the butterscotch syrup, and then top with cream soda. You'll need a long, thin whisk or bar spoon to vigorously combine the two ingredients into a creamy, fizzy mixture. If you only have a large whisk, combine the two in a large mixing bowl before adding it to glasses.
Add a dash of the rum extract into the butterscotch mixture, if desired, and whisk to combine. Believe it or not, it's more potent than rum, and only requires a few drops to bring out a strong flavor. 
Top with the whipped cream, and serve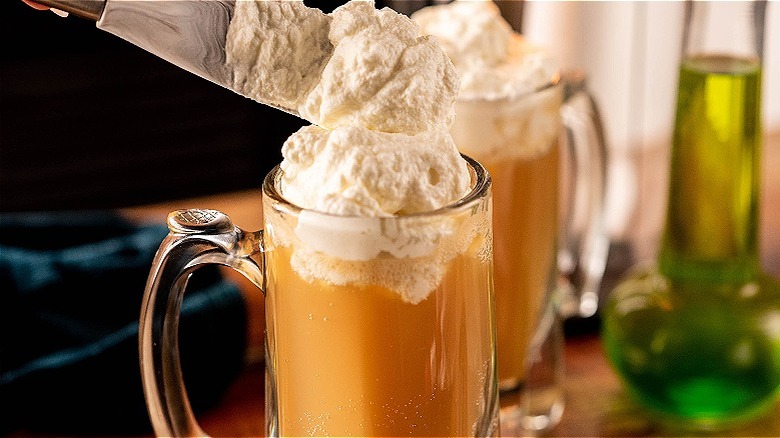 Michelle McGlinn/Mashed
Dollop your reserved whipped cream generously into the beer mugs, and serve. This wickedly sweet libation was originally enjoyed by the wizards in Hogsmeade, alongside other small desserts and whimsical delicacies from Honeydukes, and you can serve yours alongside chocolates and jellybeans. If you're settling in for a "Deathly Hallows" marathon, this butterbeer will be the perfect accompaniment to salty popcorn and crunchy chips. You can also make a batch in advance by mixing cream soda and butterscotch together in a jar or pitcher, and topping with whipped cream when ready to serve. 
Wizard-Approved Butterbeer Mocktail Recipe
This "Harry Potter-"inspired butterbeer recipe can be perfectly customized into a mocktail or magical cocktail for any wizard or muggle at heart.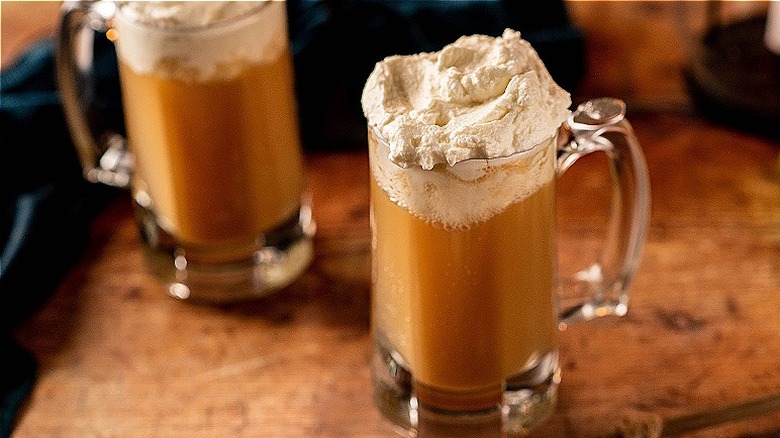 Ingredients
½ cup heavy whipping cream
1 tablespoons melted butter
1 tablespoons powdered sugar
½ teaspoon vanilla extract
½ cup butterscotch-flavored topping
3 cups cream soda
Optional Ingredients
Directions
In a large bowl, whisk heavy whipping cream until soft peaks form. Slowly pour in the butter while whisking until stiff peaks form. Once incorporated, whisk in the sugar and vanilla. Set aside.
Add ¼ cup butterscotch to two beer mugs. If using, add 3 drops of rum extract to each drink.
Pour the cream soda over the butterscotch, and whisk vigorously until very well combined. Top with prepared whipped cream to serve.
Nutrition
| | |
| --- | --- |
| Calories per Serving | 671 |
| Total Fat | 27.9 g |
| Saturated Fat | 17.4 g |
| Trans Fat | 0.2 g |
| Cholesterol | 97.6 mg |
| | |
| --- | --- |
| Total Carbohydrates | 109.1 g |
| Dietary Fiber | 0.7 g |
| Total Sugars | 55.0 g |
| Sodium | 354.2 mg |
| Protein | 2.5 g |