King's Hawaiian Is Offering A Thanksgiving Meal On A Train
Traveling on Thanksgiving can be one of the most stressful times of the year for any family. According to the Bureau of Transportation Statistics, 91% of holiday long-distance travel (more than 50 miles) is by personal vehicle. And the six-day period surrounding Thanksgiving Day is one of the busiest travel periods of the year. 
So this Thanksgiving, King's Hawaiian wants to lighten the stress on your travel load. Don't drive, take the train, and snag a King's Hawaiian holiday lunch while you're en route to your destination. Or, if you're really attached to sitting in your car for six hours with a litany of relatives, you can take a momentary respite from the hectic lead-up with a meal reservation in a stationary dining car. 
Starting Thursday, November 3, you can make reservations for this charming dining car experience online, and enjoy a truly special holiday experience that harkens back to the yuletide seasons of yesteryear.
King's Hawaiian's holiday train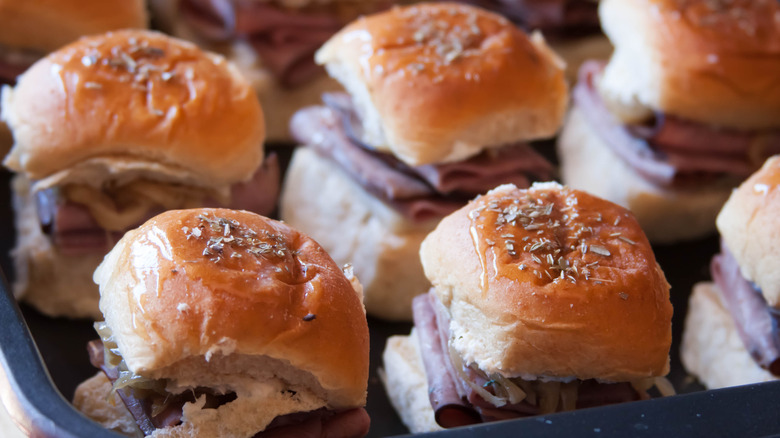 msaandy033/Shutterstock
You may be familiar with the sweet taste of King's Hawaiian Sweet Hawaiian Rolls, but if you take their Roll Home In Style curated train ride this holiday season, the brand will help ease you into the season with a three-course meal (per Roll Home in Style). You'll be served a green salad with toasted Hawaiian Roll croutons, an indulgent Thanksgiving leftover-inspired sandwich served on a Hawaiian Roll bun, and for dessert, a sumptuous pumpkin Hawaiian Roll bread pudding. 
On Friday, November 18, you can enjoy the delicious meal on a train from Philadelphia's 30th Street Station to New York's Penn Station, about an hour and 15 minute trip. On Saturday, November 19, the meal train will travel from New York's Penn Station to Boston's South Station, about a four hour trip. Or if you'd prefer, the meal will be available in the peace and quiet of a stationary dining car at Philly's 30th Street Station on November 18, at NYC's iconic Penn Station on November 19, and at Boston's Grand South Station on Sunday, November 20. 
A reservation is required for any of the meals, which are during lunch hours, and can be made online. If you're not able to snag a spot, there are always methods to buy a pre-cooked Thanksgiving dinner. Here's to a good old fashioned holiday feast!