IHOP Just Dropped A Gingersnap-Influenced Holiday Menu
It seems like it was only yesterday that IHOP was celebrating spooky season with scary face pancakes. Oh wait, it was. IHOP's fall menu saw the chain serving up Oreo and candy corn-topped flapjacks, as well as seasonally appropriate pumpkin spice pancakes, starting August 23. The eatery even offered its customizable kids meal for free to its younger patrons in the days leading up to Halloween.
Now, though, the candy-collecting holiday has come and gone, and with the flip of the calendar from October to November this a.m., the scary, spooky, and pumpkin-flavored entrees that were part of IHOP's fall menu are being sent back into the vault until next year. Though this may put a bit of a damper on breakfast (or breakfast for dinner) for those who haven't yet gotten their fill of IHOP pumpkin pancakes for the year, the good news is that the International House of Pancakes is filling the now-vacant spot on its menu with a new set of limited-edition delicacies that have winter written all over them.
According to Chew Boom, the chain is already making things merry and bright with the official launch of its 2022 holiday menu, which features several goodies inspired by one of the most classic treats for this time of year: gingersnaps.
IHOP's holiday menu highlights gingersnap french toast and all the beverages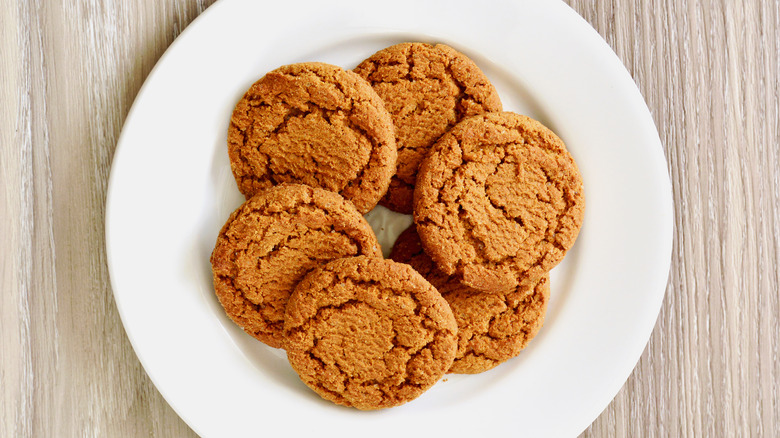 photogal/Shutterstock
IHOP has really snapped with its 2022 holiday menu — gingersnapped, that is. Available starting November 1 at participating IHOP locations nationwide for dine-in or takeout, the eatery's newest limited-edition offerings are all about the warmly spiced cookie. Per Chew Boom, the chain's 2022 holiday menu is spearheaded by a towering new entree: Gingersnap Apple Thick N'Fluffy French Toast, which features a single slice of "thick and fluffy bread" topped with cinnamon apple compote, red currants, powdered sugar, and gingersnap cookie bits. 
Three seasonal sips are also available for patrons to pair with their meals, according to a Facebook post from one franchise. These include the new Gingersnap Milkshake, made with vanilla ice cream that's blended with caramel and both gingersnap cookies and syrup. Those looking for a beverage that will warm them up rather than give them chills may be interested in a mug of Gingersnap Hot Chocolate, which comes dressed with whipped cream, crushed gingersnaps, and red currants. Additionally, IHOP also launched a Red Passionfruit Splasher for diners who aren't particularly keen on the flavor of gingersnaps.
Being that IHOP's seasonal menu just launched, it's still unclear whether or not it's spreading holiday cheer. However, considering how much fans raved over last year's Winter Wonderland pancakes, it wouldn't be too surprising if these festive gingersnap-inspired treats turned out to be a hit.