TikTok Has Halloween Heart Eyes For The Demon 'Little Chef'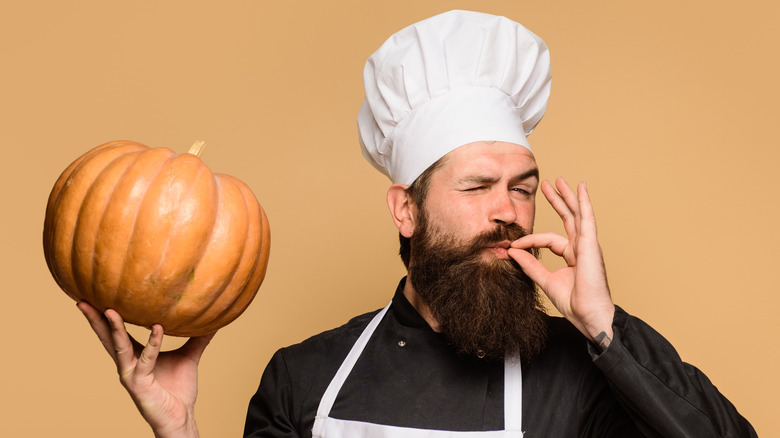 Faces Portrait/Shutterstock
Halloween is undoubtedly the best time of year for children and adults to dress however they desire. Although it's not uncommon to hear teenagers scoff at the idea of dressing up, statistics from the National Retail Foundation show that more money was expected to be spent on adult costumes than children's costumes this season. The most popular adult costume ideas in 2022 were witches, vampires, ghosts, and pirates.
You can usually expect to see individuals dressed as traditional Halloween characters, making it all the more entertaining when folks step outside the norm. Food-themed costumes are always a quirky idea. In 2014, Katy Perry dressed as a Flamin' Hot Cheeto, hilariously captioning her Instagram post, "IDFWU *drops mic*." In 2008, Gwen Stefani dressed up as an egg to attend her brother's Halloween party (per Just Jared). And more recently, a TikTok user was seen filming his friend, dubbed "little chef," who was perfectly dressed for the spooky season.
People call him their favorite chef
In full holiday spirit, TikTok user @_soggy_nugget_ has been sharing videos of a demon chef named "Little Chef." Little Chef, who actually appears quite tall, is dressed head-to-toe in costume, with a fully black outfit, a mask, a striped apron, and stilts to boost his height. He also rather comically uses two of those handy claw-grabber tools as his hands. Although it may sound unorthodox, it actually appears relatively efficient.
In one particular video posted in September, Little Chef "unfolds" in a corner when his friend asks him for a cup of coffee. He then operates the coffee maker, screeching in character the entire time. Fans of Little Chef quickly expressed their love in the TikTok comments section. "Give him a hug bro he does a lot of hard work," said one user. "Yay my favorite chef is back on my [for you page]!" said another. Additional users called Little Chef "the best" and admitted they "love him."
Notably, this is a TikTok page that also racks up views when Little Chef isn't present. In another TikTok video, the original poster shares a view of himself making a British breakfast, but his methods are anything but traditional. When he cracks open an egg, beans fall out, followed by another egg with bacon. Finally, eggs come out of a can. "My brain is not braining," one comment said of the antics. 
Now that Halloween is over, it's unclear if we should expect to see more of Little Chef anytime soon. However, considering the fact that one of the character's videos has already earned the channel nearly 2 million views, something tells us we probably haven't seen the last of him.