The Colorado Chile That You Need To Put In Your Thanksgiving Chile Verde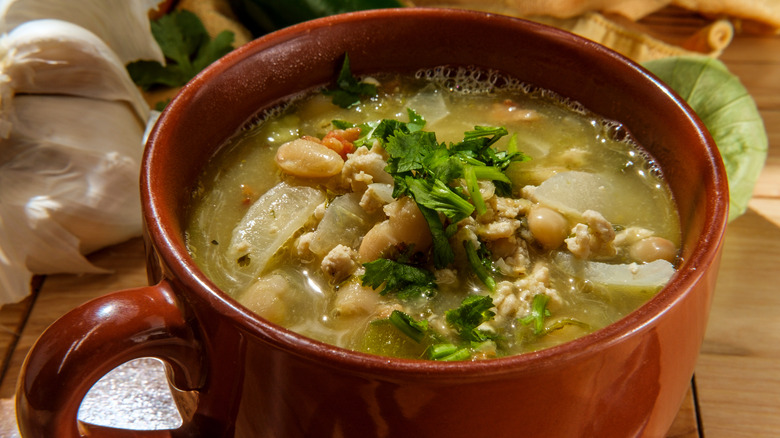 Ezume Images/Shutterstock
In the southwestern part of the United States, chiles have been known to spark heated debates. According to a Twitter post from Denver 7 News, one such argument began in 2019 when Colorado Governor Jared Polis tweeted that Whole Foods would start selling Pueblo chiles, noting that the fruit is "widely acknowledged as the best chile in the world." The tweet was met with opposition by New Mexico Governor Michelle Lujan Grisham, who responded in support of her own state's pepper contender: "If Pueblo chile were any good, it would have been on national shelves before now ... Hatch chile is, has always been and will always be the greatest in the world."
When it comes to comparing the two, Colorado's challenger, the Pueblo chile, is "generally hotter, more pungent and meatier than the Hatch," according to NPR. Of course, if you are planning a chile verde for your Thanksgiving leftovers, then there are plenty of options when it comes to which pepper to choose. But hopefully deciding doesn't have to be as difficult as choosing a Thanksgiving side dish to make in the first place.
Pueblo chiles have some valuable traits
Whether you opt for jalapeños, poblanos, Pueblos, or Hatch chiles for your chile verde recipe, your decision may be based on availability. For her dish, recipe developer Molly Madigan Pisula chose jalapeños and poblanos since those varieties are readily available in most grocery stores. If you're lucky enough to have access to Pueblo chiles though, you may want to consider incorporating these peppers into your Thanksgiving Day meal regimen.
As chile grower Dominic DiSanti explained to 5280, Pueblo chiles include all chile varieties grown around Pueblo, Colorado, including the Mirasol pepper. According to DiSanti, Mirasol translates to "looking at the sun" in Spanish and is named so because the peppers grow with their tips pointing up. Mirasol peppers are meaty, spicy, and well-suited for roasting and freezing, according to DiSanti, making them a good fit for Thanksgiving chile verde. Just maybe don't harp on the great qualities of Pueblos during dinner if you happen to be invited to Thanksgiving in New Mexico.