What To Order At Boston Market For Thanksgiving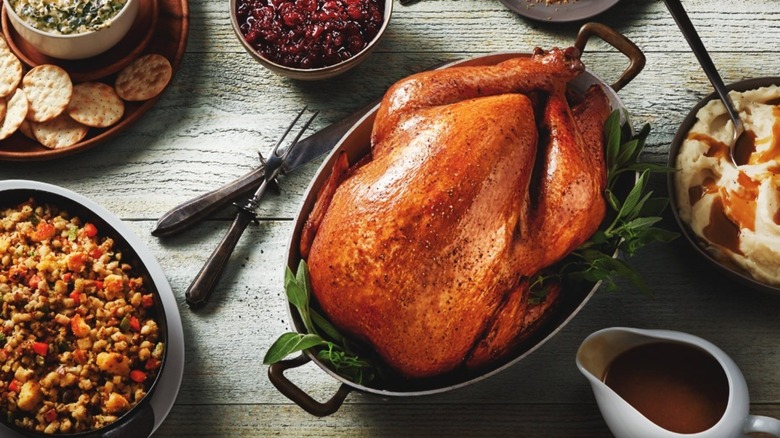 Jonathan Weiss/Shutterstock
Thanksgiving almost here, and means many of us will be celebrating the holiday with our loved ones, eating tons of good food. Sounds fun, doesn't it? 
But it's all fun and games until you're the one hosting Thanksgiving and are expected to lay out a feast that's heterogeneous enough to please every palate around the table. Some get a kick out of the challenge, while others descend into chaos and frenzy as they scurry through the kitchen and try to figure out how to roast a turkey. (If you fall into the latter category, but your will to cook a smashing dinner is stronger than your need to crawl into a nook and cry, here are some Thanksgiving dinner hacks that might come in handy.)
Still, it's okay not to cook your own Thanksgiving dinner. Besides, not all of us have the luxury of time or the means to cook even though we want to. Whatever your situation is, the day of gratitude can still be saved. There are restaurants that remain open during Thanksgiving, and most of them have interesting menus. Boston Market's extensive menu has a great deal to offer, and it gets quite busy during Thanksgiving, according to Delish.
Boston Market's Thanksgiving menu has freshly made meals
You can order an entire Thanksgiving meal or just sides at Boston Market. Depending on how and when you want your food, the Boston Market Thanksgiving menu has several categories to choose from.
The restaurant's à la carte menu has a variety of chilled items available to be ordered separately before November 22. The entrées include spiral-sliced ham, honey-glazed ham, and whole turkey. There are plenty of sides and appetizers to choose from, including gravy, creamed spinach, mac and cheese, and crackers with spinach artichoke dip. For dessert, you can order apple or pumpkin pie.
For larger gatherings, you can order a full dinner for six to 12 people from the "Heat & Serve" menu, which offers turkey, ham, or a combination of the two. All meals come with mashed potatoes, desserts, and dinner rolls. The turkey meals come with cranberry walnut relish and vegetable stuffing, while the ham meals have cinnamon apples and sweet potato casserole. Boston Market's "Thanksgiving Dinner Catering Menu," meanwhile, is served hot and comes with three options. The customizable buffet starts at $12.99, the deluxe buffet starts at $14.99, and the premium buffet starts at $16.49 per person.
According to the restaurant's website, customers must give a three-hour notice for same-day deliveries and a two-hour notice for same-day pickup.