Campbell's Has Set Out To Prove That Sides Are King At Thanksgiving Meal Time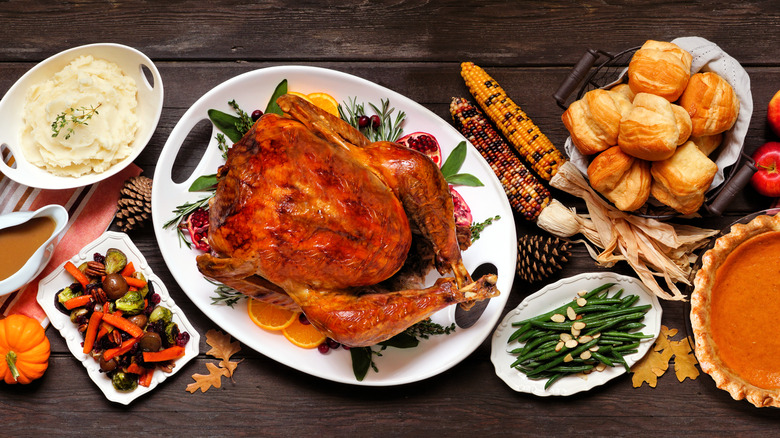 JeniFoto/Shutterstock
What's the real star of the Thanksgiving meal: the turkey or the sides? This Thanksgiving, Campbell's has set out to answer that question definitively once and for all with a new "food focused trend report" (via PR Newswire). The report analyses consumer behavior and opinions to give real answers to the debate that haunts many dining rooms over Thanksgiving weekend. Whether you're waiting with bated breath and one hand on your pants button for that buttery turkey or can't wait to dig a spoon into some rich Thanksgiving side dishes, all fans can agree on the sale of Campbell's seasonal plates to benefit Feeding America.
With five compartments, two enormous ones and three smaller ones, the plates are a side lover's dream perfectly designed to house heaping helpings of mashed potatoes and yams. In fact, the plate is even called the Holiday Sides Plate, per the press release. But those giant compartments could just as easily hold a heaping helping of turkey and gravy. The plates are microwavable silicone and designed for today's more casual Thanksgiving table in a warm golden brown.
Here's what Campbell's trend report revealed about Thanksgiving 2022.
Truly Turkey Day or Sides Day?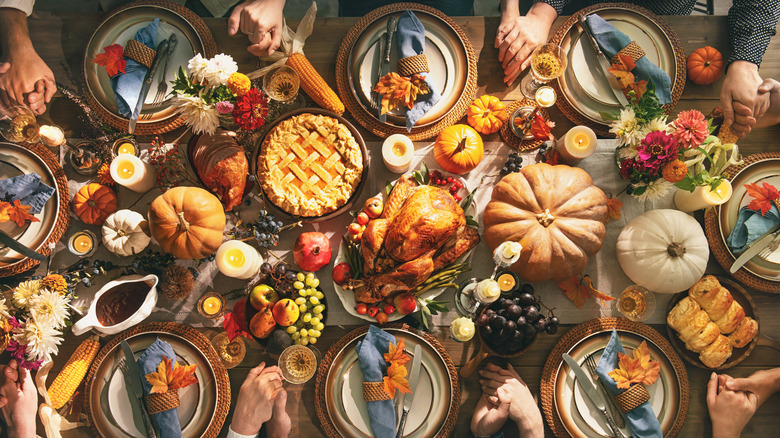 Alexander Raths/Shutterstock
Campbell's named its report State of The Sides, which kind of says it all. This inaugural report found that 66% of people nationwide prefer sides to the main dish on their holiday plate and, even more astoundingly, that half of people would be content with only sides. Campbell's found that stuffing was the nation's number 1, followed by perennial favorite mashed potatoes. Sweet potatoes, green bean casserole, and mac n' cheese round out the top five.
The State of The Sides report offers recipes for these classics as well as updates that take into account what Campbells found in its research, like that "veg-forward bakes" have soared in popularity. You can put one on your own Thanksgiving table with the Seared Brussels Sprout Skillet with Za'atar and Tahini. Many of the recipes can be found on the Campbell's website. You can find a neat recipe there for another flavor trend expected to pop this Thanksgiving — spice! Try the Hot Honey Mashed Sweet Potatoes if you're looking to give this trend a try this Thanksgiving.
Campbell's found that 52% of consumers are looking to buy a smaller turkey to save money. That said, 90% plan to offer the same or a greater number of sides as last year. Despite tightening purse strings, shoppers still plan to buy only the best brands to prepare for their holiday feasts, ensuring the best quality for their loved ones. It's a good thing we love sides!