Aldi's Wine Advent Calendars Aren't Selling Out And Reddit Is Slamming Them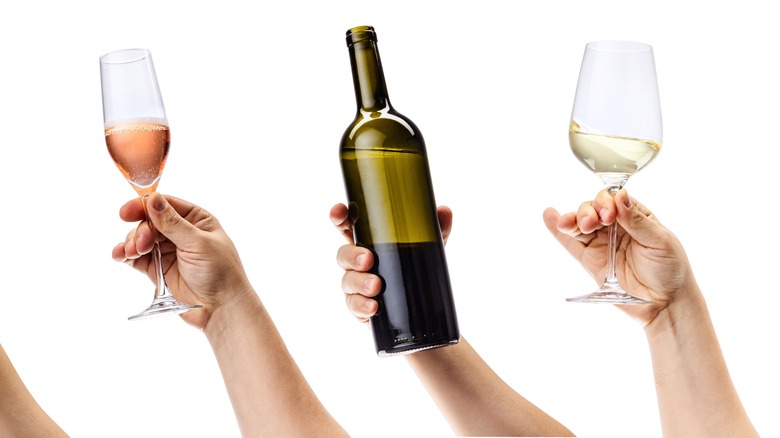 Anton Vierietin/Shutterstock
Wine advent calendars? Sounds like grown-up holiday dreams do come true after all. Called the Holiday Magic Wine Advent Calendar, this little calendar from Aldi could be making visions of pinot noir come true for grown-ups this holiday season (per Aldi). However, some fans say otherwise (via Reddit).
With Aldi producing so many advent calendars, it's not enormously surprising that quality may slip here and there. According to Taste of Home, Aldi produced 23 advent calendars in 2021, ranging from their well-known beer and wine advent calendars to hot sauce, traditional children's chocolate, cheese, holiday gnomes, and even scented candles that burn down as you get closer to the big day. This year, they are up to a mind-boggling 25 advent calendars, with additions including two crafting calendars, a ladies' sock calendar, and a plethora of children's toy options (via Aldi).
Of course, Aldi isn't the only one making a wine advent calendar, either. You can pick one up at Target, Star Market, or choose from several options at multiple price points at Total Wine & More. However, Aldi's advent calendar is the only one that seems to be causing a ruckus in the online community. Here's what fans have to say about the Aldi version.
Aldi wine advent calendar -- not worth the price tag?
Aldi's Holiday Magic Wine Advent Calendar contains a total of 24 bottles of wine. These bottles include 187 ml or about 6.3 ounces of wine, with each container ranging from 11% to 14.5% alcohol. None of the wines are named wines, and some Redditors suppose they may be pre-existing Aldi wines repackaged in cute labels like "Singing Snowman White Blend" and "Frigid Frolic Shiraz." 
Aldi customers have been surprised to see how many crates of the famous gift item are still on shelves. Notably, one Redditor shared a strong opinion about why, writing, "People who got them in the past realized the wines in them are mostly crap and a waste of money." Although that may be just one opinion, evidently 124 people agreed with her. Another commenter had very similar thoughts: "Previous purchasers discovered that the wines contained within were mostly mediocre and a waste of money." Other Redditors even likened the package to 20 bottles of Winking Owl, Aldi's answer to Trader Joe's famous Two Buck Chuck.
Some are saying it's the economic downturn that's keeping shoppers at bay, however. And with its hefty price tag, that's certainly a possibility. While the price varies regionally, prices reported have been nothing to scoff at, ranging from $49 to $60. If consumers are looking to trim the fat a little holiday season, it might make more sense to go for one or two good bottles.