The Panda Express Sister Chains You Never Knew About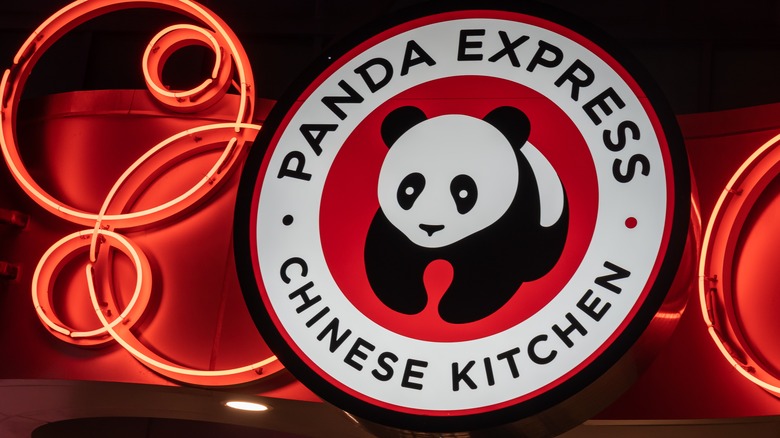 JHVEPhoto/Shutterstock
Correction 11/4/2022: A previous version of this article stated Panda Express earned an annual an estimated revenue of $100 billion. Panda Express earned $3.5 billion US Dollars in annual revenue for 2021.

Founded in 1983, Panda Express has been serving hungry customers for nearly 40 years now. As the largest family-owned Asian restaurant in the country (per Panda Restaurant Group), the fast-food chain brings Chinese culture and cuisine to America through more than 2,300 locations. From spring rolls to orange chicken bowls, many fast-food fans rely on Panda Express to make Chinese takeout accessible and affordable.
With an annual revenue of $3.5 billion in 2021, it's safe to say that Panda Express customers are loyal and consistent (per Forbes). Despite their faithfulness, however, many Panda loyalists are unaware of the chain's sister brands — the Japanese-inspired restaurant Hibachi-San and the lesser-known, yet trailblazing restaurant, Panda Inn. 
Hibachi-San is a teppanyaki-style restaurant — similar to Benihana – that primarily operates in select malls across the country. Panda Inn, with its Mandarin and Sichuan-inspired cuisine, is the genesis of Panda Express and located exclusively in Southern California.
Panda Inn and Hibachi-San were opened with different intentions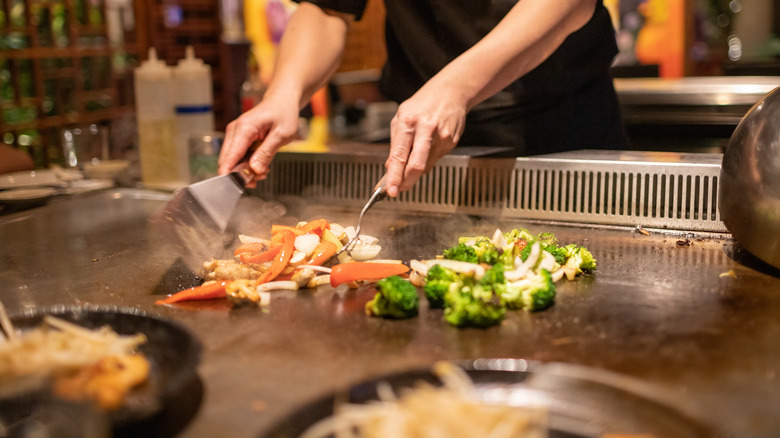 Ronnie Chua/Shutterstock
Founded by high school sweethearts turned husband and wife, Andrew and Peggy Cherng opened Panda Inn before the highly-successful emergence of Panda Express (per Mental Floss). The Cherngs established Panda Inn in 1973 with one thing in mind: authenticity. The original location in Pasadena, California offers authentic Chinese meals in a more formal, upscale environment than the more laid-back Panda Express it eventually became.
According to its website, it wasn't until 1992 that the Cherngs opened Hibachi-San. The inspiration for this one? Competition. In an interview with Fortune, the couple said, "We started Hibachi-San in malls in 1992 as a defensive strategy to keep Japanese restaurants from selling against our Chinese food at Panda Express." The fast-food chain uses an authentic teppanyaki grill to offer customers build-your-own bowls that pair nicely with their selection of Japanese teas and boba.
There are only 13 Hibachi-San locations across the United States and only five Panda Inn locations, all of which are located just outside of Los Angeles. Despite not having as much popularity as Panda Express, the Cherngs have curated a one-of-a-kind dining experience at all of their eateries.