Tway Nguyễn Told Us All About Her New Partnership And Hosting Tasty's Making It Big - Exclusive Interview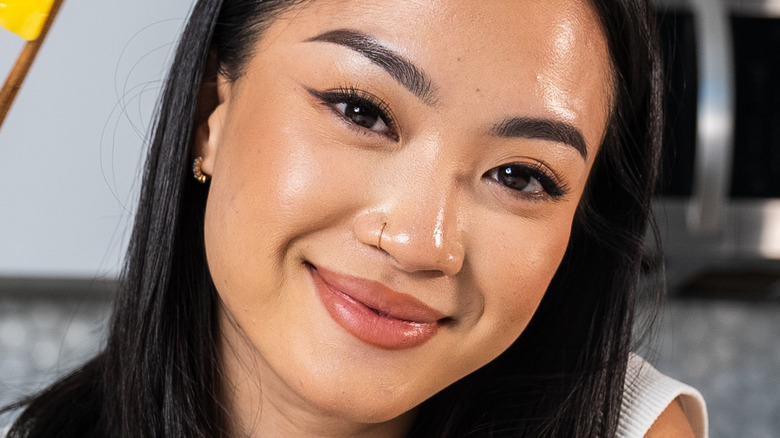 Tway Nguyễn
BuzzFeed Tasty is known to go above and beyond for its recipe videos, some being more unusual than others. Tasty's "Making It Big" is the perfect example of pushing food to its limits — literally. The new host of the series, Tway Nguyễn, takes the culinary world to unbelievable heights as a connoisseur of Vietnamese cooking. The social media star, now with approximately 631K followers and 11.8 million likes on TikTok, has also partnered up with Del Monte's Deluxe Gold Pineapple as she gets ready for the impending holidays.
In an exclusive interview with Mashed, Nguyễn revealed the details of her new collaboration and some behind-the-scenes stories of Tasty's "Making It Big." The food personality created a pineapple ginger chicken braise recipe and even recommended how you can upgrade your Thanksgiving with the beloved fruit. Nguyễn also recently appeared on Food Network's fan-favorite "Chopped," and she disclosed some of her best cooking tips and tricks (as well as how she really feels about pineapple on pizza).
How Nguyễn felt about being named the host of Tasty's Making It Big
Tell me more about being the new host of Tasty's "Making It Big." What are you most excited for?
In the beginning, it was scary, and I couldn't let myself be too excited for it because I'm taking over as a new host. There was already a host there. People love the show, people love the old host, and it was a lot of pressure to be coming in as a new host. You have all these thoughts of "Will people like me?" because when I watch my favorite shows, I'm more connected with the people I have seen [who are] already there.
The fact that I was coming in as a new person was scary, but when it aired and I saw all the comments, I was like, "Oh, people actually like me. Okay, now I can be excited." It has been super exciting, and working with BuzzFeed has been incredible because I feel very well taken care of on set. The production overall was ... a dream, honestly.
What's the process like for selecting foods? How does that work?
Coming into the season, I wanted to add more recipes that were up my alley. I focus a lot on Vietnamese cooking, and they hadn't made anything big that's Vietnamese. I was like, "I want to make something big that's a Vietnamese item." We started out the first season of me making a big bánh mì, so that was cool. But any type of recipe that I relate to — or any type of holiday stuff because we are around the holidays — that's how we've been ideating the recipes and everything.
The massive food Nguyễn is excited for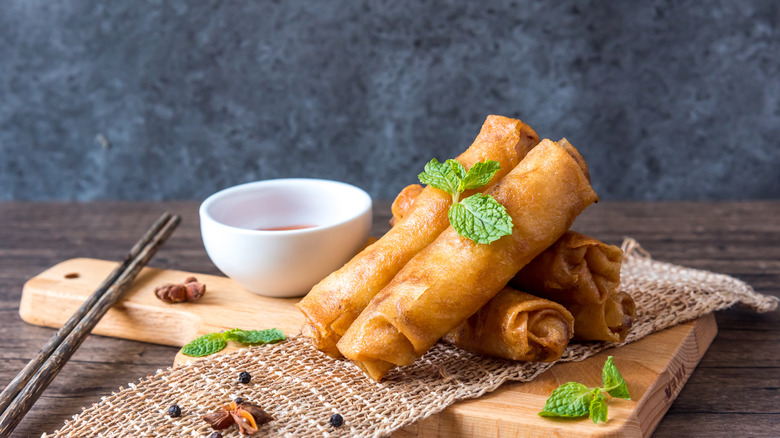 voy ager/Shutterstock
Do you have any hints on some other big foods you will be making? Could you give me more specifics?
One thing that people could look forward to is a giant egg roll that I make. That was a difficult one because there's a lot of precautions to take when you fry a big egg roll. It's a lot of oil, and oil scares me. [There were] a lot of precautions needed for that one, but it's a really fun and exciting one.
Do the big foods taste any different than their normal-sized counterparts?
No. The way that you eat it is different. Last season, we made giant soup dumplings. Usually, you put the whole soup dumplings in your mouth, but in this case, we had to slice it like it was a meat pie. In that sense, it was different to eat. But I am surprised every time I try it because it literally tastes exactly how it is when it's small. I'm like, "Wow," because that's pretty rare to make a big thing without diluting the flavor.
That makes total sense. What would you say is the most challenging aspect of making large foods?
Scaling — doing the math, because you have to do it right. You have to scale it to the right amount. If you f*** up in one aspect, then it goes downhill from there.
Were there any standout behind-the-scenes mishaps from the series that you would be willing to share?
The frying aspect of a lot of the recipes that we try can get a little bit tricky because of the temperature; you don't know what to put it at. We would have to test a lot of the fry recipes over and over again because one, it might be too hot, so the big item would be burnt, or there would be a situation where the oil is too low and it doesn't get cooked all the way through. It's playing with temperatures.
Why Nguyễn paired up with Del Monte's Deluxe Gold Pineapple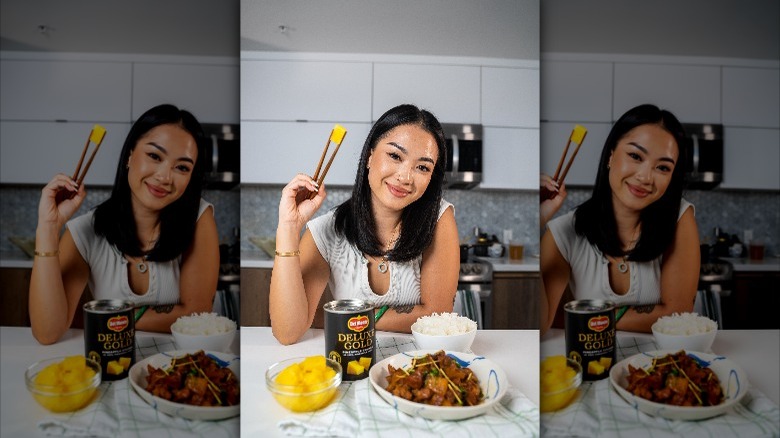 Tway Nguyễn
I want to switch gears to your partnership with Del Monte's Deluxe Gold Pineapple. What do you normally look for when partnering with a new brand?
I have to enjoy the product. I don't want to be in a situation where I'm like, "I don't even like pineapples. Why am I partnering up with pineapples?" I want to actually love the stuff. When it came to partnering with Del Monte — I love pineapples. I am a pineapples on pizza person. It adds something to the pizza. I'm already a fan of that, and the fact that I can be creative and get a brand partnership with it is a plus.
That's a controversial statement you just said.
I know, but I stand behind that 100%. I am loud and proud Team Pineapples.
I actually have never tried it, but I started liking pineapples recently, so ...
You have to try it, but don't do the Canadian pizza with the ham. You have to do it with salty pepperoni. The combination is amazing.
Let's talk about your pineapple ginger chicken recipe. Do you have any special tips or tricks on how to get the perfect ginger chicken?
There's a process in there that I'm caramelizing the sugar — that's where a lot of people shy away from it because working with sugar could be tedious and ... it's hard to work with. When it comes to caramelizing the sugar, get it to a color that is a little bit darker than you're comfortable with, so the final braise of the whole dish could be really nice. If you caramelize it to just a nice golden brown, your dish might turn out a little lighter than you would want it, so take it a little bit past the stage you're comfortable with and you should be good.
My first ever kitchen fail was orange chicken or sesame chicken, and I did the caramelized sauce so wrong. Now that you said it, that's funny, because every time someone asks me, "What's your biggest dish fail?" I go back to that.
When you're cooking with sugar, in the moment, people don't realize you can also take it off the heat when it gets too hot. In the middle of cooking, you don't think about that because you're like, "Oh, s***. My food is burning." But if you're thinking about it, you can take it off the heat and you'll be okay.
Nguyễn loves banana pudding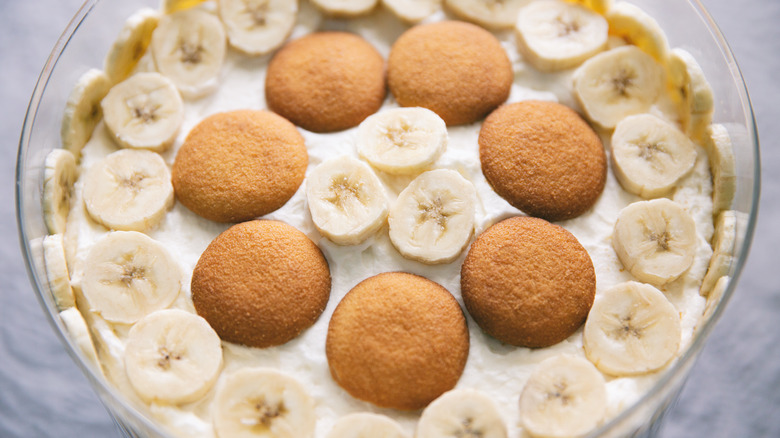 Aimee Lee Studios/Shutterstock
You have another pineapple pudding recipe. What inspired that recipe?
I love banana pudding, and I had this thought of "Why not?" It was actually my friend who inspired this because she made a strawberry pudding — instead of bananas, she used strawberries. I was like, "That is genius. I want to try this with pineapples." I did, and it was amazing. Next time, I'm going to make a pineapple banana pudding.
Have you been to New York to visit Magnolia Bakery?
I haven't visited Magnolia Bakery in New York, but they have some locations out here [in California].
Have you had their banana pudding?
Yes. That is the one banana pudding that got me into banana pudding.
Can you walk me through how to make the pineapple pudding? What would your first steps be?
[It's] like how you make a banana pudding. You make the pudding itself and let it sit. You make the whipped cream, and you let it sit. You combine the two together and then start to build it. It's very simple. You don't even need the stove for it — you just need a fridge and some patience.
How long do you chill it?
I love to chill it overnight or at least a day. Then you can dig into it. I feel like the longer the pudding sits, the more it marries into each other and all the flavors and juices are more cohesive and it's more harmonious.
What Nguyễn's Thanksgiving table looks like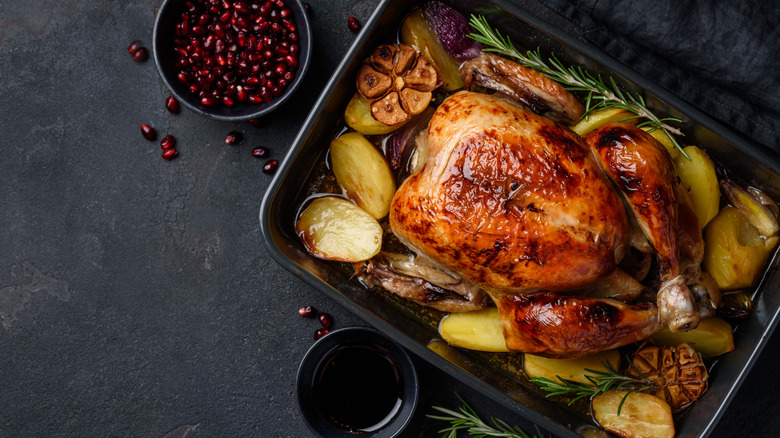 rom_olik/Shutterstock
Pineapple is normally known to be paired with ham. How would you recommend pairing it with turkey for Thanksgiving?
In my cultural background, we don't eat regular Thanksgiving food for Thanksgiving. My family will eat lobster noodles or Peking duck or a hot pot, stuff like that. You will not catch us making a big turkey. But if I'd have to make the turkey and incorporate some pineapples in it, I would do a fried turkey, first of all. Then I would make a pineapple glaze to go on top of the fried turkey.
That sounds delicious. What do you normally make for Thanksgiving now that your table looks a little different from the traditional one?
My job has usually been to eat it. I'm never in charge of the food because my stepdad loves to cook, so it's always been up to him. But I have my garlic noodles that my family absolutely loves, and my mom requests it. I also have fried rice that she loves. If I was to be in charge of anything, it would probably be those two dishes.
What would you say is the biggest food mistake that people make during the general holidays, maybe between Thanksgiving and Christmas?
People are so stuck on this traditional mindset of having to eat traditional Thanksgiving food, when [for] certain stuff, people don't even care about it and it doesn't even get eaten. Step out of that box and make or get food that people actually are excited to eat instead of ... I don't know. I don't know what I don't like.
Cranberry sauce never gets eaten.
Exactly. Instead of that, maybe replace it with a sushi platter. Imagine showing up to Thanksgiving with a sushi platter. It would get eaten up in five minutes.
Nguyễn has a big trip to Vietnam coming up
What is a Vietnamese food that you think deserves more attention?
Most of the home-cooked stuff, because when people think about Vietnamese food, they think about pho and bánh mì. Granted, those are great and life-changing experiences, if you ever go to Vietnam and get a chance to try them. But what really makes Vietnamese food are the home-cooked meals. I don't think that gets represented a lot in Vietnamese restaurants, period, so that's why for my recipe videos, I love to champion those types of recipes.
Do you have any other upcoming projects you would like to share?
I will be going to Vietnam at the end of this year. I'm taking 40 of my supporters with me, and we're going to go on a food tour. We're going to explore southern Vietnam. It's literally everything that I've always wanted to do because I love my culture and I love to share my culture, and this is the ultimate experience.
How are you going to go about picking who comes with you?
I work with a separate company on the side, and they do all the background checks and everything — and I stalk them on social media to make sure that they're not weirdos. 
Learn more about Tway's partnership with Deluxe Gold Pineapple here. Follow Tway's food journey on her TikTok or Instagram page.
This interview was edited for clarity.