Why Bobby Flay Didn't Have To Pay A Dime For Culinary School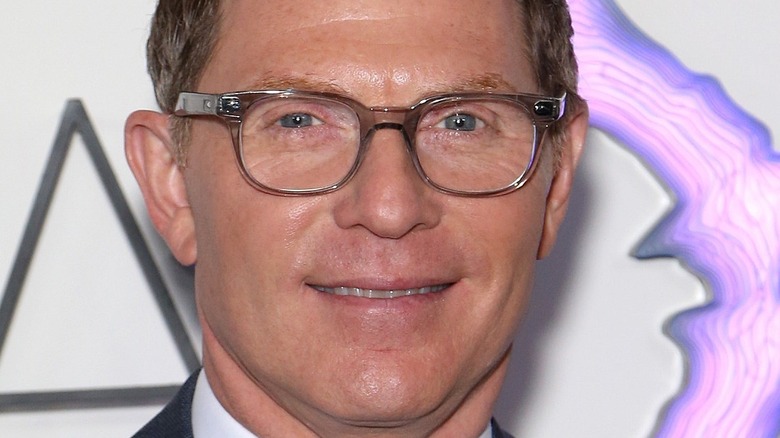 Gabe Ginsberg/Getty
Bobby Flay is one of America's most well-known chefs. The multi-talented public figure can be seen taking center stage in Food Network shows like "Beat Bobby Flay" and he has penned over a dozen cookbooks. Flay also hosts a podcast, "Always Hungry," with his daughter Sophie, and he owns a healthy amount of restaurants, including the chain Bobby's Burgers, and Amalfi in Las Vegas (via Flay's website). He may be uber successful today, but the celebrity chef got his start from humble beginnings.
According to culinaryschools.org, Flay had stints working in an ice cream shop and in a pizza restaurant, but it was eventually making sandwiches that launched his career. Per Page Six, Flay was 16 years old when he left high school. He told The Wall Street Journal in an interview that he "really had no interest in doing any school work whatsoever." His father quickly got him a position filling in as a busboy at Joe Allen restaurant in New York City. But it's what happened after his days as a busboy that really got Flay into the culinary side of the restaurant biz.
Bobby Flay had a financial benefactor
Bobby Flay had no intentions of moving up to the culinary side of the restaurant but when he was asked on his last day if he wanted to work in the kitchen, he said "Sure" simply because he had no plans for the rest of the day. "I wasn't desperate to work in the kitchen," Flay said (via The Wall Street Journal), but eventually "something clicked" and the successful chef we know today shared "I finally found something I could do with my hands that was productive."
Luckily for us, Flay liked cooking so much that he decided to attend culinary school, but first went on to earn his GED. The owner of Joe Allen was taken with Flay's skills in the kitchen and decided to pay for his culinary education at the French Culinary Insitute of Manhattan (Via Fine Dining Lovers). After graduating, Flay got a job as a sous chef and worked his way up until he eventually opened his own restaurant, Mesa Grill, when he was just 26 years old. And so, a star chef was born.