Is Aldi Open On Thanksgiving 2022?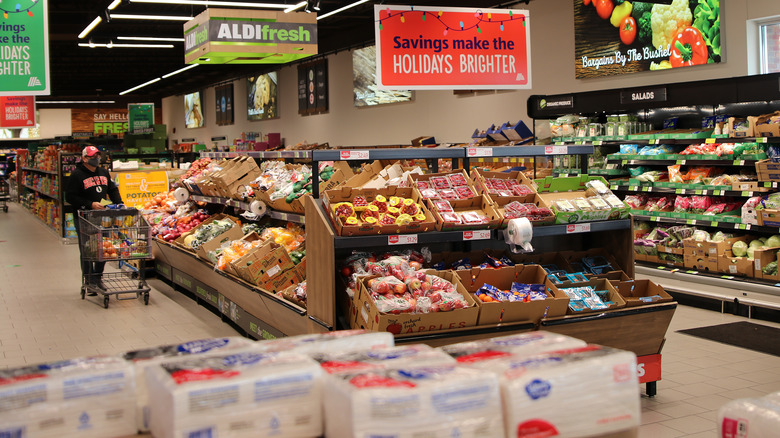 Eric Glenn/Shutterstock
Brace yourselves for one expensive Thanksgiving meal at home this year. The IRI has released market data to indicate a jump of 13.5% in grocery prices, sure to put a massive dent in many wallets. Thanksgiving dinner is a time-consuming meal to make to begin with, one that could take a week to prepare. It's no wonder plenty of dinner hacks are out there to assist with the task.
In case you thought you'd save money by ordering out, due to inflation and other circumstances, the USDA reports an increase of 8.5% for restaurants. But they have their own hacks too, like the restaurant Red Rooster in Miami, which has found ways to keep from passing costs on to customers. Chef Amaris Jones tells TODAY that the restaurant is using the harvest from a local farm and "staggering its worker shifts" in an effort to keep costs low.
Dining out may look like the better option, but before you start making dinner reservations you'd want to see what your favorite grocery stores are doing in a similar vein. That is, if they're even open this year on Thanksgiving Day.
Yu may have to finish your shopping before Thanksgiving Day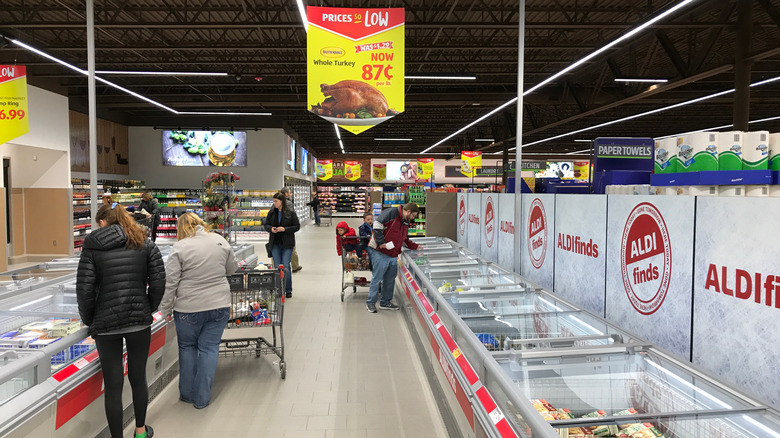 Jeff Bukowski/Shutterstock
Aldi is one grocery chain that has managed to keep the price of fruits and vegetables 20%-40% lower compared to competitors by doing things like "offering only 120 types of products on average," according to Reuters. Per its Price Promise, the discount retailer states that "No matter what happens in the world around us," Aldi is committed to being a "low-price leader," even in the face of inflation. And in case you were hoping to stop by Aldi on Thanksgiving morning, it looks like you'll have to rearrange your plans.
In a press release, Aldi announced it will be running its Thanksgiving Price Rewind promotion which "will match 2019 prices" on holiday "essentials" so you're not left without apple pie and brie cheese (in case you wanted to make that baked brie this year). The promotion runs through November 29, but the grocery store is closed on Thanksgiving Day, according to its FAQs page.
If you're concerned about getting everything on your grocery list, one shopping hack to apply here is to get your shopping done on Monday before the holiday. According to Reader's Digest, "the busiest shopping day of them all is not the day before Thanksgiving but the day before that: Tuesday."