The Near-Death Experience Of Hell's Kitchen Contestant Zeus Gordiany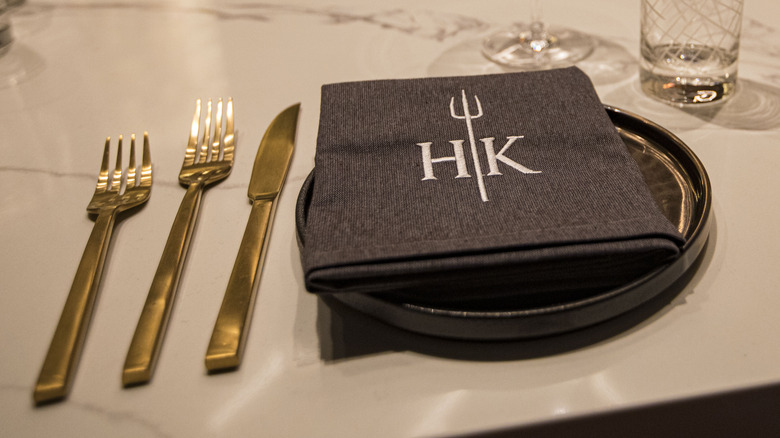 Daniel Knighton/Getty Images
On Gordon Ramsay's 21st edition of "Hell's Kitchen," Zeus Gordiany had his work cut out for him as the oldest chef in a battle between 40-somethings and a younger crew in their 20s. The Executive Chef at Benvenuto in Milford, Delaware, Gordiany told Milford Live that he had been approached multiple times by the show to appear as a contestant. He finally decided to accept the offer, saying that the competition part of "Hell's Kitchen" was appealing. 
Gordiany's performance on the Signature Dish Challenge, the first actual competition of the show, was exemplary, with the chef grinding his own sausages for his rendition of Bangers and Mash. As Hell's Kitchen Fandom shares, Ramsay loved his dish, giving it an enviable four out of five stars. Fans, however, may have missed this raving review as it came immediately following a revelation from the 48-year-old contestant. When Ramsay asked Gordiany about the scar on his head, the competitor shared a grizzly tale of a violent incident that left viewers (and fellow castmates) with their mouths wide open in shock. So, how did Gordiany nearly die prior to becoming a "Hell's Kitchen" contestant? 
Chef Gordiany survived a vicious shark attack
It turns out that Zeus Gordiany doesn't owe the lengthy scar on his noggin to a commonplace event like a fall from a ladder or a roof repair gone wrong. He, instead, found himself in a life-or-death battle with a Great White shark. A YouTube video shows him telling Gordon Ramsay that he used to go out and get fresh seafood for a restaurant that he once worked for. On one unfortunate occasion, his head wound up in the mouth of the dangerous predator, earning him "thousands of stitches." Perhaps even more shocking than the encounter itself is the fact that Gordiany said that once his stitches were in, he left the hospital, hopped on a bus, and returned to finish the restaurant service. 
While Ramsay looked genuinely shocked by this tale, it didn't take long for him to use it against the contestant. Hell's Kitchen Fandom reminds viewers that during that night's dinner service, Gordiany found himself battling broken carbonara as Ramsay proclaimed that the shark must have bitten his brain. For fans of the show used to the celebrity chef's outbursts, this snipe probably wasn't all that surprising. 
When it comes to winning or losing "Hell's Kitchen," Gordiany really has nothing to prove. He's already tackled a Great White and won. Even Ramsay's trademark volatile temper and acerbic wit pale in comparison.