How Best In Dough's Bryan Ford Caused The Sourdough Trend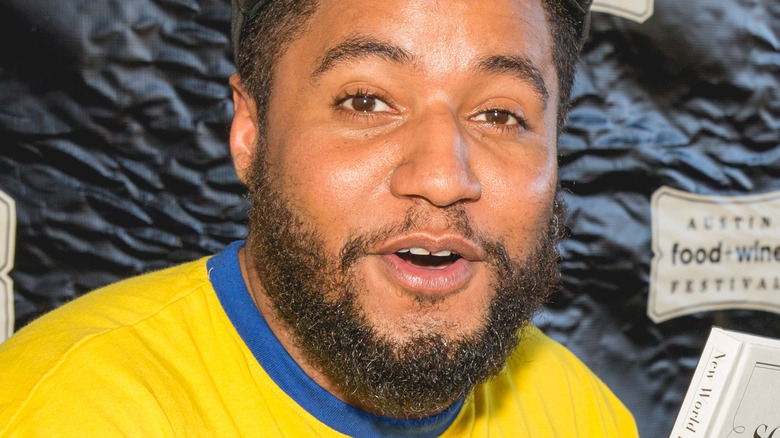 Rick Kern/Getty Images
If you were looking for a diversion back in 2020, there were plenty of options to choose from. Quarantine hobbies like baking became a popular way to pass the time when normal routines were turned upside down by the pandemic. Novice bakers as well as those with lots of experience under their aprons were sharing their home-cooked creations on social media, and sourdough quickly became something of a star.
According to Taste of Home, there is a number of reasons the sourdough trend took off, including the idea that baking bread is a fun, gratifying experience that produces something that photographs really well. Also, folks had more free time, and making a sourdough starter from scratch can take days. For baker Bryan Ford, it didn't take a pandemic to show an interest in making bread. As The Advertiser explains, Ford created a website in 2018 where he posted recipes for sourdough, along with a variety of other breads like pizza dough and beignets. By 2019, he landed a deal that may have helped spark the country's sourdough obsession.
Bryan Ford wrote a book about sourdough
If you watched the first episode of Hulu's pizza-making competition show "Best in Dough," then you may have learned that Bryan Ford is an award-winning bread baker. According to Michigan Daily, Ford is one of the judges for the pilot episode, and he helps determine which of the three nonnas makes the best pie. Of course, those who have been following Ford's work for much longer know he is also an author, and his cookbook "New World Sourdough" debuted in June 2020 (via Taste Cooking), making it a timely resource for ambitious homebound bakers.
As People tells it, Ford is "partly responsible for the 2020 sourdough craze." Not only does his Instagram account feature saliva-worthy shots of the bread he bakes, but his book has helped others learn how to use their own kitchens to make their own Insta-worthy creations. "New World Sourdough" encourages bakers to "experiment and have fun" according to Food & Wine. Though Ford's success may have something to do with his impressive Instagram shots, according to Epicurious his sourdough book, which covers everything from challah to pan de coco, asks anyone attempting his recipes to "make sure you balance your expectation for perfection with an appreciation of the processes, showing satisfaction with yourself and your bread every step of the way.