TikTok Is 100% On Board For Burger King Crown-Shaped Nuggets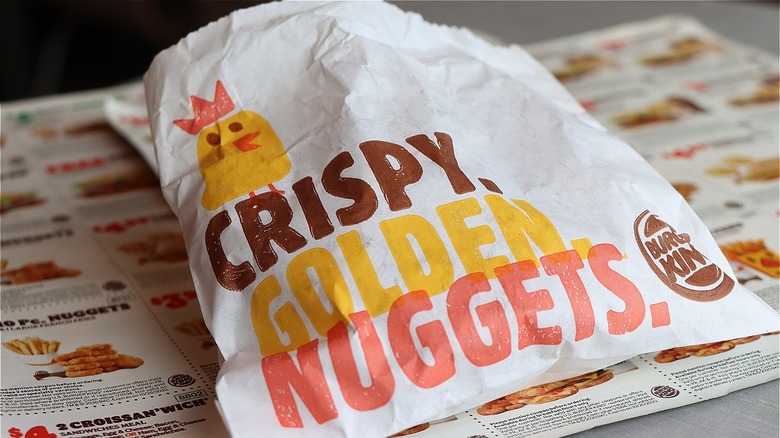 Deutschlandreform/Shutterstock
Burger King is revamping its brand, having recently replaced its historic "Have It Your Way" messaging with a new tagline reading "You Rule." The new, '70s- jingle-inspired slogan, according to a company press release, is based on the idea that Burger King guests are "royalty." 
"Have It Your Way" was developed about 50 years ago to convey the fast food chain's customization options, allowing customers to choose their own menu experience. The new campaign is meant to "elevate" that promise in a move to boost sales with its younger market, as explained by Marketing Dive.
However, customers can't quite customize everything at Burger King. While they can get their Whoppers "prepared to order," they can't exactly request an item that's not on the menu. In 2021, after a decade-long hiatus, fans saw the return of Burger King's crown-shaped nuggets, partly thanks to more than 2,500 signatures on a Change.org petition. The beloved menu item has yet to be made available nationwide, as only a handful of stores in Miami doled them out for a short time, according to CNN Business. If the TikTok chatter is any indication, fans are hoping for a lot more than a "potential" relaunch of the royal nuggets.
Burger King fans want real crown nuggets, not DIY ones
It's unclear why Burger King never expanded its limited-time, Miami-area relaunch of the crown-shaped nuggets. Considering current economic woes like inflation, the rising cost of poultry could be one obstacle. This past winter, the chain decreased its 10-piece nugget count to eight pieces in certain locations to save money, according to MarketWatch. 
Nevertheless, if Burger King needs any more assurance to bring the crown-shaped nuggets back in full force, TikTok has certainly given it the thumbs up to proceed. The fast food giant posted a cheeky video on TikTok showing someone using a crown-shaped cookie cutter to cut out their own "DIY" version of the fan favorite nugget, using a bag of regular BK chicken nuggets. The caption reads, "didn't realize the crown-shaped nuggets broke so many hearts."
Not all fans were satisfied with the DIY tip. "Just bring back the Crown Nuggets and everyone would be happy," one user commented. After all, the fast food chain would surely agree with another viewer's observation that the cookie cutter method is simply "not the same." Yet another person made their disappointment at the crown nuggets' absence crystal clear: "It all went downhill after y'all got rid of them. They were GOATED."