Mashed's Exclusive Survey Uncovered Peoples' Favorite Drink To Enjoy During The Holidays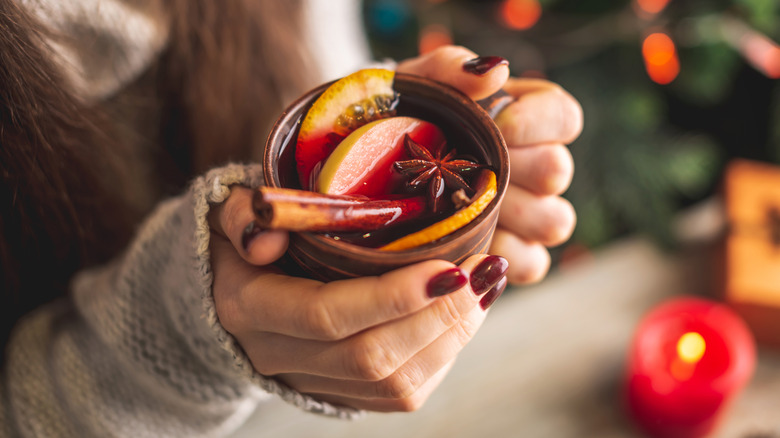 Rabusta/Shutterstock
Cheers to the upcoming holiday season — literally. Festive drinks are a staple at Christmas parties, Hallmark movie-watching evenings, and family gatherings this time of year. Whether it's a cup of hot cocoa, a glass of champagne, or a cup of homemade eggnog, a holiday-themed beverage just gets you that much more into the spirit of things. A YouGov survey found that the most beloved holiday drinks in order of popularity include hot chocolate, eggnog, apple cider, peppermint-flavored coffee, and mulled wine. Some are warm — perfect for cozying up on a snowy evening — while some are cold, which is a nice refreshing way to end a big feast.
If you're planning a holiday soiree or simply want some inspiration to kick off the season a little early, Mashed polled 582 people across the country to find out the best holiday drink in the United States. While everyone has their own personal preferences for seasonal sips, there was one beverage that nearly half of the respondents chose as their favorite. Spoiler: It's not alcoholic. 
Hot chocolate is a real crowd-pleaser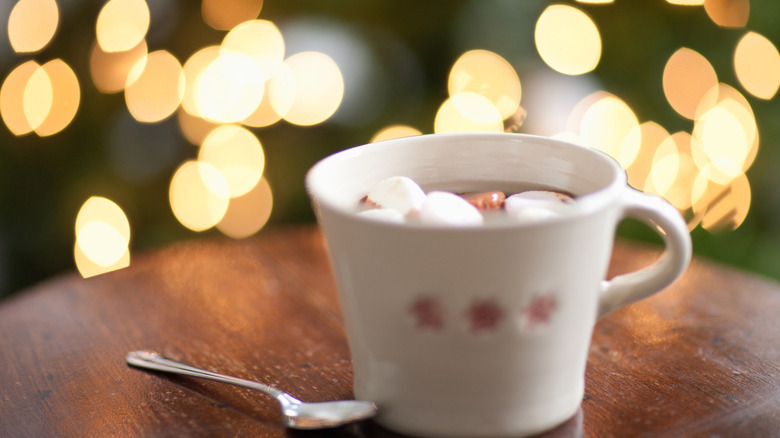 Tom Merton/Getty Images
America's favorite drink during the holiday season is something both kids and adults alike can enjoy. According to Mashed's poll results, hot chocolate is the best Christmas beverage, with 46.56% of survey respondents dubbing it their number one pick. The popular cocoa drink has been around for thousands of years — since the Mayans as early as 500 BC — and the original recipe actually included the usual cocoa beans and water but also wine and chile peppers (via What's Cooking America). These days, there are tons of varieties of hot cocoa, from the nostalgic instant hot chocolate packets with mini marshmallows to more indulgent flavors (like peppermint and Irish creme) from brands like Godiva. A survey by Study Finds also reports that a cup of hot cocoa is what Americans most look forward to in winter, with whipped cream and marshmallows being the preferred toppings.
As for how the other popular holiday drinks stacked up? Second place went to apple cider, receiving 23.71% of the votes, followed by spiked eggnog with 20.62%. Hot toddies and mulled wine are apparently more of a niche taste, as only 4.81% and 4.3% respectively of people chose them as their go-tos.