Simple Pan-Fried Bitter Melon Recipe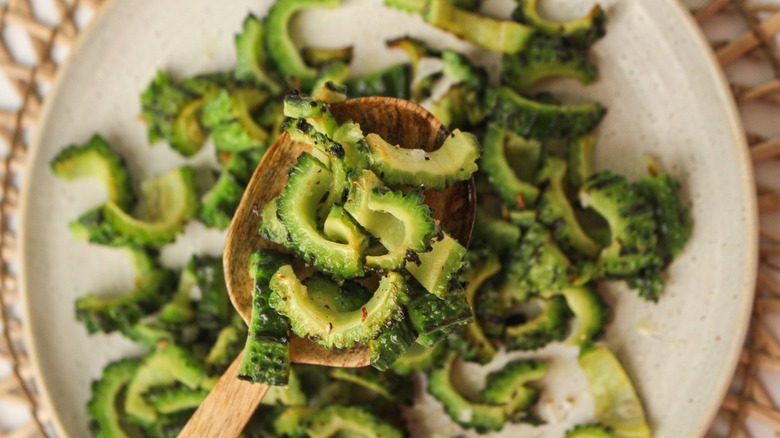 Susan Olayinka/Mashed
Have you ever heard of bitter melon? If not, don't let the "bitter" part scare you away. While this fruit is bitter in taste, the right preparation goes a long way, making it a delightful little side dish with nearly any dinner.
Recipe developer Susan Olayinka brings us this recipe for simple pan fried bitter melon. Olayinka tells us, "This recipe is simple and easy to follow, yet it yields delicious and flavorful results. I also love how versatile this dish is. It can be enjoyed as a side or appetizer, and it goes well with a variety of other dishes too!"
To keep things simple, Olayinka simply seasons the bitter melon with salt and pepper, which helps neutralize some of that bitterness. "The result is a crispy and flavorful dish that can be enjoyed as is ... or served alongside some rice and other veggies," she suggests. We'd recommend serving it with some simple white rice and Chinese chicken for a complete meal.
Gather your ingredients for simple pan-fried bitter melon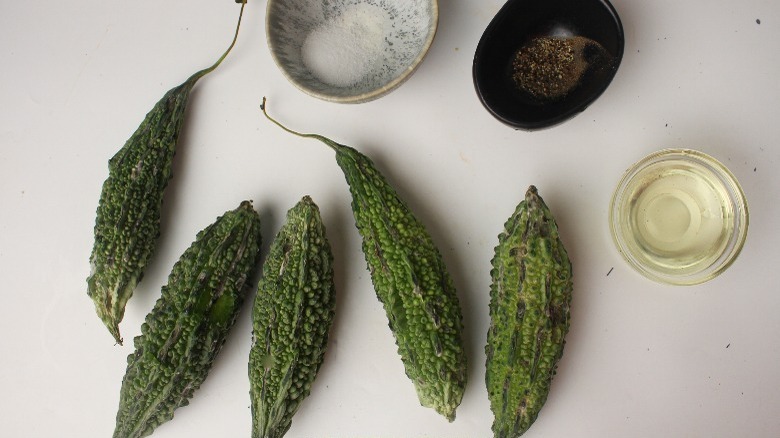 Susan Olayinka/Mashed
To make this simple pan-fried bitter melon, start by gathering your ingredients. For this recipe, you will need only a few ingredients: bitter melon, oil, salt, and pepper. "If you want to add some more flavor to the dish, you could try adding some garlic or ginger to the pan when you're cooking the bitter melon," Olayinka suggests. "You could also experiment with different seasonings like paprika, cumin, and spices to find what you like best."
Scoop out the seeds and cut the melon into slices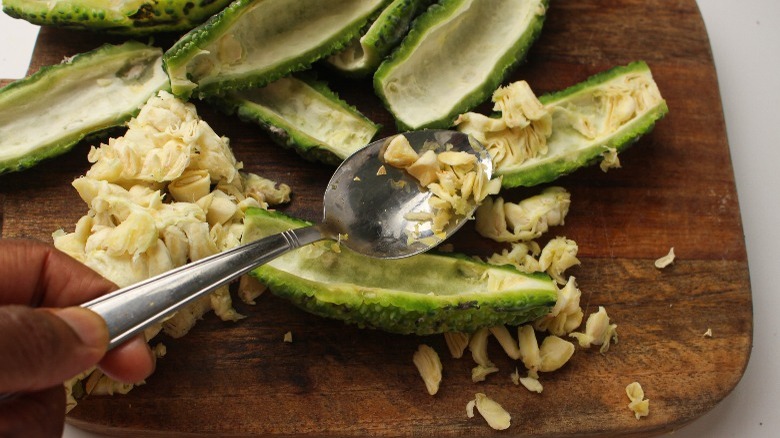 Susan Olayinka/Mashed
Start by slicing the bitter melon. First, be sure to remove the seeds. Do this by cutting the bitter melons in half lengthwise. Then, using a spoon, scoop out the seeds and discard. Then, cut the bitter melons into slices.
Sauté in oil until slightly charred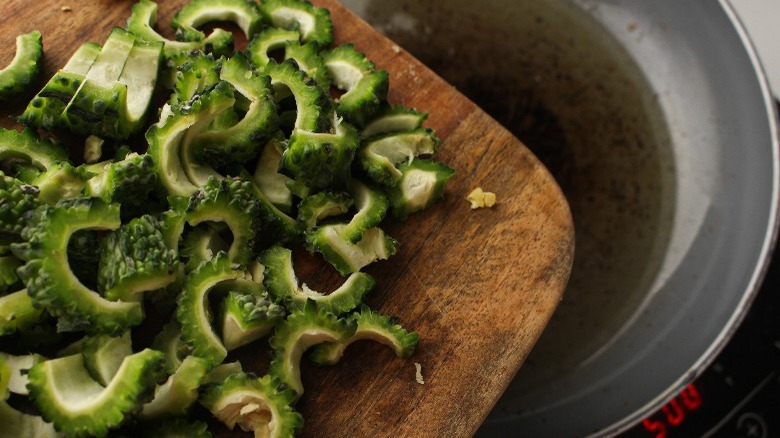 Susan Olayinka/Mashed
Despite its bitter taste, there is no need for an elaborate preparation of this veggie. Heat oil in a pan over the stove, and once that's hot, add in the bitter melon discs. Sauté them on each side for about 4 minutes, until they get nicely charred.
Season with salt and pepper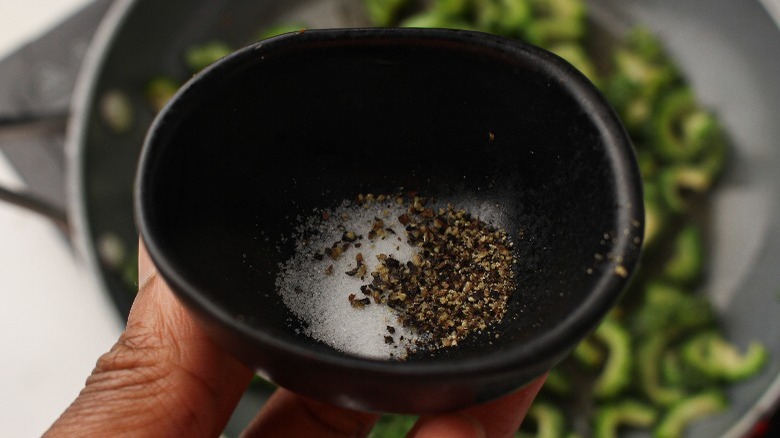 Susan Olayinka/Mashed
The last step is to simply season with salt and pepper. Give the dish a good toss. That's it! "This dish is best enjoyed fresh, but leftovers can be stored in an airtight container in the fridge for up to 3 days," Olayinka advises. "Reheat in a pan over medium heat before serving."
Simple Pan-Fried Bitter Melon Recipe
With this pan-frying method, you can cook up some bitter melon and actually enjoy how it tastes!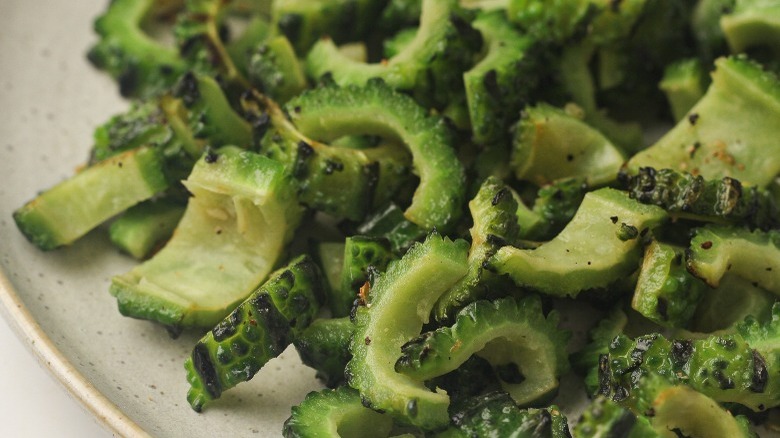 Ingredients
4 small bitter melons
1 tablespoon vegetable oil
½ teaspoon salt
¼ teaspoon black pepper
Directions
Cut the bitter melon in half lengthwise and scoop out the seeds. Cut the halves into thin slices crosswise.
Heat the oil in a large skillet over medium heat.
Add the bitter melon slices and cook for 5 minutes, stirring every 30 seconds.
Sprinkle the salt and pepper over the slices.
Transfer slices to a plate, and serve as a side dish.
Nutrition
| | |
| --- | --- |
| Calories per Serving | 47 |
| Total Fat | 3.7 g |
| Saturated Fat | 0.2 g |
| Trans Fat | 0.0 g |
| Cholesterol | 0.0 mg |
| | |
| --- | --- |
| Total Carbohydrates | 3.6 g |
| Dietary Fiber | 2.6 g |
| Total Sugars | 0.0 g |
| Sodium | 224.8 mg |
| Protein | 0.9 g |