Hardees Just Dropped Some Huge Holiday Meal Deals Under $4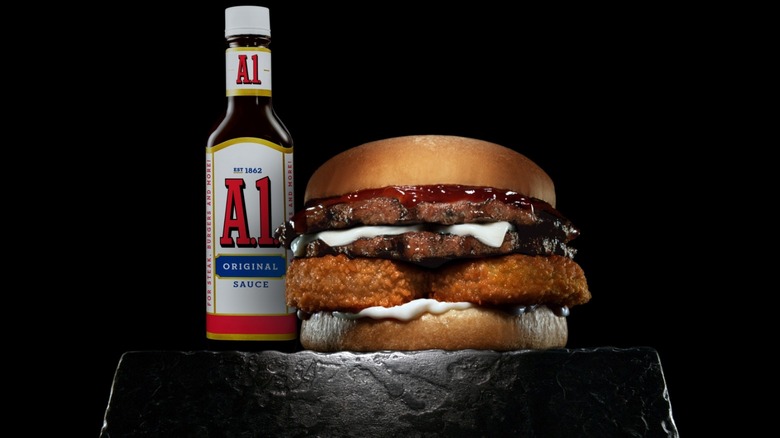 Hardees
Just in time for the holiday season, Hardees has unveiled a brand new menu. For some of the selections, the brand is reviving its partnership with A1 Sauce, per a press release. The duo's steakhouse burger collab first made mouths water in 2011; the ingredients for the first burger were a black angus beef patty, A1 Steak Sauce, Swiss and crumbled blue cheese, crispy onion rings, lettuce, tomato, and mayonnaise (according to Nation's Restaurant News). The burger was so good, the David & Goliath advertising agency said it "tasted like they were made by the god of hamburgers."
With a review that positive, the fast food chain obviously had to drop new editions. According to Brand Eating, another A1 and Hardees burger creation appeared early last year with an angus beef patty with Canadian steak seasoning, bacon, Swiss cheese, red onions, mayonnaise, tomato, and of course, A1 sauce. If these steak burgers are on your roster, you're in for a treat once you hear what Hardees is offering for the holidays.
The offerings are different across the country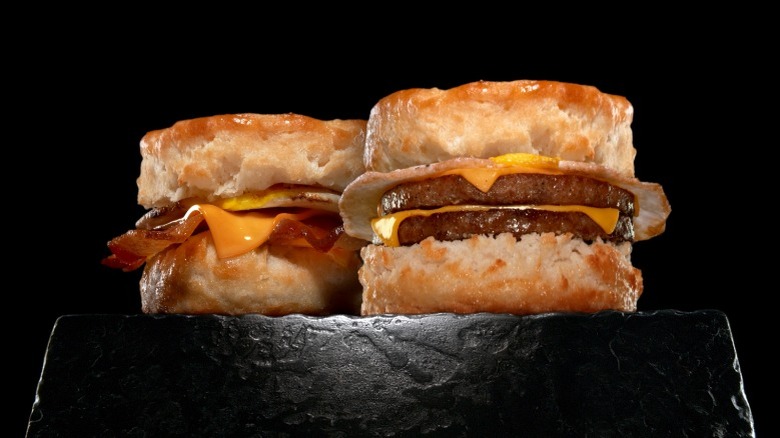 Hardees
Per a press release sent to Mashed, Hardees has just rolled out its fall-themed menu, however, it will vary depending on what side of the country you live in. If you're in the Midwest, you'll get the chance to enjoy the new A1 Steak Sauce collab. Priced at only $2.99, the A1 Double Cheeseburger comes with two 9:1 beef patties, A1 Thick and Hearty Sauce, Canadian steak seasoning, Swiss cheese, onions rings, and a four-inch bun.
If you live in the Southeast, you'll have to forego the A1-inspired meals, but you're still met with suitable replacements for $3.79. Both new items are served until 10:30 am for breakfast only unless it's the weekend, in which the hours are extended until noon. First, the super sausage biscuit is made with two sausage patties, two slices of American cheese, and a fried egg. The super bacon biscuit is made the same way, with the only substitution being two layers of bacon rather than sausage. Regardless if you live in the Midwest or the Southeast, each of these items are only available until December 13.
Two years ago, Carl's Jr., Hardees' sister company, dropped a limited-time A1 Double Cheeseburger of its own. According to Chewboom, the ingredients were almost the same, though the new burger swaps traditional A1 Sauce for A1 Thick and Hearty Sauce and adds Canadian steak seasoning.